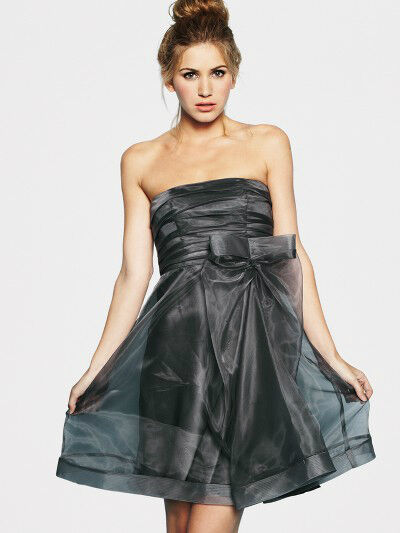 Instead of spending a lot of money on a dress you may or may not wear again, consider purchasing a used bridesmaid dress on eBay. This will lower the cost of the dress and the buyer won't be paying an exorbitant price for a bridesmaid dress. Looking for a bridesmaid dress may depend on what colour and style of dresses the bride wants the bridesmaids to wear. Once the buyer knows what type of dress she is looking for, it will be simple to purchase a used bridesmaid's dress on eBay.
Bridesmaid dresses have come a long way; they are a lot more wearable than they used to be. Looking for a cute dress for a friend's wedding doesn't have to be a daunting task; it will be very convenient if done on eBay. Selecting a dress online will just take a few clicks, and doesn't require numerous trips to bridal shops to look through the dresses. Save time shopping for a bridesmaid dress on eBay. This guide contains helpful tips when it comes to purchasing a used bridesmaid dress, such as what to look for and what types of dresses are available.
What to Consider When Buying a Used Bridesmaid Dress
Before buying a used bridesmaid dress, there are a couple of factors to keep in mind. First, the buyer will need to consider what type of dress the bride wants her maids to wear. Some brides will allow their bridesmaids to select their own dresses as long as they stay within the colour theme of the wedding. If this is the case, finding a dress will be much simpler. However, some brides may have a particular style in mind, such as strapless, tea length, or long bridesmaid dresses. Keep the style in mind when shopping. Also, plan a budget beforehand for the bridesmaid dress, and don't forget to include any additional items needed such as accessories, alterations, and shoes.
It's good for the buyer to know her exact dress size before looking for a used bridesmaid dress on eBay. The easiest way to do this is for the buyer to measure herself with a soft tape measure in the bust, waist, and hips, or have a friend help take her measurements and compare these to a sizing chart. While dresses may be sized numerically, some sellers may offer a sizing chart or which measurements would be best for each dress. These numbers can be used as a reliable guideline to ensure the purchased dress will fit.
Types of Used Bridesmaid Dresses
When it comes to shopping on eBay for used bridesmaid dresses there are several key styles that the buyer will encounter upon shopping. If the consumer has freedom to pick her own style of dress, select a dress that is flattering to the figure and is perhaps pretty enough to be able to wear again, maybe to a cocktail party or other special event. A great used bridesmaid dress can be accessorised, shortened, or dyed to make a whole new party dress, so the money spent won't be just for a dress to wear only one time.
Dresses can have a halter style top that fastens around the neck, have small cap sleeves, or be completely strapless. There is such a wide variety of dresses that it's wise to have at least a couple of types of dresses in mind before beginning the search for a used bridesmaid dress; this will help narrow the field and make shopping for a used bridesmaid dress even faster and easier because the user will be able to search exactly for what is needed, such as purple bridesmaid dresses.
Short Bridesmaid Dresses
Short bridesmaid dresses are a little more informal than longer dresses, and they are generally knee length or a touch shorter. This is a flattering length for most all women, and short bridesmaid dresses, also called party dresses or formal dresses, come in an array of types and styles. Dresses can be made of silk, chiffon, lace, or polyester, and have straps, or be strapless bridesmaid dresses.
A shorter bridesmaid dress will likely cost less than a longer gown, and be more flattering to petite women who may get lost in a floor length bridesmaid dress. Short bridesmaid dresses may be accentuated with a sash or belt, crystals, beading, or embroidery. A popular trend for current weddings is for the bride to allow each bridesmaid the freedom to pick her own short bridesmaid dress, as long as the colours of the bridesmaid dress are identical, which gives the bridesmaids a better shot at finding a short, flattering bridesmaid dress that won't be a disaster to wear on the bride's big day.
Long Bridesmaid Dresses
Long bridesmaid dresses, also called floor length or tea length dresses, are dresses that come below the knee or longer. Long bridesmaid dresses may be worn for a more formal, elegant wedding, perhaps in the evening or at a very dressy location. Long dresses can either be fitted to the body or fall loosely to the floor if they are made of softer material such as silk or chiffon.
Long bridesmaid dresses can also be strapless or have spaghetti straps. A popular style now for long bridesmaid dresses is the one shoulder bridesmaid dress. Long dresses may have details like ruffles, crystals, bows, or sashes, and a dress that's too long can be easily altered to fit the consumer. The great thing about a long bridesmaid dress is that it can always be shortened later and made into a short party dress for other uses.
Bridesmaid Dress Materials
Bridesmaid dresses are made in a variety of materials these days. Skip heavy, stiff taffeta in favour or more body flattering chiffon, silk, or satin, with pretty lace accents. A dress that's made of a more flattering and wearable material will be easy to wear later, or perhaps even resell once the wedding is over. For women that are body conscious, a dress that's made of a flowing chiffon material will drape nicely over the body and accentuate the wearer's best points, as opposed to a less forgiving material like satin, which is a bit stiffer than silk or chiffon and may cling to the body tighter.
Bridesmaid Dress Sizing
Most bridesmaid dresses are sized using misses' sizing, which runs in even numbers from 6 up to size 22. The best way to fit the bridesmaid dress is to know the consumer's measurements and check them against the seller's specifications. A dress that fits the wearer perfectly will be the most flattering and the most comfortable.
Dress Size

6

8

10

12

14

16

18

20

22

Waist

(in)

25

27

29

31

33

35

37

39

41

Bust

(in)

33

34

36

38

40

42

44

46

48
The consumer should match her measurements against the ones in the chart and select the size that will fit the best according to her own measurements. It's always best to go a size up if there's a concern; a dress can be taken in but may not be able to be let out if needed.
How to Buy a Used Bridesmaid Dress on eBay
To search for the perfect used bridesmaid dress on eBay, you can enter in keywords of your choosing to find the right dress for you. You can also click on the "Used" box to eliminate the new dresses from the search, and then make the search for your dress easier by selecting colour, size, or the designer of the dress you are looking for, such as Marks & Spencer bridesmaid dresses.
Next, check the seller's specifications to see what type of condition the used bridesmaid dress is in. Any rips, stains, tears, or flaws should be noted, and there should be several clear images of the dress that show the bridesmaid dress in its entirety. Ask the seller any questions you have relating to the condition of the dress, and only shop from Top-Rated Sellers so you can purchase your used bridesmaid dress with confidence. If you find a seller local to you, stop by for a personalised pickup. Perhaps one seller is offering more than one bridesmaid dress and you can go in on a bundle that will help reduce shipping costs for yourself and other bridesmaids.
Conclusion
Purchasing a bridesmaid dress to be worn once doesn't have to be a painful or frustrating experience. Buying a used bridesmaid dress on eBay not only saves the consumer time but money as well. The consumer may even end up with a dress she loves so much; she may want to wear it again for another event or occasion. The consumer simply needs to know what type of dress she's looking for in order to find the most appropriate bridesmaid dress that the bride will like and the consumer will feel lovely in.
The buyer should give herself plenty of time when searching for a used bridesmaid dress; that way, if any alterations need to be made, there is time for that. Alterations can take two to three weeks, so the buyer should give herself a few months before the wedding to find the perfect used bridesmaid dress and get all of the needed accessories, which can also be purchased on eBay for a low price, such as jewellery, shoes, hair accessories, and undergarments that might be needed such as stockings or strapless bras. Get the best price on a used bridesmaid dress when shopping on eBay.