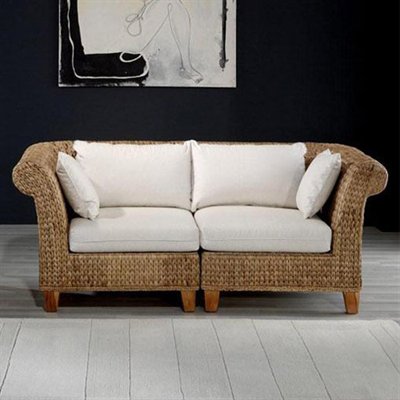 A primary fixture of every home, a sofa or loveseat sits two to three people comfortably and is mainly used for relaxing. Mainly found in a living room, sofas and loveseats can also be found in kitchens, sitting rooms, family rooms, as well as areas of business, such as waiting rooms and lobbies. However, to some they can be seen as a heavy expense, so the option of a used loveseat or sofa may be an alternative option and this guide will fully explain how to buy a used one on the website eBay, and other auction sites similar to it.
This guide will also describe everything one needs to know about used loveseats and sofas, and will fully outline all the types and the materials that they are made from. This guide will also outline the precautions that are needed when buying used goods on eBay.
Differences between a Sofa and a Loveseat
Sometimes they are virtually indistinguishable from each other, but there are subtle differences, so buyers must choose wisely and with careful consideration. Loveseats are almost shaped like a double chair and allow couples to chat privately, while still maintaining the ability to be fully part of the room. Convenient for small rooms or homes with just two residents, loveseats are lighter and smaller and fit easier into small spaces.
Sofas usually have more sitting space than loveseats, making them ideal for houses with families. Some can be converted into a bed, while some are large enough to be slept on anyway.
What to Consider When Buying a Used Loveseat or Sofa
There is much to consider when you purchase a loveseat or sofa on the Internet. Buyers should always reflect on factors such as:
· Who is the loveseat for, and will it suit the size of your family? Consider who will be using the item and the space you will need to accommodate everybody's needs.
· How much space can the room accommodate? It is important that the sofa or loveseat is able to fit inside the room, so this is a major issue when deciding what type to buy.
· What condition are you looking for it to be in? When purchasing a used loveseat or sofa, will the condition of the item affect your purchase? As they are previously owned, prices will vary depending on the condition of the model.
Types of Loveseat and Sofas
Many varieties of loveseats and sofas are available on eBay and other similar websites that suit all sorts of homes. These include:
Regular: Ever popular, a standard loveseat has space for two people, while a standard sofa can fit more. Fitting perfectly in compact homes, Regular sofas and loveseats are perfect for couples or small families. These are by far the most popular choice and there is a wide variety on eBay.
Corner: The main advantage a corner sofa is that they are a great use of space and have a quirky design and can accommodate many people. With its bulky cushions, corner sofas are ideal for a large family, and the contemporary styled corner sofa can heavily compliment the aesthetic choices of a room.
Recliner: Recliner sofas and loveseats are becoming increasing popular for their ability to seat more than one person. Either using a lever or being electronically powered, the seats recline at the user's control, and the sofa's shape is designed to fit snugly around your body for maximum comfort.
Garden: Garden sofas and loveseats allow people to enjoy the outside space with a permanent fixture in their garden. Usually made out of wood or metal, garden sofas come with zipped, removable covers that are fully washable and made of fabric that is fully designed to be stop fading, rotting, shrinking and crumpling, as well being stain resistant.
Materials of Loveseat and Sofas
Choosing the material of a loveseat or sofa can be a tough choice and all the pros and cons need to be weighed up. Materials include:
Upholstery/Fabric: For many, this is the only choice, as fabric is highly durable and easy to clean. Coming in a huge variety of colours, patterns and textures, fabric sofas and loveseats give a much more personal feel, as designs can be much more unique. When buying used fabric sofas or loveseats it is common to find cost effective options as quirky decors are not rare.
Leather: The unique, natural leather sofa is becoming a highly popular choice in recent years for its brave mix of traditional studded arms of classic material with sleek, shaped design. Leather is a long lasting material and is also simple to take care of, as its hard wearing and specialist cleaning solutions make cleaning a breeze. Their long life means picking up a used sofa or loveseat is easy as there are many about.
Suede: A sensitive, classy and visually pleasing material, suede sofas are not a very common choice due to their difficulty to clean, and the fact that they react badly to water. However, they can be found on eBay at a relatively inexpensive price, so they are a good choice for buyers looking for something elegant, yet cost effective.
Metal (Garden Only): There are several types of metal garden sofas and loveseats available, with one of the most popular choices being ones made from aluminium. This type of metal is beneficial as they are extremely light, making for easy movement around the garden. Cast aluminium garden furniture is very durable and does not rust, as opposed to wrought iron, which can rust and turn into a brownish colour with age, so approach with caution. Iron garden sofas and loveseats are also heavier, but have a much more traditional feel. Both types aim to be the centrepiece of an open space, creating a better-looking garden overall.
Wooden (Garden Only): Being made of a natural material, wooden garden sofas and loveseats require a lot of work and maintenance to keep them looking at their best. Buyers will need to sand, oil and generally look after their sofas at regularly, and keep vigilant of the risk of mould, cracks or splits, so make sure to check the condition of the item before purchasing. However, if the work is done correctly there are advantages as wooden sofas and loveseats add a natural ambience to any garden and some come fitted with padded seats for that extra addition of comfort.
Conclusion
eBay is a fantastic tool when purchasing a used sofa or loveseat, and buyers must stay active to get the most out of the website. It is important to fully understand what you are purchasing before you buy it, as some used sofas and loveseats can go for high amounts of money.
If you still need further advice, you can contact any online suppliers or customer support, to converse with someone who possesses a wealth of knowledge on the subject. Before making the purchase, consider all options and be sure to ask our reliable eBay sellers any questions relating to the individual product listings. Experienced sellers on eBay can guide potential buyers though all their concerns.