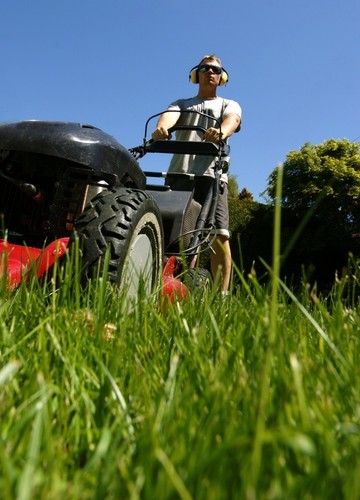 Any homeowner with a lawn knows that hiring a service to trim and maintain the yard can be expensive. Homeowners who want beautiful lawns without paying the high price of a lawn service should invest in their own lawnmower, which they can use whenever they would like to mow their lawn and tidy up their yard's appearance.
When shopping for lawnmowers, prospective buyers will discover that there are several different varieties of lawnmowers, each of which has specific strengths and weaknesses. Which lawnmower a buyer chooses will depend on the size of the lawn as well as the grade of the yard. For example, those with smaller yards may prefer a corded electric lawnmower because they are fairly quiet and efficient. Homeowners with larger lawns will find that petrol-powered lawnmowers are a better option. While petrol-powered lawnmowers can be pricey, homeowners should consider purchasing a used petrol lawnmower for all of the benefits at a fraction of the price.
Brief History of the Lawnmower
First patented by Edwin Beard Budding in 1830 in England, the early lawnmower was crafted from cast iron, and the user propelled the mower from behind. The wheels on the back of the lawnmower turned the gears that allowed the cutting blade to turn and cut the grass. This early lawnmower, although it took quite a bit of effort to push and was time consuming to use, especially on larger lawns, replaced the scythe, which was a highly ineffective method of trimming a lawn. A horse-drawn lawnmower was invented about a decade after the first lawnmower was patented, allowing individuals to mow larger lawns, such as those in sport fields and public gardens, more quickly.
When the steam engine and internal combustion engines were invented, lawnmower manufacturers began incorporating these new technologies into their designs to provide more power and more effective mowing. The first steam-powered lawnmower appeared toward the end of the 1800s, and the internal combustion engine was added to the lawnmower in 1919. The rotary mower, which is still popular today, was introduced just a few years later.
Manufacturers today continue to create more powerful lawnmowers and improve upon the weight of mowers as well as their features. Today's consumers want lighter weight models that are quieter and more efficient without sacrificing power. Consumers are also interested in convenience, which is why many mowers are able to collect the grass clippings rather than spread them over the freshly mowed lawn.
Types of Petrol-Powered Lawnmowers
Homeowners who have decided that petrol-powered lawnmowers are the best option for their lawns may be surprised to discover that there are several different types of petrol-powered lawnmowers from which to choose. Buyers should know the differences among the different types so they can decide which style of lawnmower is best for their needs.
Petrol-Powered Rotary Lawnmowers
A rotary mower has a blade that is parallel to the ground beneath a safety cover. The blade moves in a circular motion, similar to the movement of a fan, and chops the blades of grass. These mowers are ideal for medium to large sized lawns as well as lawns that are uneven. Most models of rotary lawnmowers feature an adjustable cutting guide, which means homeowners can choose the grass height they would like. Typically, the length options on a rotary mower are taller than those on cylinder mowers, so those who want a very close cut should check out the rotary mower models instead.
Petrol-Powered Cylinder Lawnmowers
A cylinder lawnmower has a cylindrical set of blades that rotate as the mower is pushed. This type of lawnmower clips the grass between two blades similar to the cutting action of a pair of scissors. Cylinder lawnmowers create a more uniform cut as well as a closer cut, making them ideal for homeowners who want to achieve a manicured lawn look. Cylinder lawnmowers are also used for sports fields and known for creating stripes in the lawn, such as those seen on the Wimbledon tennis courts. The heavy roller located at the back of the mower creates these stripes. The adjustable heights on these mowers typically range from 6 to 40 millimetres compared to 25 to 100 millimetres on rotary lawnmowers. Though homeowners may like the look of a lawn mowed with a cylinder mower, these lawnmowers are not suitable for longer grass or uneven ground.
Petrol-Powered Hover Lawnmowers
A hover mower is a rotary style lawnmower that floats on a cushion of air rather than relying on wheels for movement. The mower's lack of wheels makes it easier to manoeuvre this mower over small lawns as well as around decorative edgings. These mowers offer a much narrower cutting range, 10 to 40 millimetres, compared to both cylinder and rotary styles with wheels.
What to Look for in Petrol Cylinder Lawnmowers
When shopping for petrol-powered cylinder lawnmowers, there are several factors buyers should consider as well as specific features that may make mowing their lawn easier and quicker. While not all homeowners need all features, buyers should determine the minimum features they want so that they can narrow down their choices using these criteria.
Cutting Width
A mower's cutting width refers to the width that the mower can cut in one pass. While many people believe bigger is better, this is not always the case when considering the best cutting width for a lawnmower. Wider mowers will be more difficult to manoeuvre around a small yard, which means consumers with smaller yards should consider mowers with narrower cutting widths. Conversely, those who have to mow large, open lawns should find a wider mower so that they can mow the lawn in the fewest possible passes. Fortunately, cylinder lawnmowers offer a wider range of cutting widths, which makes them an ideal option for lawns of all shapes and sizes.
| Size of Lawn | Recommended Mowing Width |
| --- | --- |
| Less than 1/12 of an acre | 40-45 centimetres |
| Between 1/12 and 1/3 of an acre | 50-55 centimetres |
| Between 1/3 and 2/3 of an acre | 52 centimetres or wider |
| More than 2/3 of an acre | As wide as possible or consider a ride-on model |
Prospective buyers should look to the above chart to help them determine the best mowing width for their own lawn. Knowing the size of their lawn and choosing the best width will shorten the time necessary to mow the lawn.
Self-Propelled Lawnmowers
Although not a required feature, many consumers may want to choose a self-propelled mower rather than a standard mower. A self-propelled mower uses the petrol in the engine to rotate the cylinder as well as to turn the wheels and make the mower move itself. This reduces the amount of work the individual mowing the lawn has to do in order to push the mower, and it reduces the amount of time it takes to mow a lawn. Typically, lawnmower descriptions will state if a mower is self-propelled, so if this information is not listed, it is safe to assume it is not a self-propelled model.
Power
The power of petrol-powered lawnmowers is measured in horsepower. Typically, the larger the mower, the more power is required, and therefore, the more horsepower the engine outputs. Consumers will want to consider the horsepower of each mower when comparing two or more models; however, manufacturers typically offer a standard range of horsepower for each size of mower, which means the power output of mowers of the same size should be fairly similar.
Grass Boxes
Most newer lawnmower models come with a grass collection box, which means the person mowing the lawn does not have to rake up the grass clippings after mowing the lawn. The grass clippings are collected in a box or bag usually located on the side of the mower. While the box may need to be emptied at least once or twice during a mowing, especially on longer grass or larger lawns, it is still more time consuming to have to rake up and bag the clippings. Grass boxes typically range in capacity from 40 to 80 litres with the larger capacities being used on larger mowers. Consumers mowing larger lawns should look for grass boxes with larger capacities so they do not have to empty them constantly.
Another option some consumers may prefer is a mulching lawnmower. These lawnmowers chop the grass up into tiny pieces, which are redistributed over the lawn so that worms and insects can process the nutrients provided in the clippings. This eliminates the need to bag and discard the clippings and provides the lawn with additional nutrients.
Shopping for Used Petrol Cylinder Lawnmowers
Consumers may find listings for used petrol-powered cylinder lawnmowers in the classifieds section of their local newspapers or through online classified listings. When considering used lawnmowers, consumers should find out the make and model of the mower being sold so that they can look up the specifications online. This will help buyers to determine if the model meets their needs and offers the features they are looking for.
Another way to buy used petrol cylinder lawnmowers is through eBay. With thousands of sellers, users will find a wide variety of practically anything for sale on the site. Before making a purchasing decision, consumers should confirm that the features of a specific lawnmower model meet their needs, including power, mowing width, and grass height.
Buying a Used Petrol Cylinder Lawnmower on eBay
If you want to see the list of petrol cylinder lawnmowers currently available through eBay, type the phrase "petrol cylinder lawnmowers" into the search box on the homepage. Once the search results are displayed, you can narrow down the results using the filter options, including the price range and distance from a specific postcode. If you are looking for one specific brand, you could also narrow down your search by entering that information into the search box. For example, searching "Atco petrol cylinder lawnmower" will only show listings for Atco brand lawnmowers.
Before making a purchasing decision, buyers should review each listing carefully to confirm the specifications and condition of the lawnmower. Because lawnmowers are fairly heavy and bulky, buyers may want to pick up the lawnmower they purchase rather than having it delivered, which could be quite expensive. This would also give the buyer the option of inspecting the mower and starting it up before purchasing. Prospective buyers will also want to determine the seller's return policy in the event the lawnmower does not work or is not the correct size.
Conclusion
Homeowners looking to have a perfectly manicured lawn do not need to spend a fortune to hire professionals to maintain their lawns. They can easily achieve the golf course or tennis court look themselves with the help of a petrol-powered cylinder lawnmower. These mowers provide a very close, even cut, which results in an impeccable lawn every time. Although lawnmowers are much less expensive than paying for a lawn service each month, they can require a hefty initial expenditure. Buying a used lawnmower is a great way to reduce this expenditure while still getting a quality lawnmower that will help maintain the lawn.
Buyers should look for used mowers that have been well maintained and should continue to maintain the mower by replacing parts and performing routine maintenance when necessary to extend the life of the mower. A properly maintained mower will provide a perfectly manicured lawn for decades to come and save the buyer money.