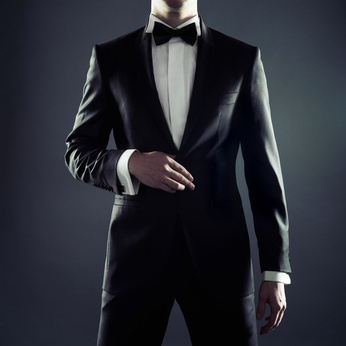 The history of just who invented the tuxedo and when is lost in the mists of time, but suffice it to say that the tuxedo is named after the famous Tuxedo Park Club in New York State. A certain James Brown Potter had travelled to England in the late 19th century and had seen the Prince of Wales wearing a jacket without tails. He had some made by the same tailor and, upon returning to the United States, wore one to the Tuxedo Club, where it became an instant hit with his fellow club-goers. Very quickly, other clubs followed the lead and from there the suits have spread the world over. Nowadays, the tuxedo is seen as the ultimate in men's formal attire, and is the suit of choice for weddings, christenings, bar mitzvahs, and other significant family and formal events. Many gentlemen's clubs in Britain insist that every member and guest wear one.
The Parts of a Tuxedo
The classical tuxedo has several distinct parts that all need to be addressed before the gentleman can be assured that he's wearing a proper tuxedo. Each part of this most formal of attires must match the others perfectly. A little thought before buying will ensure he has full confidence in his dress.
Jacket
From their beginnings as a suit without tails, tuxedos have changed over the years, with fashions that have come and gone, but the basic tuxedo has remained constant throughout. The standard style of a tuxedo is that of a fabric jacket without tails that has peaked or notched lapels that are in contrast to the main material. The buttons of a tuxedo are usually made of the same material as the lapels. The jacket sleeves should be long enough to cover the wrist watch when the arms are resting at the sides, but short enough to expose the ends of the cuffs of the shirt when the arms are bent or folded. The jacket may be single- or double-breasted with no venting.
Dress Shirt Front
Traditionally, the dress shirt is white with either a patterned or embroidered front or one with ruffles or pleats. It should be immaculately pressed, with no creases down the length of the sleeves. It is important to note that, to qualify as wearing a full tuxedo, the dress shirt must not be an everyday white shirt, neatly cleaned and pressed; it needs to be special.
Dress Shirt Collar
There are three main types of collars found on dress shirts. These are the laydown, the wingtip or 'batwing', and the mandarin types. The laydown type is considered by many to be the definitive, classic collar type, but by far the most popular is the wingtip or 'batwing' type of collar, as this allows for a bow tie with the wings of the collar fitting snugly behind the bow. In the last few years, the mandarin-style shirt, which has no formal collar (and so a bow or normal tie is not needed), has become popular, notably favoured by certain movie stars. Instead of a tie, a decorative button is often worn at the collar.
Cuffs
The cuffs of the shirt may be the standard button style, or, instead, a double fold-over type with holes to permit the use of cufflinks. If the shirt has double fold-over cuffs, then the wearing of cufflinks is mandatory. Many bridegrooms wear a set of matching cufflinks, shirt buttons, and, if they are wearing a standard tie, a matching tie clip or pin.
Trousers
The trousers should be the same material as the jacket, with a single line of braiding down the outer seams. This braiding should be of the same kind as adorns the lapels of the jacket. They may have fittings for braces and they should not have turn-ups. Traditional tuxedo trousers are straight cut, not flared.
Cummerbund
A gentleman's cummerbund is a piece of cloth several inches wide, normally fashioned in silk or satin, that is worn around the waist to cover the area between the shirt and the top of the suit's trousers. It may be plain or pleated. While cummerbunds of different colours can now be purchased, for a traditional, formal tuxedo, black is considered to be the only colour suitable. Some retailers now offer cummerbund sets that offer a cummerbund, a bow tie, and a matching handkerchief. These are becoming increasingly popular, as they take all the trouble out of finding individually matching items.
Tie
Traditionalists may insist on a black, self-tied bow tie, but many men choose a simple clip-on version. A less formal version would be considered a normal necktie, but this must be black, and should match the lapels of the suit jacket. The suit wearer may also wear an Ascot tie under his shirt with a pin, preferably to match his cufflinks and shirt buttons.
Shoes
These must be black and traditionally are highly polished leather pumps; most popular are highly polished black leather oxfords. If purchasing the shoes from eBay, the purchaser must be certain of their shoe size, and they should place their order in plenty of time to allow for returns due to sizing errors. If in doubt and time is tight, two pairs of different sizes should be ordered.
Sizes of Used Tuxedos
Note that these sizes are only approximate. If the purchaser finds they are in between sizes, then they should order both the smaller and larger sizes.
Imperial (inches):
| | | | | | |
| --- | --- | --- | --- | --- | --- |
| | S | M | L | XL | XXL |
| Chest | 35‒37 | 38‒40 | 41‒43 | 45‒47 | 49‒51 |
| Waist | 28‒30 | 31‒33 | 34‒36 | 38‒40 | 42‒44 |
| Hips | 35‒37 | 38‒40 | 41‒43 | 44‒46 | 47‒49 |
| Thigh | 21 | 22 | 23 | 24 | 25 |
| Neck | 14 1/2 | 15 1/2 | 16 1/2 | 17 1/2 | 18 1/2 |
| Sleeve | 33 | 34 | 35 | 36 | 37 |
| Inseam | 31 1/2 | 32 | 32 1/2 | 33 | 33 1/2 |
Metric (centimetres):
| | | | | | |
| --- | --- | --- | --- | --- | --- |
| | S | M | L | XL | XXL |
| Chest | 89‒94 | 96‒101 | 104‒109 | 114‒119 | 124‒130 |
| Waist | 71‒76 | 79‒84 | 86‒91 | 96‒101 | 107‒112 |
| Hips | 89‒94 | 96‒101 | 104‒109 | 112‒117 | 119‒124 |
| Thigh | 53 | 56 | 58 | 61 | 64 |
| Neck | 37 | 39 | 42 | 45 | 47 |
| Sleeve | 84 | 86 | 89 | 91 | 94 |
| Inseam | 80 | 81 | 83 | 84 | 85 |
Overcoats
When dressing in a tuxedo for a formal occasion, especially if the weather is inclement, a smart overcoat may be worn. This should be a chesterfield, but any other dark or formal overcoat is acceptable. A rain or trench coat is not classed as appropriate. An evening dress scarf may be looped casually around the neck.
When wearing a tuxedo, braces in black or white silk — certainly not brightly coloured — are considered de rigueur. The tuxedo wearer may also sport a white linen or silk handkerchief folded as a pocket square and tucked inside the left breast pocket.
How to Buy a Used Tuxedo on eBay
Arguably, the most important factor to consider when purchasing a tuxedo on eBay is the size of the wearer. Rather than just guessing the size, it pays to obtain accurate measurements with a dressmaker's tape. Armed with this knowledge, you can then freely browse the many tuxedo-related eBay pages at your leisure.
You should always shop well in advance when needing a tuxedo, so that, if the fit isn't perfect, you can send the suit back or get it altered accordingly. This cannot be stressed enough — make sure the suit is a perfect fit and that you are fully comfortable in it no matter how limited you think your movements may be during the occasion itself.
Be sure to take your time; do not simply pick the first one you see. There are hundreds of tuxedos and their accessories on eBay, so it would be time well spent to allow yourself sufficient window to browse, shop around, and make sure that the tuxedo you ultimately choose is the perfect one for you.
Conclusion
Finding the correct tuxedo for a special event can seem challenging at first, but a little research will help to ease any anxieties the potential wearer may feel before purchasing. The purchaser must first be aware of just what kind of event will require the suit. If it is for a family event, such as a wedding christening or bar mitzvah, the otherwise often strict rules governing what type of tuxedo to wear are often relaxed. However, if the event is a fully formal occasion, then asking the host of the event may be in order. Also, the quality of fit of the suit should be very carefully considered. What may feel right when simply standing in front of a mirror may prove to be very uncomfortable as soon as the wearer starts to move freely. If the occasion is a family celebration or some other happy event, then there is the likelihood that the wearer may feel the urge to dance later on in the evening. While a tuxedo jacket can be very easily slipped off and carefully hung over the back of a chair, the trousers may not. Careful attention to the amount of room and freedom of movement is a wise investment.