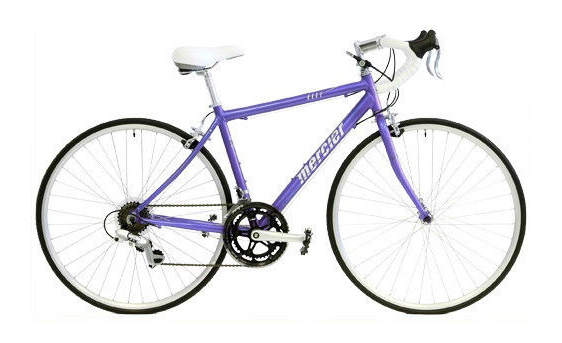 If you are someone who is passionate about cycling then you want to get a bike that is appropriate for you. When you are racing any additional advantage can make the difference and therefore you need a bike suited to this. Knowing how to buy a used women's racing bike on eBay can allow you to do this with a design that is specifically suited to your requirements.
The difference
Some people may wonder why women need a different type of bike to men. On a superficial inspection a racing bike designed for a woman has the same type of features that a racing bike designed for men has. Admittedly this because on a superficial inspection the shape of the bike will look similar and it is only upon closer inspection that people can see the differences between the design of the bikes designed for men and for women. However in terms of comfort and ability to ride the difference can quickly become apparent as it becomes harder to reach and the ability to maintain the right posture becomes more difficult.
If you check the product specifications on eBay a clever seller will have done their research online and be able to clarify both why the features of a bike are effective for racing but equally why they are specifically suitable for women. There are certain traits that a racing bike ought to have. For example both racing bikes for men and women should feature
· Thin tyres suitable for tarmac and other flat racing surfaces rather than the thicker mountain bike tyres designed for bumpier surfaces
· High gears designed for racing as opposed to mountain bikes that need to compensate for steeper inclines, drops and bumps.
· Drop handlebars suited to a high speed cycling racing style as opposed to a more relaxed style that people employ when cycling to work or on holiday. For women drop handlebars are especially beneficial as they also help to improve posture, reduce shock and also improve the ability to breathe freer. This could prove crucial in a race when you are getting close to the finish line and you can feel yourself becoming exhausted and needed to find that extra reserve of energy.
The main difference with a women's road bike is that they have been made with the female body in mind. Genetically there are certain key differences that are common and a racing bike designed for a woman recognises this.
| | |
| --- | --- |
| Bike designed for a man | Bike designed for a woman |
| Larger frame to suit genetic tendency for men to be physically taller | Lighter frame for less weight |
| Wider handlebars to suit larger hands | Smaller size to suit shorter reach due to smaller torso and hand size |
| Saddles does not have to be as wide | Wider saddle to accommodate wider pelvis |
| Aerodynamic design created to suit male riding position | Increases efficiency due to the design being more suitable for the female racing position |
Light relief
One thing that is often recommended by professional cycling athletes is a bike that is made from a light material. Light materials allow for increased manoeuvrability and additional speed. While this may mean less shock absorption compared to a mountain bike or a road bike designed for general road use this is compensated for the additional speed that makes these bikes are ideal for cyclists at the professional and amateur level.
There are several materials that allow for lightness and increased speed. It is generally thought to avoid steel for this as this is designed more for solidity rather than speed, although there is the benefit of additional shock absorption. This is especially important if you are riding on a bumpy surface although admittedly this is less likely to be an issue during a road race.
Aluminium is a material that is considered the most lightweight and is frequently used by professional cyclists due to its lightness, giving that additional boost of speed in a race. Increasingly carbon fibre is a material that is being used by bike manufacturers. However the lightness and speed of this material is dependent on how the fibres are woven together so you may wish to check eBay reviews and feedback before choosing a carbon fibre model.
| | |
| --- | --- |
| Material | Benefit |
| Steel | Not usually used for racing bikes. Solid but not as lightweight as other materials. |
| Aluminium | Aluminium is one of the lightest metals and is also one of the more affordable options |
| Carbon fibre | Can vary according to the way in which the fibres are woven together but usually one of the lightest options |
| Titanium | Provides both solidity and lightness but less affordable than other options |
Measuring up
How the bike fits is crucial to the level of comfort. The general recommendation is to find a bike that is 1.09 times the distance from saddle to pedal or from crotch to bare feet. While this may sound pedantic this can prove decisive in a time trial, reducing efficiency by 4 to 5 per cent or adding as much as a minute and a half to a final time.
Height can also prove crucial. The stem level is usually fixed so you need to check this carefully before making a purchase. While it is possible to remove a stem and buy a replacement this can result in additional expense. Alternatively some manufacturers do provide adjustable stems. This is something you ought to check with the seller on eBay before you buy from them.
The saddle position is also a vital consideration. Ideally it ought to be positioned further back to allow for the most aerodynamic riding style. Another thing to look for is the WSD logo as this stands for Women Specific Design so that you can be sure that the manufacturer has created an approved design that has been specifically made for women.
Practical considerations
There are also practical considerations to think about when purchasing a racing bike designed for a woman. For example the seller ought to indicate whether the tyres have been designed to be puncture resistant. In some cases puncture kits may be included as part of the overall package.
While racing hydration is important. Therefore you may wish for a model that has convenient storage for sports water bottles so that you can quickly access them. While some races may provide refreshment stops there is no guarantee of this and a backpack on your back means additional weight that may cost additional time.
Another issue is the warranty. The seller ought to say if the warranty is still available on the bicycle and if so ought to provide the details as part of the package. When discussing a possible purchase with a seller on eBay they also ought to provide details about any additional shipping costs and the return policy. If a seller does not have a return policy this ought to be clearly indicated and if they do have one it ought to clearly state in the product description the terms of that policy and the amount of days you have in order to return the bike.
Feedback
There will often be debate amongst cyclists about which manufacturers provide the most effective bikes for racing. Inevitably there will be a variety of opinions when it comes to the reviews on eBay about who offers the bike that is most suitable for racing conditions. In some cases there will be solid technical evidence to support the argument and in other cases it may well simply be that the reviewer has a personal preference that suits their own personal circumstances.
Looking at a wide range of views will make it easier to compare what is available and help you to research the ideal bike for your particular racing needs. When looking at a review try to consider if the reviewer is in a similar situation to you and if so whether their preferences are similar to your own.
This will then make it easier to narrow down the options available to you and allow you to decide what type of bike you want. eBay also provides feedback on the sellers themselves and this is an effective way of finding the trusted sellers that will provide quality items and deliver them promptly.