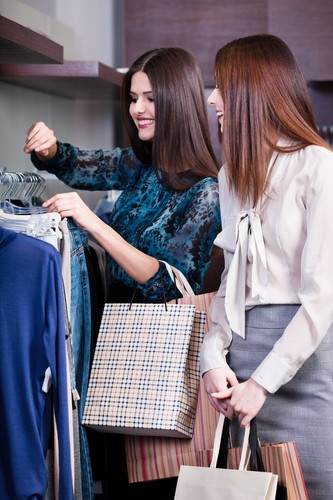 In clothing terms, a suit is usually, but does not have to be, a matching pair of trousers or skirt and a jacket made from the same kind of cloth. Women's suits were used as riding habits. Suits consisted of a tailored jacket or coat and a long skirt. They were worn for riding horses but also for travelling, too.
Women started wearing suits in the workplace in the beginning of the 20th century. The early women's suit went through major changes like when it went from full or long skirts to knee-high skirts paired with a matching jacket made from lighter, softer fabrics. It was not until the 1970s, under the influence of 'dress for success', that the women's suit took on a new twist. Women started wearing trousers with their suit jackets instead of skirts and, much like the shorter knee-high skirts, these were made from lighter and softer materials, with feminine touches here and there.
Today, the women's suit is standard business attire for the workplace. Women wear them to project a professional image. While most women shopping for a new women's suit will head to the high street, many women instead shop for used women's suit to save money. eBay boasts an impressive array of new and used women's suits, perfect to suit women's fashion trends today.
Different Types of Women's Suits
Women's suits are generally the same as men's suits except that a women's suit can be worn with a skirt. Nowadays, women's suits are not just worn at work or formal gatherings. They can also be worn as a fashion statement. A suit jacket can even be paired with any number of shirts, skirts, or trousers.
Women's Suit with Skirts
When women first entered the corporate world, they started wearing what was then known as the 'secretary suit'. During that time, the most common position women held at work was the secretarial position. With women now occupying the upper echelon of the business world and men now occupying positions as secretaries and assistants, the name 'secretary suits' has been dropped and this jacket and skirt combination is now commonly known as the women's suit, or the skirt suit. Nowadays, whether they work for a small or big business, or whatever their profession or the position they hold, women often wear a business suit, or skirt suit to work.
Women's Suit with Trousers
Women's suits with trousers or the trouser suit, also known as the pant suit, did not become common until the 1970s and 1980s. Although it was originally introduced by André Courrèges in 1964, the concept of women wearing trousers in the workplace did not catch on until the 1970s.
Women's Three-Piece Suits
Men's three-piece suits are composed of trousers, a jacket, and a vest, while a women's three-piece suit consists of the same thing except sometimes, instead of a vest, a woman wears a matching inner blouse or shirt. In contrast, a men's shirt is not part of the three-piece ensemble.
The three-piece ensemble that is the women's suit still has that classic and traditional look, but designers nowadays try to come up with many different styles for the individual pieces, namely the jacket, trousers, vest, and skirt. One can choose from the many different styles in women's suit trousers, like thestraight cut,flare cut, or boot cut. Women's suit jackets range from thesingle buttoned,double buttoned,double breasted, and much more. One can also choose women's suits based on the different types of collars and sleeves.
What to Consider When Purchasing a Used Women's Suit
Women's suits can flatter a woman's body if the suit fits her body type and is made especially for her. The different factors to consider include the woman's size, the opinion of the tailor, the materials the women's suit is made from, colour and patterns, and, of course, the price.
Know Your Size
It should go without saying but when searching for a used womens suit, especially online, it is important for the shopper to know their size, including measurements like arm length, shoulder width, chest and waist measurements, and leg length. Many suits are made ready-to-wear, but it is always a good idea to have them custom-tailored to fit better. When buying from a store, some offer alteration services for their ready-to-wear women's suits, especially when the item is brand new. When purchasing used women's suits on eBay, more often than not, a customer will have to have the suit altered to get the right fit after the item is delivered.
Find a Tailor
Buying women's suits online is the easy way to go, but as previously mentioned, it is a good idea to get it altered to make it fit your body. You should be able to find a tailor in your local area. Tailors often only sell made-to-order suits but, on some occasions, they may have a ready-to-wear suit for sale. Again, because the suit was not made specifically for the customer, it may have to be altered. Needless to say, custom-tailored women's suits tend to be very expensive because they are specially made for the wearer. Alterations to a used suit do not cost as much, but those costs still need to be factored into the overall cost of the used suit.
Consider the Different Materials
Women's suits come in different materials, from the heavier wool to the light and luxurious silk. One should also consider the season and the weather conditions. If it will be cold, a heavier material like wool would be a good choice. If it is going to be warm or hot, a light silk suit would be a better option.
Consider the Different Colours for Women's Suits
With women's suits having both hit the mainstream and the high-end fashion scene, one can find them in different colours as opposed to the earlier years when the women's suit often only came in black, grey, brown, and other neutral colors. Coats can come in a wide array of colors, allowing them to be be mixed and matched with women's suits and their respective jackets, trousers, and skirts. However, instead of having suits in every colour of the rainbow, the shopper should invest in a handful of suits that can be easily mixed and matched with various shirts, shoes, and accessories.
Different Manufacturers and Designers
Since women's suits hit it big in the fashion industry, there has been no shortage of different manufacturers and or designers of women's suits. Armani is just one of the few suit makers out there that offer very good quality men's and women's suits. Using different styles, designs, and materials, these designers push the envelope of fashion while still keeping the look appropriate for the workplace.
Consider the Price
Once the different styles, design, makers, size and any other features have been taken into consideration, a quick search for these specifics can give one an idea of a fair price. It is important to know what a new suit is worth to give one a general idea of what a fair price would be for a used women's suit.
Consider Wear and Tear
The definition of what is 'used' can vary. The women's suit may only have been worn once, or it could have been worn three time a week for six months. It is important for the buyer to try and estimate how much wear the suit still has in it. To do this you need to look for obvious signs of wear and tear and any damage like noticeable stains. Most shoppers will not be able to examine a used suit unless the suit is on display in a charity shop or second-hand clothing store. For online purchases you should request that the seller send you close-up photos of the suit including the jacket and trousers or skirt. You should look for missing buttons, and damaged zippers, as well as any obvious stains. A buyer should also enquire about how many times the suit has been dry cleaned and when was the last time the suit was dried cleaned. If there are any signs of damage and wear and tear, these problems can be fixed, but the costs involved in altering or repairing a used women's suit need to be factored into the overall cost.
How to Find Women's Suits on eBay
A generic search for 'used women's suits' on eBay will generate a results page with potentially hundreds of listings for suits that match that description. Use a generic search query if you would simply like to browse through the various listings. For a more specific search, you should think of including more specific details in the search query. You can alway filter the results by selecting and deselecting various options on the result page. You can search by colour, material, brand, and size.
When deciding on a seller, consider a seller with high ratings, repeat customers, and lots of positive feedback. You can also choose whether to pick up the suit from a seller near you. This allows you to try it on immediately and even return and exchange it if it does not fit you. Talk to the sellers and ask them questions about the used suits they have listed. Contacting the seller is easy. Simply go into their profile and click on the contact link.
Conclusion
Remember, an expensive suit can look cheap if it is not properly fitted and a cheap suit can look expensive when it fits perfectly. The things that one has to check include the length and waist size of the pants, the length of the shirt sleeves, the length of the body of the jacket, and the waist and chest size of the jacket. It is the little details that make the suit. It is wise to buy a suit that is versatile. Because a women's suit comes in multiple pieces, one can wear the individual pieces with other outfits, such as the jacket with a dress or the trousers with a different shirt.
Buying on eBay makes for easier shopping, but whenever an opportunity arises, such as when one is out and about, visiting local stores to look at women's suits can give you a better idea of what to look for online. When considering the price, remember that you may have to take the used suit to a tailor to have it professionally altered. You should also consider any minor repairs like attaching missing buttons. This cost should be factored into the overall price.