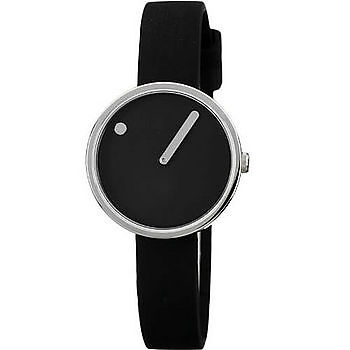 A women's wristwatch is a simple, and sometimes elegant, timepiece that is attached to the wearer's wrist by means of a strap. It is designed primarily to display the time, although more expensive models are often valued more for their workmanship and aesthetic appeal. Many women's wristwatches display other information such as the day, month, and year. Women's wristwatches are available in a wide variety of styles, sizes, and mechanics. The band of the wristwatch can also vary in design and material, ranging from leather and plastic to stainless steel and gold plate.
Buying a used women's wristwatch is an excellent way to save money. Buying used wristwatches makes items available that may otherwise be out of a woman's price range. Before buying a used watch, it is important to check the item's condition, either physically or by asking the seller questions. When purchasing a used women's wristwatch, buyers should familiarise themselves with their history, consider the different types of display, bear in mind the various types of movements, and learn about the many features that they have to offer. Used women's wristwatches can be bought from some jewellery shops, antiques shops, private dealers, and online at retailers, such as eBay. You can find a great range of used designer women's wristwatches on eBay including Michael Kors so be sure to check them out!
History of Women's Wristwatches
The first mechanical clocks with pendulums were created to aid sea navigation. Although considered to be fairly accurate, the irregular movements of a ship at sea rendered the clocks unusable. In 1524, Peter Henlein created the first pocket watch. These watches catered to both men and women who wore them attached to their clothing with pendant chains. Early forms featured only an hour hand. In 1868, Patek Philippe invented the first wristwatch. Early forms of the wristwatch were considered to be a women's accessory.
In 1904, aviation pioneer Alberto Santos-Dumont crossed gender barriers by asking Louis Cartier to design a watch that would leave his hands free while flying. This new trend of men's wristwatches gained popularity during the First World War as they were easier to wear rather than to pull out of a pocket.
Types of Women's Wristwatch Display
There are various types of women's wristwatch display. The type that is best for a certain person is a matter of personal taste, though some displays are better suited for particular activities.
Analogue Wristwatches
Analogue wristwatches have a clock face and two or three hands. They usually have the hours 1 to 12 labelled clearly on the face, although some designs contain only markers that indicate each hour. Analogue wristwatches work differently from digital watches as they do not store any information. They function through use of mechanical gears.
Digital Wristwatches
Digital wristwatches are able to both store and manipulate numbers. They use a computer to process information, pictures, words, and sounds and translate them into number form. These stored numbers represent the time and are easily visible to the wearer.
Women's Wristwatch Movements
Women's wristwatches differ in the way that they measure the passing of time. Movements may be entirely mechanical, entirely electronic, or a blend of the two. Most wristwatches used mainly for timekeeping have electronic movements with mechanical hands on the watch face for indicating time.
Mechanical Movements for Women's Wristwatches
Wristwatches that have mechanical movements are considered to be less accurate, often with errors of seconds per day. These wristwatches are sensitive to position, temperature, and magnetism. They are also more expensive, not only in their production costs, but also because they require regular maintenance and adjustment as they are more liable to fail. However, their craftsmanship is appreciated by many women. Some watches may even leave the mechanism visible for aesthetic reasons. Traditional mechanical watch movements use a mainspring as their power source. The spring must be rewound periodically by the wearer by turning the watch crown. Most modern wristwatches are designed to run for 40 hours on a single winding, although some are able to run for several days. Others have 192 hour mainsprings and are wound weekly.
Automatic Women's Wristwatches
Automatic wristwatches are designed to be self winding. Automatic wristwatches work by an eccentric weight, called a winding rotor, which rotates with the movement of the wearer's wrist. The natural motions of the wearer's body rewind the mainspring of the mechanical movement. Most automatic wristwatches can also be wound manually, allowing them to keep running when not worn or if the wearer's wrist motions are unable to keep the watch wound.
Electronic Movement for Women's Wristwatches
Electronic movements have few or no moving parts. Instead, they use the piezoelectric effect in a tiny quartz crystal to provide a stable time base for a mostly electronic movement. So, electronic wristwatches are often called quartz watches. Quartz wristwatches are the most commonly worn. They are recognised for their accuracy and consistency. These wristwatches work by having a tiny piece of quartz oscillating at 32,000 vibrations per second, losing only ten seconds per month. Quartz wristwatches do not require winding. They run on batteries which should be replaced once every one or two years.
Features of Women's Wristwatches
In addition to telling the time, many wristwatches offer the wearer many other features. These features vary by design and are often associated with a particular type of activity. When searching for the perfect wristwatch, wearer's should consider their features and how they fit into the wearer's everyday life.
Wristwatch Feature

Description

Ideal for those who engage in water activities such as swimming or diving

Has a special seal to withstand water depth

Enables the wristwatch to cope with mechanical shocks

Wristwatch is resistant to damage should it fall on hard ground

Allows wearer to time short sprints, long races, or other activities

Designed to wake the wearer up, remind them of an appointment, or alert them to important tasks

Uses satellite navigation to identify the location of the wearer

Ideal for parents who want to keep track of younger children

A parent can log onto a computer and see the location of their child on a map by using special software

Has a built-in receiver and transmitter

Allow the wearer to upload information from their run, such as distance travelled or average speed

Helps to maximise the efficiency of an exercise workout

Measures cardiovascular activity, keeping women at the right level of intensity for their desired workout

Lights up the face of the wristwatch

Allows for easy viewing of the time at night
The wide array of features that women's wristwatches have to offer gives buyers lots of choices. Fortunately, many women's wristwatches come with multiple features. Avid runners may favour wristwatches with GPS tracking and a heart rate monitor, while those who are in and out of the water frequently should choose a water resistant wristwatch. Choosing the right features not only benefits the wearer, but can also increase the longevity of the wristwatch.
How to Buy a Used Women's Wristwatch on eBay
Buying a used women's wristwatch on eBay is a great way to increase cost savings while maximising the selection. Buyers should begin their search from eBay's homepage. Buyers can search easily for "used women's wristwatches" by using eBay's keyword search. Alternatively, a buyer can use eBay's advanced search function. This allows buyers to limit their search by price or condition. Buyers can also the limit results to women's wristwatches offered by Top-rated sellers. Top-rated sellers are recognised by the eBay community for their high levels of customer service and excellent products. These sellers receive consistent positive feedback ratings which are left by past buyers. Using the advanced search feature also allows buyers to organise their search by condition. Buyers looking for used women's wristwatches should ensure that used items appear first on the listing page.
Sellers must use standard terminology to describe the condition of their items, as outlined in eBay's guidelines. Each listing includes a brief definition of the item's condition in the "Item specifics" section.
Conclusion
Buying a used women's wristwatch on eBay is an economically wise decision. Many used women's wristwatches can be found at fair prices in good condition. With the continued advancement in technology and more women using mobile phones as a way to monitor the time, many wristwatches have received limited use and can be found in near perfect condition and suitable for resale.
When shopping for a used women's wristwatch, buyers should check the watch's condition. The watch band should have minimal wear and tear, although bands are usually easy to replace. Buyers also need to determine their preferred type of watch display and movement. Analogue wristwatches have a face and two or three hands, while digital wristwatches display the time using numbers that are easy to read. Buyers should also bear in mind women's wristwatch features. Digital watches are known for providing a greater number of features over their analogue counterparts. With so many used women's wristwatch listings to choose from, eBay can help every buyer to find the perfect timekeeping accessory.