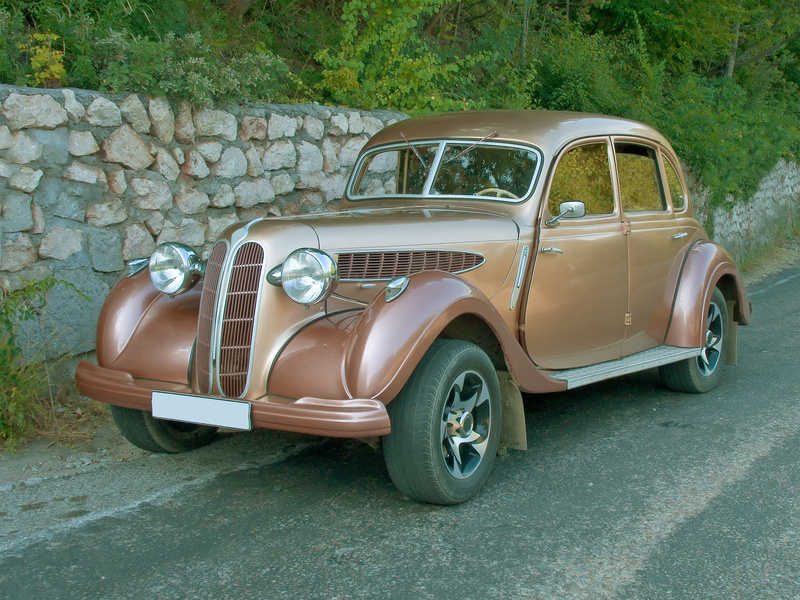 Bavarian Motor Works, more commonly known as BMW, is a company world-renowned for producing high-quality automobiles. The BMWs of today blend powerful performance with luxurious refinement to offer consumers desirable cars. The company has long been making attractive cars that remain roadworthy for decades, and enduring style and performance have created a sizable market for vintage BMW cars.
Those looking to buy a vintage BMW can find a large selection of these cars on eBay. Consumers can shop successfully for the vintage BMWs of their dreams by first understanding a bit about vintage cars in the United Kingdom, including how to define vintage and what considerations to make regarding owning a vintage car. When they know the basics of BMW's history and the cars it has produced over time, consumers can create more targeted searches on eBay. The final key to finding the right vintage BMW on eBay is to understand the eBay buying process, including how to search the site, evaluate sellers, find local sellers, and search for vintage BMW parts. Finding the perfect vintage BMW takes some legwork, but consumers can successfully do this by becoming knowledgeable buyers before purchasing.
Understand Vintage Cars in the UK
Understanding vintage cars in the UK creates a solid foundation for locating the right vintage BMW on eBay. Consumers can make educated buying decisions if they know how to define "vintage" and if they consider certain points about safety, insurance, and parts.
Defining Vintage
There is no fixed definition for "vintage" within the UK industry for vintage cars. HM Revenue & Customs, however, does define vintage for the purposes of taxation. It declares a vintage car to be one that meets all of the criteria listed below.
Car has an age of at least 15 years at the end of the assessment year
Car has a market value of £15,000 or more
Car has a market value more than the amount of capital contributions that went into the car
British tax law considers all cars manufactured before 1973 "historic cars", and they are exempt from vehicle excise duty. This is therefore another possible point of reference to use in defining a vintage car. The market, however, is more flexible in determining which cars qualify as vintage. There is a good deal of subjectivity in the definition, so those unsure of whether or not a specific BMW is vintage or not should consult car magazines and forums to find a consensus opinion.
Special Considerations
Those interested in purchasing a vintage BMW should consider a few points regarding a vintage BMW's safety, insurance costs, and replacement parts. These considerations create a more complete picture of the cost of owning a vintage BMW, and this picture helps consumers make more prudent buying decisions.
Safety
Vintage BMWs do not have some of the same safety features of modern BMWs. Consumers should therefore realise that they may have to upgrade a few aspects of vintage BMWs to bring them up to their own safety standards. Fitting modern tyres to an older car can improve handling, and there are modern seat-belt kits that are designed for compatibility with vintage cars. It is also possible to install newer braking parts to enable better braking.
Insurance
Purchasing a vintage BMW is often a big investment, so one should find a quality insurance plan to protect the money spent. Insurance companies tend to pay out the market value for a vintage BMW on a claim that the car is lost or damaged beyond repair. This does not account for the costs that have accumulated over the years for maintaining the car. It may therefore be worthwhile to find an insurer that is willing to settle on an agreed value for the car at the time the insurance plan is initiated. This may cover newer parts that consumers install on vintage BMWs.
Parts
Buying parts is an important aspect of maintaining a vintage BMW because the right parts can upgrade performance in addition to safety. Finding quality compatible parts can be challenging, but fortunately, eBay provides a large market where consumers should be able to find the vintage BMW parts they need.
Learn About the BMW Brand
After developing a solid understanding of vintage cars in the UK, consumers should learn about the history of BMW and the significant cars BMW has produced. Being familiar with the brand helps consumers decide which vintage BMWs to seek on eBay.
History
BMW has been building a reputation for making high-quality automobiles since 1928. The company originally started in production of aircraft to support the German effort in World War I. The Versailles Armistice Treaty that concluded the war forced BMW to stop making military airplanes, so it switched to motorcycles in 1919 and expanded into automobiles in 1928.
Despite going into business in a precarious economic period of Germany's modern history, BMW managed to survive and thrive. Its first car was the Dixi, and the company expanded its offerings during the interwar period. BMW nearly went into liquidation in 1959 due to financial difficulties, but it recovered to become of the world's premiere producers of luxury automobiles. Over the years, BMW has acquired design studios and other carmakers. It has incorporated technologies that these other businesses developed into its own cars, resulting in high-performance, reliable, and eye-catching cars that still appeal to car owners decades after BMW manufactured them.
Significant BMW Cars
BMW has produced different cars over the course of its long history. The table below lists a few series of BMW vintage automobiles that consumers can find on eBay.
| Series | Description |
| --- | --- |
| 3 | Smaller coupes, sedans, cabriolets, and touring wagons; many models have two doors; production began in 1973 |
| 5 | Larger sedans and touring wagons; many models have four doors; production began in 1972 |
| 6 | Long touring coupes; many models have two doors; production began in 1977 and ceased in 1989 before renewing in 2003 |
| 7 | Large luxury sedans; models tend to be long and have four doors; production began in 1978 |
| 8 | Long touring coupes; larger than 6-Series, but many models still have two doors; production ran from 1989 to 1999 |
| Z | Roadsters; small performance cars; usually convertibles; production began in 1988 |
The numerical series indicates the first digit of a BMW model. For example, a BMW 328i is a 3-Series model, and a BMW 528i is a 5-Series model. On eBay, consumers may also be able to find older BMW models manufactured before the modern BMW era began in 1972.
Vintage BMWs on eBay
eBay has a large market for vintage BMWs. Consumers can successfully purchase the ones they want by knowing how to search the site and following a few important tips.
How to Search for a Vintage BMW on eBay
Consumers can search for a vintage BMW either through the eBay Motors page or by using the website's standard search features.
Searching through eBay Motors
The eBay Motors page is eBay's home for everything related to vehicles. One can begin by entering the model of BMW needed, such as 3 Series, into the search bar and picking a model year, such as 1989,, and eBay returns the results. This is one way of picking out vintage BMWs from all the models for sale on eBay.
Standard Search
Consumers can also search for vintage BMWs from any eBay page with the search bar. To look at a general listing of available vintage BMWs, one can use "BMW" as a search term and choose the category related to classic cars, and eBay then returns the results. Some BMWs may be listed under the general cars category, so consumers may also want to filter for older models amongst those listings.
Tips for Buying a Vintage BMW on eBay
Following a few tips about evaluating sellers and finding local sellers helps consumers purchase with confidence. Prior knowledge about vintage BMW parts also enables consumers to maintain vintage BMWs after buying them on eBay.
Evaluate Sellers
Evaluating sellers is an important aspect of buying a vintage BMW on eBay, because it enables consumers to determine whether or not sellers are reputable. Consumers can view a seller's feedback or the collection of comments and ratings that other buyers have left for the seller on eBay. This can be done by clicking on the seller's username on a listing. This information helps consumers determine whether or not a seller is likely to provide quality customer service.
Find Local Sellers
Some consumers are willing to travel across the UK to find the right vintage BMWs, while others prefer to keep their searches closer to home. The latter group can accomplish this by specifying the distance from a postcode within which sellers should be located. eBay can then filter results to leave only local sellers in the listings.
Buy Vintage BMW Parts on eBay
eBay has a large market for vintage BMW parts, which is helpful for consumers because it can be challenging to find the parts necessary to maintain a vintage BMW. It is possible to find these parts by using a search term such as "classic BMW&", and choosing the category related to car parts when eBay returns the results.
Conclusion
Consumers who appreciate high-quality automobiles that withstand the test of time are thrilled to own a vintage BMW. The German automaker is well-known for making high-performance, stylish automobiles that still drive well and look great after many years. Those interested in buying a vintage BMW should know how British tax law defines classic cars and how this definition influences standards for vintage cars on the market. Potential buyers should also consider the safety of vintage BMWs and how they plan to insure them. Purchasing parts for the vintage cars is another important consideration.
Once consumers have done their homework, they can proceed to eBay to seek the right vintage BMW. Knowing how to search the site, evaluate sellers, find local sellers, and search for vintage BMW parts are all important aspects of vintage BMW ownership. Being adequately prepared and knowledgeable should help buyers find the vintage BMWs they want and maintain them for years to come.