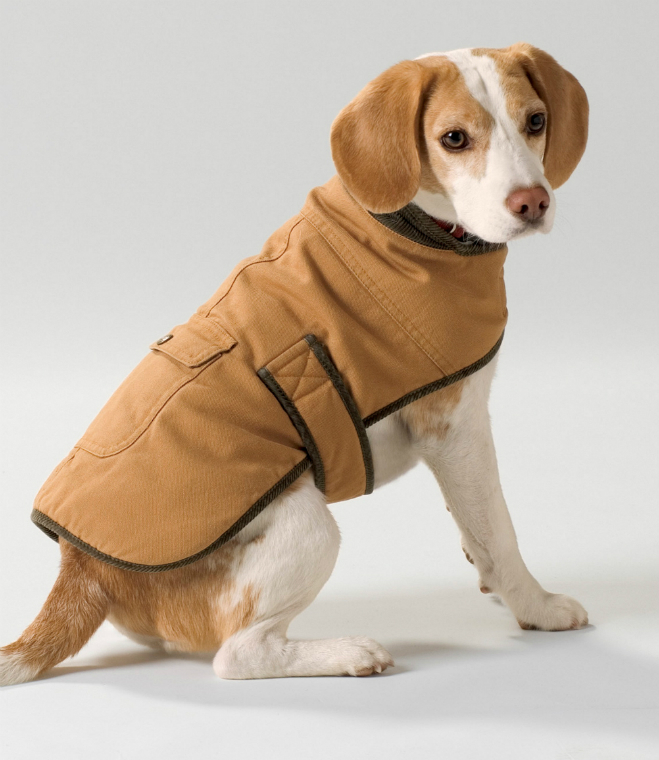 Waterproof dog coats are essential items of kit for any dog during the colder winter months. The majority of dog owners, however, fail to take into consideration the specific requirements of their dog when selecting one from the vast choice on offer on eBay.
Surprisingly, something that is very often overlooked is whether the dog coat really is waterproof or not. Most commercial dog coats of the type you will come across on eBay are primarily designed to ensure that the dog is kept warm and cosy whilst it is out walking with its owner. They don't, however, repel rain and so it should come as no surprise when the dog ends up soggy after a spin in the park in autumn or winter and the weather takes a turn for the worse.
Lots of dog coats on eBay are also only shower proof, which should indicate to a prospective buyer that the coat will not prevent sustained water saturation, but only protect against a light spell of rain such as an April shower.


Overview of things to consider
| | |
| --- | --- |
| Material | A decent waterproof coat will have an effective watertight membrane or a water-repelling wax coating. |
| Stitching | The garment should be close-sewn throughout, without any gaps that will allow water to penetrate. |
| Design | The coat should have a design that covers the whole of the dog's body, leaving the legs, tail and head free of course but also completely covering the back. |
| Underbelly | Some coats fail to cover the whole of the underbelly of the dog, but ideally at least half of this area should be covered so that water does not splash up onto the underbelly from ground water. |
Suitability
A waterproof coat from eBay for a dog really comes into its own, and is pretty much essential for, dogs that have longer than average coats such as German Shepherds and Golden Retrievers. If these breeds ever get a good soaking it can take a long time to thoroughly dry them out, and in the meantime there is every chance of them picking up a cold or serious chill. Waterproof dog coats are also a good idea for the smaller breeds, which are a lot more likely to get a good splashing when out walking in even a small amount of rain.
General Fitting Technique
Measurement of dogs can be a tricky business but here are a few tips. Generally speaking, to buy any dog clothes from eBay the owner needs at least one solid and accurate measurement to work with, but it is always a good idea to have a few others as well.
A quality dog coat from eBay needs to fit properly. If too tight it can interfere with breathing and free movement and cause sores and itching. If too loose, the legs can get caught up in it or it can slip over the head and impede vision.
Firstly, measure from the base of the tail to the base of the neck. This will be the main measurement needed when choosing a waterproof coat or any other garment for the dog.
Secondly, take a measurement around the dog's chest.
Both these measurements will come up on the labelling for any dog coat so they have to be accurate. One good piece of advice is for the owner to take their dog along to the local pet store and ask for advice there, and take down the recommended measurements before browsing through eBay.
Materials
Rather than being guided simply by an appealing style and colour when selecting a suitable dog coat from eBay, think also about the quality of the material and the welfare of the animal. As well as effectively repelling water it also needs to be warm enough to keep the dog feeling cosy in adverse weather conditions. Factors such as material thickness are just as important as the appearance – if not more so.
Choosing a waterproof dog coat that is made up of more than one layer will be ideal for dogs that experience longer or harsher winters, and the way climate change is currently going that will probably apply to most dogs as well as to their owners. Choose a dog coat that has a warm lining of fleece or some similar natural material, as well as having a water-repelling outer waxy shell and this will give the dog complete winter protection.
Is It Washable?
In all the excitement of buying a favourite dog a stylish and practical garment for its park walks, a few more down to earth considerations may be lost sight of. First off, the coat has to be machine washable. As when buying any item of clothing on eBay or elsewhere, the label should be thoroughly read for important information such as this. It is important when selecting a dog coat to go for one that can easily be cleaned in a normal domestic washing machine for sheer practicability.
Keeping the Coat On
There are various ways of fastening the coat from eBay onto the dog and these vary between the different manufacturers. It is not necessary to believe the entire blurb as of course they are all in competition with one another. Some will say that hoop and loop fastenings are a bad idea because when out and about the bits and bobs will get entangled in the fur and cause various problems.
A dog coat from eBay that fastens up using Velcro is a good idea in terms of convenience because the coat can then be quickly pulled on and off without having to get down on all fours oneself to sort out all the fastenings.
The only way a dog's fur would get tangled up in a Velcro fastening would be if it was too long, and then it probably wouldn't need a coat in any case for warmth alone. A soft bristle brush can also be effectively used on Velcro to get rid of any dog hairs that may have caught up in it. Alternatively, they can be removed by hand relatively easily.
How to Buy a Waterproof Coat for Your Dog on eBay
The simplest and most effective method of choosing a waterproof waterproof dog coat from the eBay store is to browse through the entire range on the site to get a good idea of the different types of dog jackets and coats on offer there. Simply visit the eBay site and go straight to the drop-down menu of sub-categories at the very top of the page. Select Pet Supplies and this will then open up a list of all the sub-categories available. Go to Dog Supplies and click on Clothing and Shoes when the next page comes up. This will then redirect you to a comprehensive listing of all the various types of dog clothing and shoes on offer on the eBay site.
In the side bar to the left there are various options for narrowing down the search. If on the other hand you have a very clear idea of what exactly it is that you are looking for on eBay for your dog, simply type the product details into the search box at the top of the home page to be taken directly to it.
For a number of other useful tips about searching the eBay site for particular items, or just to get an idea of what is available, go to their Search Tips page.
Conclusion
Many people have the idea that buying clothes for a dog is a bit extravagant, but buying a waterproof coat or even soft shoes can make sense under certain conditions.
If the dog is small or it has short fur then it will be particularly vulnerable to cold and wet conditions. Rainwater can penetrate its skin and cause health-related issues. Equally, when walking in parks or on urban streets, there are often small pools of chemicals lying in its path, along with broken paving stones, and these too can cause damage.
A good quality waterproof jacket is an excellent investment for keeping out both the cold weather and rainwater. But when buying any dog clothes remember that the information on the label is of primary importance in ensuring that the dog will end up with a jacket which will fit as well as be effective at keeping it warm or keeping out the rain.
It is all too easy to spot an attractive jacket on eBay and make a guess at the dog's size, when this will vary according to the breed and terms like 'small', 'medium' and large do not mean a great deal in the dog world in any case.
One accurate measurement at least is needed to get a jacket from eBay that fits well, and two or three measurements are preferable to get one that fits like a glove.
The dog will in its own way show great appreciation for such a snug garment from eBay which does not cause irritation, does not tangle it up and impede movement, and which keeps it snug, warm and dry when out and about with its owner.