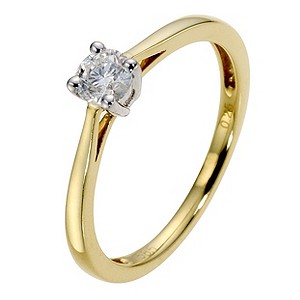 A women's wedding ring is a token of love that signifies that the wearer is married. Choosing the right ring may seem daunting, but to many buyers it is less stressful than choosing the engagement ring. Knowing what to look for and how to evaluate the options available turns buying a women's wedding ring into a simple process. Before shopping, set a budget to get a clear indication of the rings available. Learn about the precious metals used to make wedding rings, such as gold and platinum, and the styles available. Decide whether the women's wedding ring should match her engagement ring, whether it should simply be complementary, or whether the ring is worn on its own. Next, decide whether the couple's rings should match or whether each should have a unique ring. Finally, decide on an engraving, if any. Women's wedding rings are available from jewellers and online, from sources such as eBay.
Set a Budget for a Women's Wedding Ring
Before shopping, set a budget for the women's wedding ring as this narrows down the choices available. Traditionally, about three percent of the wedding budget should be allocated to the wedding rings. In other words, with a budget of £30,000, £900 should go towards both rings. However, this is not a set rule and couples should set an amount aside that is comfortable for them. Remember that rings can always be added to or upgraded at a later date.
Metals for Women's Wedding Rings
A number of precious metals are used to make women's wedding rings. These can be mixed for a two tone or more decorative effect, or set with diamonds and other precious stones.
Gold Women's Wedding Rings
Gold is one of the most common metals used for wedding rings. The purity of gold is measured in carats (ct), with 24 ct signifying pure gold. 9 ct, 14 ct, and 18 ct are the most common carat values available and the cost of the ring increases as the carat value goes up. Pure gold is very soft, so the higher the purity of the gold, the softer the ring. In most cases, the metals added to the ring act as hardeners to improve durability.
Gold is not only available in yellow; white and rose varieties can be found. White gold tends to be slightly more expensive and is often coated in rhodium. This coating enhances the white colour and offers protection against wear and tear.
Platinum Women's Wedding Rings
Platinum, a white metal, is the most expensive option, but is durable and maintains its beauty without any protective coatings. Platinum women's wedding rings are usually made of nearly pure platinum and tend to feel heavier than rings made of other metals. Due to the cost of this metal, platinum is seldom used in costume or fashion jewellery and is a favourite for wedding and engagement rings.
Palladium Women's Wedding Rings
Palladium is extremely rare and mostly used in more expensive bespoke and high-end jewellery. This rarity value makes it an attractive option for wedding rings as few people have rings made of this metal. Although it is a fairly soft metal, palladium is of the same metal family as platinum and shares some of its qualities. It is tarnish resistant and is not prone to chemical erosion.
Titanium and Tungsten Carbide Women's Wedding Rings
Titanium is extremely strong and durable, dent and scratch resistant, and very light. Tungsten carbide is a compound of tungsten and carbon that is hard, heavy, durable, and wear and tear resistant. While both of these metals have become increasingly popular in the manufacture of men's wedding rings, they are not recommended for women's wedding rings. Their hardness and durability make it impossible to resize or solder rings made of these metals, and the styles available are limited.
Styles of Women's Wedding Ring
Women's wedding rings are available in a huge variety of styles. Plain bands are described as either flat or half rounded. Flat bands are uniform in thickness, while half rounded rings are flat along the inside circumference, and rounded along the outside. The table below lists the most common styles of women's wedding rings available.
Style of Women's Wedding Ring

Description

Traditional wedding ring

No adornments

Matches everything

Timeless

Adds sparkle

Comes in a variety of sizes, widths, styles, and designs

Set with gemstones that wrap around the finger completely

Difficult to resize

Adds colour accents

Can be worn separately

Can be chosen to complement an engagement ring

Two or more precious metals used to create ring

More versatile as easily matched to other jewellery
Diamond wedding ring styles include shared prong, channel set, and pavé rings. Shared prong rings feature a row of diamonds set in prongs that allow the maximum amount of light available to reach them. Channel set diamonds are protected by precious metal borders on each side. Pavé diamond rings have a vintage look, with diamonds that are surrounded by beads of precious metal.
Matching Women's Wedding Rings to Engagement Rings
Some women prefer wedding and engagement rings that match. This could be achieved simply by matching the metal and style of both rings, or could be as elaborate as buying a contoured matching pair of rings that sit flush and look like a single piece of jewellery.
Matched Women's Wedding Ring Sets
Matched women's wedding ring sets are designed to be worn together and often have the same embellishments, gemstone accents, and details. Women who are drawn to symmetry may appreciate this style.
Matching a Women's Wedding Ring to a Contoured Engagement Ring
If there are curves in the engagement ring, the wedding ring should match these curves. A contoured women's wedding ring is also known as a shadow band and is designed with a slight curve to accommodate the design of the engagement ring. In some cases there may be a slight gap between the two rings. While some women do not mind this, others might prefer rings that sit flush.
Choosing a Complementary Women's Wedding Ring
Complementary women's wedding rings complement engagement rings without matching them exactly. It is best to match the precious metal used in the engagement ring, for example platinum or 18 ct gold, to allow the rings to wear in the same way. The rings should have the same finish and shape for the best results. The gemstones chosen for the wedding ring should not compete with the cut, size, and shape of those used in the engagement ring. Ring styles should also be considered. If the engagement ring has a vintage or antique look, choose a wedding ring in the same style. Solitaire engagement rings are the most versatile when it comes to matching them with wedding rings as they can be paired with the widest range of styles.
Consider a Women's Wedding Ring that Can Be Worn Separately
If the bride prefers wearing her wedding ring on one hand and her engagement ring on the other, or simply wants to wear the ring by itself, choose a design that can be worn separately. Some can be worn with engagement rings, while others are designed for a unique look when worn on their own.
A ring that is more than 4 millimetres wide may not fit well next to the wearer's engagement ring, but could look spectacular when worn on its own. In addition, some feel that this type of ring can be worn instead of an engagement and wedding ring set.
Stackable rings allow the addition of rings to be worn as part of a matching or complementary set. Choosing this option allows the wearer to add rings that are given on significant occasions, such as anniversaries.
Matching Wedding Rings for a Couple
Some couples prefer the simplicity and unity of matching wedding rings. However, if the couple has significantly different tastes or styles when it comes to jewellery, it may be best to opt for unique rings for each person.
Engraving Women's Wedding Rings
Once the women's wedding ring has been chosen, consider engraving a special message, the date of the wedding, the bride and groom's initials, or some other significant sentiment on the inside circumference of the wedding band to make it special and unique.
How to Buy a Women's Wedding Ring on eBay
Shopping on eBay is easy and convenient if you know how to find what you are looking for and how to evaluate both the item and the seller. To search, simply type a phrase, such as "rose gold women's wedding ring", into the search field that can be found on every page. Choose the most appropriate item characteristics to refine your search. The advanced search option can be used to narrow or expand your results.
Evaluating the Item and the Seller
Before you buy on eBay, take a moment to evaluate the item and the seller. Click on an individual listing to go to the item listing page. This is where details such as the item description, buying options, the seller's accepted payment methods, postage and packaging costs, and the seller's feedback information can be found. Carefully read the description and look at the photos of the item; if you would like more information, contact the seller via the "Ask a question" link.
The seller feedback feature allows you to get to know the seller. By clicking on the number next to the seller's username you can see what other buyers have to say about a seller's products and customer service. Detailed seller information provides more details about aspects such as the seller's communication and the accuracy of the item description in the listing. You can also see what items the seller has sold previously, as well as comments from individual buyers.
Conclusion
With the wide range of styles and types of women's wedding rings available, choosing the right one can seem daunting. However, deciding on a budget before shopping narrows the field slightly, and knowing what to consider makes it a simple process. The precious metal chosen should be durable enough to withstand everyday wear and tear. Gold remains a popular choice and tones range from traditional yellow to rose or white gold. In addition, the style chosen should match bride's personal tastes. Some may prefer more plain designs, while others like the look of ornate, striking designs. Women's wedding rings can be matched to a partner's wedding ring, but this depends entirely on the tastes of the couple.
Women's wedding rings can be complementary, matching, or stackable. Complementary rings accent the engagement ring without matching perfectly. Matching rings match the engagement rings perfectly. Stackable rings can be worn with additional rings. Some women may prefer wedding rings that can be worn on their own. Consider having the women's wedding ring engraved with a special or significant message or date to make it unique. eBay sellers offer a wide range of women's wedding rings at competitive prices.