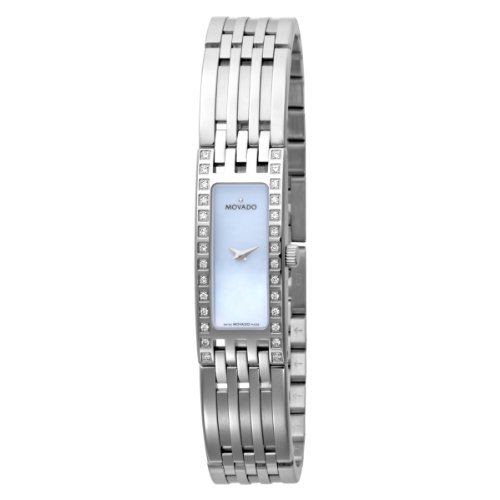 Women's wristwatches are often elegantly-designed accessories that can be worn both casually and at formal occasions. Even though there has been a decrease in the number of women wearing watches after the rise of mobile phones and devices such as iPods that can tell time, women's wristwatches are not simply worn for their function, but for their appearance as well. Indeed, many women feel that their outfit is incomplete without a wristwatch.
A women's wristwatch is thus a practical and good-looking accessory, but one may feel it is difficult to choose the right style, especially if they are considering buying a single item to go with all or most of their outfits. Different styles come with different features and for this reason buyers should carefully consider their preferences before starting shopping for a new or used women's wristwatch on eBay. There are several types of wristwatches to choose from and, by knowing the style from the beginning, one can save time when shopping on eBay. By learning more about the different types of watches, buyers can make sure their choice is the right one for their style and budget.
What to Look For in a Women's Wristwatch
A nice women's wristwatch can be the ideal complement for any stylish outfit. However, buyers should also take into account the fact that a watch can make or break an outfit. Choosing the right style is important and women should patiently browse through as many styles as possible before choosing a watch that goes well with their outfits and is a reflection of their personality at the same time.
Considering the Budget
There are plenty of styles to choose from and, if budget is a concern, then the wise approach is to establish the preferred cost and only look at models in that price range. eBay is a good place to shop when one is on a budget because it offers the opportunity of filtering the products by price, so buyers do not have to see wristwatches that are out of their price range. Also, buyers can choose to buy used wristwatches as they are often sold at a small fraction of the cost of a new wristwatch of the same brand and quality. Anyone who intends to buy a women's wristwatch for daily wear should opt for a high-quality item that can last for the years to come.
Determining the Occasion
The occasion for which a women's wristwatch is intended is an important factor to take into account when shopping for such accessories on eBay. For instance, a casual watch is ideal for daily wear and there are plenty of styles to choose from. If a woman is looking for a watch that can be worn all the time, even when swimming, she should consider buying a diving wristwatch.
Choosing the Strap for a Women's Wristwatch
Another factor that needs to be considered when buying a women's wristwatch is the strap of the watch. One can choose from a large variety of styles, including leather, plastic, canvas, and metal. Those who are looking for a women's wristwatch that can be worn with virtually anything should opt for a classical piece featuring a strap in a neutral colour. However, if a buyer is more interested in making a statement, she should search for a strap in a vibrant colour on eBay. In most cases, a wristwatch with a plastic strap in a vibrant colour is not a good option for elegant wear. Those who wish to buy a women's wristwatch suitable for formal wear or as a special gift may consider watches with straps made from precious materials such as gold or platinum.
Choosing the Display of a Watch
There are different types of displays one can opt for when it comes to buying a women's wristwatch on eBay. One of the most popular types of display for modern watches is the digital one, but many people still prefer analogue displays because of their classical look. There are also watches that feature a combination of analogue and digital displays. LED displays are another option, but this is often popular with girls and young women.
Extra Features to Consider
Besides telling the time accurately, women's wristwatches can also have some extra features that may prove useful in certain circumstances. For example, it is quite common for watch manufacturers to include the date and day into the display. Chronographs are another useful feature, as well as easy to read displays that are a great choice for elderly and visually impaired women. The Apple Watch exceeds all previous watch additions by allowing you to use many features that you have on your iphone from your watch.
The brand of a women's watch is also an important thing to take into account. Some of the most famous watch manufacturers whose products one can find on eBay include Casio, Geneva, Guess, Citizen, Swatch, Longines, and more. You can also find a range of fashion watches including designers such as Michael Kors to browse and purchase on eBay.
How to Choose a Women's Wristwatch in the Right Size
When shopping for a women's wristwatch on eBay, buyers should make sure the watch they intend to buy is a good fit for the wrist of the person who wears it. When trying to determine the size of watch, buyers should take into account both the dimensions of the watch itself and those of the strap. By determining the attachment style as well as the size and length of the strap, one can make sure the watch they are buying fits perfectly.
In order to determine the size of the strap, one needs to take some accurate measurements of the wrist. This way, they can determine the width of the strap. To determine which length would suit a certain wrist, one can take strap length measurements either by measuring an existent strap (without including the buckle) or by measuring the circumference of the wrist. The chart below offers conversions for width measurements and it can be useful for those buying women's wristwatches on eBay, because some sellers mention the sizes in inches and others in millimetres, according to their location.
Millimetres
(UK and EU Sizing)

Inches (US Sizing)

30

1 1/5 (1.18)

28

1 1/10 (1.10)

26

1

24

15/16

22

7/8

21

13/16

20

25/32

19

3/4

18

11/16

17

21/32

16

5/8

15

19/32

14

9/16

13

1/2

12

15/32

11

7/16

10

3/8

9

11/32

8

5/16

6

1/4
After taking all the necessary measurements, buyers can start browsing eBay's selection for watches that meet their sizing requirements. This can be done easily by filtering the search results by size. Buyers should remember that sizes may vary slightly from one manufacturer to another, so they should make sure they read the product description carefully before making a purchase.
How to Find a Women's Wristwatch on eBay
In order to be able to find the right women's wristwatch on eBay, you should browse through as numerous models as possible. eBay is the ideal place to do so because it offers a large selection of wristwatches in all styles, sizes, and brands. Starting searching for a women's wristwatch on eBay is very easy, as all you need to do is type the words 'women's wristwatch' into eBay's search bar. You immediately get several pages of results and you can start browsing through them right away. As the results can indeed be too many, you could make use of the filter system of the website and narrow them down according to your preferences. For instance, you could refine them according to style, size, colour, type of strap or display, or you can choose to get the results displayed by lowest price in order to make sure you do not go over your set budget.
When you are shopping for women's wristwatches on eBay you need to consider the delivery fees as well. If you opt to buy a wristwatch from an international seller, you may end up paying too much, so it makes sense to try finding a local eBay seller or at least one located in the proximity of your area. This way, you can either save money on shipping fees or you can choose to collect the item in person if possible.
Conclusion
More than simply telling the time, women's wristwatches can be a reflection of one's style and personality. Choosing an accessory that makes a statement is essential for many women and a wristwatch is a great way of doing so. With the multitude of styles from which one can choose, finding the perfect watch can be a difficult one. Fortunately, eBay offers both a great selection of women's wristwatches as well as an intuitive search system that can make the process of searching for the ideal watch a simple and pleasant one.
When shopping for women's wristwatches on eBay, buyers can choose from countless styles available from a range of sellers. This means that buyers have the advantage of shopping for their preferred type of watch from the comfort of their home and still have access to products from all over the world. Regardless of the type of women's wristwatch one wishes to buy, chances are they can find it quickly on eBay.