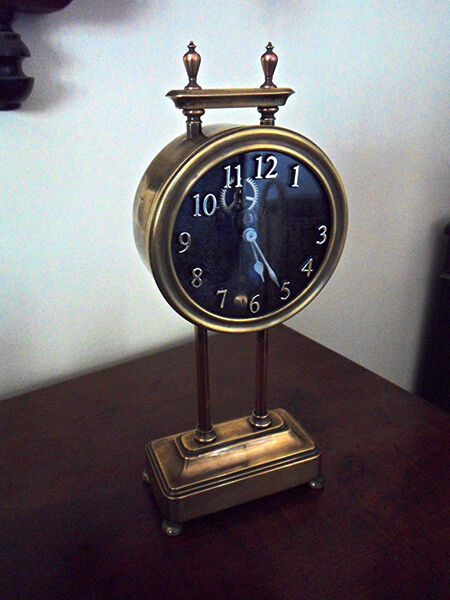 Antique clocks are a testament to the ingenuity and creative capability of mankind. From rudimentary sundials to intricate and accurate timepieces, antique clocks are a marker of scientific progression throughout history.
Painstakingly hand-crafted piece by piece, antique clocks can be a valuable investment for collectors. They also offer wide appeal as a wonderful accent piece for any room. There are many types and styles of antique clocks that are available on the market. Some collectors prefer certain styles, others prefer different types, and other collections are based on certain clockmakers depending on personal tastes and interests.
The values of antique clocks can range widely. Taking the time to do some research beforehand is important in understanding the different kinds, styles, clockmakers, and other issues that can have an impact on the cost of antique clocks. This guide outlines helpful tips and suggestions to help make purchasing an affordable antique clock an easier process.
History of Affordable Antique Clocks
A weight-driven clock built by Dunstable Priory in 1283 was one of the first recorded clocks. Earlier use of clocks was primarily in religious settings which relied on bells to indicate prayer time. The rigours of the thirteenth century increased the demand for more dependable methods of keeping time, which led to the invention of the mechanical clock. These original clocks were more accurate than sundials and early chronometric tools; however, they were not accurate enough for scientific application.
It wasn't until the mid-1600s that the pendulum mechanism was invented by Dutch astronomer and mathematician Christiaan Huygens, leading to the ability to reliably track hours and fractions of minutes. This led to increased demand for clocks that could be used in homes.
The sixteenth century also saw the development of guilds, such as the Worshipful Company of Clockmakers, created specifically for the clock-making trade. Clocks and clock parts were made by clockmakers until around the 1800s, after which saw the development of mass produced clocks in small factories that were assembled and adjusted by clockmakers. By the twentieth century, clock parts and designs became more standardised.
Discover Affordable Antique Clocks
Prior to the mass production of clocks in around the nineteenth century, antique clocks were creations that reflected both art and technology of the different periods in time. Handcrafted by clockmakers from quality material, these timepieces featured an assortment of different functions and styles that appeal to different collectors. Antique clocks of all kinds can be considered highly collectable, and their value ranges widely depending on their condition, type, and age. Deciding which clock to purchase can be a daunting task, but by deciding which style appeals to your taste and the size that suits your space, they can add character and history to any room.
Parts of Antique Clocks
The following list outlines some of the main parts of antique clocks. An understanding of the various clock parts will help purchasers in identifying and authenticating antique clocks.
| | |
| --- | --- |
| Part | Description |
| | Protective covering that houses the clock movement mechanisms which are typically held in by case screws. |
| Chimes | A sequence of musical notes that typically denote the quarter hour. |
| Dial | The face plate of a clock where numerals are marked. |
| Escapement | A mechanism such as a pendulum or spring that controls the speed of the clock. |
| Fusee | A pulley device that evens out the tension on the pull of the mainspring. |
| Mainspring | A spiral spring that controls the movement of the clock. |
| Pendulum | A weight on the end of a rod that uses gravity to keep the time on a clock. |
| Striking | Sound made to mark the hour and half-hour. |
| Winding button | Knob on a clock used to wind the timing mechanism. |
Types of Antique Clocks
There are many styles and designs of antique clocks. A purchaser should be familiar with the different types of clocks to help in identifying antiques and understanding the value of each historical piece. The following table provides a list of common types of antique clocks.
| | |
| --- | --- |
| Type | Description |
| | A small clock designed for travels in 1800s Europe, carriage cocks are small in size and typically feature plain circular or rectangular faces and brass cases. |
| Mantel Clocks | Developed in France in the 1750s, these typically smaller clocks were designed to sit on top of a shelf or fireplace mantel. These clocks were often decoratively ornate and made from a blend of ormolu, porcelain, and wood. |
| Bracket Clocks | Early bracket clocks featured hanging weights that required the small clock to be mounted on brackets. When spring-driven clocks were invented, bracket clock designs featured the clock and a small decorative shelf and often had handles that would allow transportation from room to room. These clocks were popular in the 17th and 18th centuries and were often ornamental and made of made of wood. These clocks offered an eight-day duration. |
| Dial Clocks | These clocks developed in and around 1720 and featured a black painted round dial and spring movement. These clocks offered an eight-day duration. |
| Tavern Clocks | Also known as an "Act of Parliament" clock, these large clocks could be found hung in taverns across the United Kingdom during the mid-18th century. These clocks were often plain in design and featured a large face. These clocks offered an eight-day duration. |
| Grandfather, Longcase or Tallcase Clock | These freestanding floor clocks featured weight-driven pendulums housed in the tower or waist of a clock. Also known as a 'grandfather clock', these clocks were developed around 1690. Featuring elaborately carved hoods, these clocks were typically striking clocks that would sound the time on hourly or half-hourly increments. These clocks typically offered an eight-day or thirty-hour duration. |
| Hooded Clock | These clocks featured a wooden hood with weights and/or pendulums that hung beneath it and were typically hung on the wall. These clocks normally offered a thirty-hour duration. |
| Lantern Clock | These weight-driven clocks featured a brass case and tended to resemble an old hand lantern. These clocks were designed to be wall-mounted with a spike and hoop assembly, and typically offered a thirty hour duration. |
Factors to Consider When Buying Affordable Antique Clocks
* Performance - Not just a stylish décor accent, antique clocks must be able to actually function to hold value. An antique clock must be able to run and operate in accordance to the intended functions and parameters in which it was originally created.
* Reproductions - Many styles of affordable antique clocks have remained popular throughout the years. Certain designs, such as the popular carriage clock, have been reproduced and may not be a genuine antique. Researching the differences and understanding the mechanisms of affordable antique clocks can help purchasers to determine a clock's authenticity and integrity.
* Upgrades - Owners would often upgrade or change the internal mechanisms or even alter the style of their clocks rather than purchase a new one. Some antiques will have upgraded movement or have been carved to suit the styles of the period. Understanding the basic types and parts of affordable antique clocks will help purchasers to identify if clocks have been changed in any way from their original state.
* Style - Always consider whether the style and type of antique clock will work well with existing décor. Grandfather clocks are often to be most easily identified, and Victorian-style clocks tend to be very popular and may be more difficult to find.
* Budget - Considering budget limitations prior to searching for affordable antique clocks will help narrow down options and make buying an affordable antique clock an easier process.
Popular Manufacturers of Affordable Antique Clocks
* Aaron Lufkin Dennison
* Benjamin Lewis Vulliamy
* Charles Frodsham
* Edward John Dent
* J. B. Joyce and Company
* James McCabe
* John Arnold
* John Ellicott
* John Harrison
* Joseph Knibb
* George Graham
* Martin Burgess
* Richard Donisthorp
* William Clement
* William Potts and Sons
Finding Affordable Antique Clocks on eBay
Once you determine the type of antique clock you want to purchase, visit the Antiques portal on eBay, then click on 'Antique Clocks' and start searching item listings. The Categories list on the left-hand side of the eBay page helps to narrow the search.
Searching for Affordable Antique Clocks on eBay
Search eBay listing titles for specific words when shopping for antique clocks. For example, to find Victorian Newhaven Mahogany Striking Wall Clock, type 'Victorian Wall Clock' into the search box, and then click the Advanced button to customise the results. Also visit eBay's Search Tips page for more advice on searching for affordable antique clocks with keywords. If you can't find the exact antique clock you want, try shopping eBay Stores.
Conclusion
Antique clocks can be a great investment, adding beautiful style to a home. Rich with history and tradition, these graceful handcrafted pieces can be a valuable collector's item. Research is the key to purchasing an affordable antique clock. Understanding the different types, mechanisms and factors that impact the value of antique clocks can help in determining the best purchase decision for the price. Once you have collected this information, you can buy an affordable antique clock safely and securely on eBay.