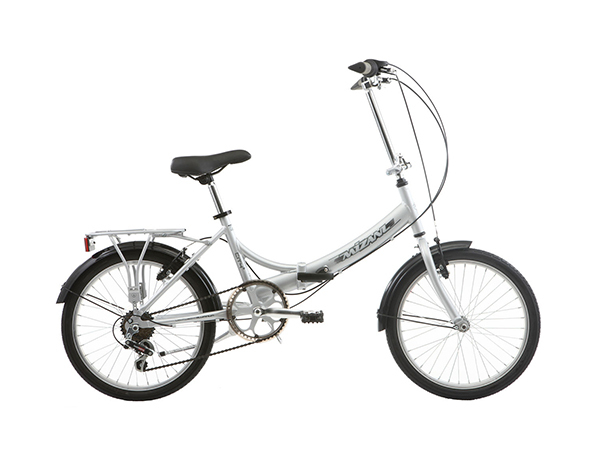 A folding bike is the ideal bicycle for short journeys on easy terrain, but some models offer cyclists the ability to ride on rougher terrain. Nonetheless, folding bikes offer all the benefits of a bicycle in a smaller, more compact form and are, therefore, most suitable for city cycling and travel.
Although folding bikes are more expensive than other types of bicycles, such as mountain bikes, buying a folding bike on eBay is an affordable way to purchase a well-known model. Folding bikes are listed in the Folding Bike section of the Bikes category.
How Folding Bikes Work
Folding bikes can be quickly folded up using a special mechanism on the frame. Different bikes have different mechanisms.
* Half fold bikes have a hinge that allows the bike to fold up. These are sometimes referred to as mid fold bikes.
* Triangle hinge bikes, or triangle fold bikes, have a distinctive triangular frame. The bike frame, forks and/or steering column may fold up to make the bicycle more compact.
Folding bikes should not be confused with take-down bikes. Take-down bikes split completely into two sections. Folding bikes are generally more compact, but note that some folding bikes can also split apart into two sections.
The most convenient folding bikes require minimal disassembly to fold and can be unfolded and used quickly when needed. Folding bikes are also generally unisex. Because there is no crossbar, men and women can use the same frames comfortably.
Typically, a folding bike will weigh 7-15kg. The time needed to fold the bike can vary from ten seconds up to half an hour, depending on the mechanism and any parts that have to be removed.
The Pros and Cons of a Folding Bike
Folding bikes are designed for convenience and are, therefore, quite different to mountain bikes and road bikes. However, with the right wheels and tyres, you may be able to find a compromise and use a folding bike in both city and country environments. Before buying a folding bike on eBay, review the pros and cons to ensure a folding bike is the correct choice.
* Folding bikes are not made for off-road riding or steep inclines, but they are ideal for smooth roads where grip and suspension are less important. If you need a bicycle capable of good performance off-road, choose a model with larger wheels.
* Folding bikes offer an alternative to car journeys to work. Commuters buy folding bikes because they are light enough to carry on public transport and can be quickly folded before hopping onto a bus or metro train. However, the small wheel size on some models can make riding difficult on steep streets, and some public transport companies require bikes to be stored with luggage.
* Carrying extra equipment, such as a bicycle pump, can be problematic on a folding bike as it can add bulk and prevent the bike from folding as it should. Consider the need to carry accessories separately; this may require a separate saddle bag.
* Taking a bike on holiday allows greater freedom to explore when you arrive at your destination. Folding bikes can be checked in as hold luggage on most commercial flights. To protect the bike, you will need to buy a case and may face excess baggage charges if you also plan to check in a suitcase for your trip.
* Buying a folding bike for errands or shopping is a good way to get around at speed. In order to carry items, you'll need to invest in a saddle bag or front bag.
* If you live in a small house or apartment, a folding bike will be easier to store. By keeping your bike indoors, there's less risk that it will be stolen. However, folding bikes can get dirty and can make a mess inside the home, so you may need to clean your bike more regularly.
* Some bikes need to be placed into top gear before being folded. Additionally, the rider may have to collapse the saddle or handlebars in order to fold the bike. A poor folding mechanism can affect the bike's usability, so it's wise to check exactly how the bike folds and ensure you are comfortable with the various latches.
Features to Look For in a Folding Bike
Folding bikes are made to very different specifications, and there is a considerable difference in price between models.
| | |
| --- | --- |
| Weight | Lighter folding bikes are easier to pedal and easier to carry around. Optional accessories, such as mudguards, will increase the weight of your bike and need to be factored in when comparing different brands. |
| Suspension | The amount of suspension on folding bike frames varies greatly from brand to brand. Some offer no suspension at all. For off-road use, it's better to choose a bicycle that has front suspension as a minimum. The Birdy brand offers both front and back suspension and is a good choice for uneven terrain. |
| Latch and folding mechanism | Your folding bike will be easier to carry if it has a latch to hold the folded sections in position. Without a latch, it may be difficult to carry the bag comfortably without a case. In addition, some folding bikes such as the Airnimal require parts to be removed before they can be folded. Note that Airnimal folding bikes can be taken apart for longer trips which may be benefitial for some people. |
| Ease of transportation | Some folding bikes can be wheeled along when they are folded. This makes walking with the folded frame much easier and reduces the need to support its weight as you walk. Example brands that offer this feature include Airframe and Strida. |
| Frame size and material | When folded, your bike should be easy to carry. If you need to climb stairs with your bike, ensure the frame is small enough to be comfortably supported. Aluminium and titanium frames are strong and lightweight; the well-known Brompton folding bike comes with a titanium frame. |
| Wheel size | The wheels on folding bikes range from 10 inches up to 26 inches. Smaller wheels are more common but are more difficult to ride out of town. If you anticipate riding your folding bike on difficult terrain, larger wheels will make the bike easier to control; you will need a mid-fold bike to accommodate large wheels. Dalton offers folding bikes with 26 inch wheels which may be suitable. |
| Tyres | Folding bikes can be fitted with different tyres, depending on your requirements and the way you wish to use your bike. Heavier tyres with treads offer better performance off-road. |
| Gears | The gears on folding bikes vary greatly from model to model, and two bikes made by the same manufacturer may have very different gears. Some bikes have no gears at all which can make cycling tiring on hills, but this also means there are fewer parts which could potentially fail. |
How to Buy a Folding Bike on eBay
Folding bikes are listed on eBay in the Folding Bike sub-category, within the Bikes category. A variety of eBay sellers offer folding bikes, from professional stores through to users who wish to sell their bike second-hand.
Finding the Right Folding Bike
On eBay, filters allow you to choose the frame and wheel size that suits you. You can also filter results by brand to see folding bikes made by Dahon, Brompton and other well-known manufacturers.
Shipping and Postage
Used folding bikes are often available for local collection. Since folding bikes are compact, you may find this the most convenient and affordable way to purchase your bike on eBay, since most can be collected on foot or by car.
If you prefer to buy a brand new folding bike, look for a seller that offers free postage.
Buying Folding Bike Accessories
Many eBay sellers are specialist bicycle retailers that offer a range of accessories for cyclists. By combining your purchases, you can save money and benefit from the convenience of having all of your items delivered together. Here are a few accessories you may wish to consider.
| | |
| --- | --- |
| Helmet | A standard city cycling helmet is normally sufficient for use with a folding bike. If you wish to invest more money, specialist folding bicycle helmets are available from brands such as Biologic. You'll find cycle helmets in the Clothing, Footwear & Helmets eBay category. |
| Case | When choosing a case for your folding bike, ensure it's suitable for your situation. Some bags are simply weatherproof covers. Others have in-built carry handles that make it easier to transport the bike when it is folded. Cases with straps can be easier to handle but are usually heavier. To make your purchase affordable, consider buying your bike and case as a bundle on eBay. |
| Mudguards | Mudguards are not always included on folding bikes and may be purchased separately. Most people will want mudguards for poor weather, particularly when cycling to work. Mudguards have their own eBay category. |
| Kick stand | Some folding bikes come with built-in prop stands or kick stands. These can also be purchased separately if your bike does not have one fitted. |
| Saddle bag | Folding bikes sometimes come with saddle bags fitted already; if you buy a used folding bike on eBay, the seller may include the saddle bag in the auction price. If not, consider buying a saddle bag with a reflector panel on the back. Note that your case may also come with a saddle bag, so you may not have room for a second bag on the back of the bike. However, bags can also be fitted to the front on some models. |
To buy accessories and a folding bike together, visit the seller's other items and add products to your basket, then check out as normal. Some sellers will offer postage discounts; some may even sell folding bikes and accessories as a bundle, helping you to save even more money
Conclusion
A folding bike is a practical, affordable form of transport that's equally suited to road and light rural cycling. Now you have read the tips in this guide, you're ready to find the perfect bike on eBay, together with all the accessories you need to keep your new bike safe, secure and in great condition.