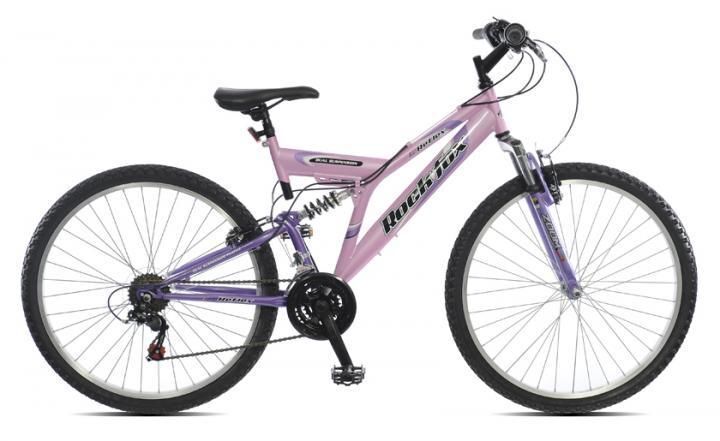 A good mountain bike will last for years, but for most people, purchasing a mountain bike is a significant investment. In order to get the best value when buying a mountain bike on eBay, you must consider how your bike will be used, what your budget is and whether you're willing to sacrifice the agility of a lighter mountain bike for the extra features of a heavier model.
Mountain bikes are listed in the Bikes category on eBay, under the Sporting Goods section.
Mountain Bike Pros and Cons
Mountain bikes are very durable, making them ideal for teenagers and young children who might subject their bike to some rough treatment. Bikes are built with heavier chains, more gears and added suspension to make them more suitable for use outdoors.
However, with durability comes extra bulk. The tyres on a mountain bike are thicker to accommodate the extra grip the rider needs to safely ride off-road. Added features like suspension and disc brakes can also make the bike heavy, and that can affect transportation and the effort involved in riding the bike, particularly when cycling uphill.
If you are concerned about the weight or bulk of your bike, a racing bike, folding bike or hybrid may be a better choice than a mountain bike. These bikes are generally easier to ride on the road, but most are not suitable for use in the countryside.
If a mountain bike is the right choice, for you, this guide will help you to consider the different types of mountain bikes and accessories for sale on eBay.
Mountain Bike Types
Different mountain bikes have different features, so you must consider the way you expect the bike to be used before you begin to research your purchase on eBay.
People who buy a mountain bike for casual weekend riding have very different requirements to those who are enthusiasts.
Hard Tail vs. Full Suspension Bikes
There are two general types of mountain bike: hard tail and full suspension. Each type has its own pros and cons.
| | |
| --- | --- |
| Hard tail mountain bikes | Hard tail mountain bikes are sometimes called front suspension mountain bikes. They have fixed wheels at the back and suspension under the front. This helps to cushion the handlebars. Hard tail models are suitable for beginners since they are easy to ride and provide good support on bumpy ground. They are also lighter than more advanced mountain bikes. However, some riders find them less pleasing over longer distances and bumpy terrain. |
| Full suspension mountain bikes | Full suspension bikes are designed for rough terrain where maximum shock absorption is required. These bikes have front and rear suspension to absorb impact across the whole frame. Although generally heavier than hard tail bikes, unless you opt for a top-of-the-range model, you may prefer a full suspension bike if you favour a smoother ride. However, they are generally more expensive and there are more parts to service. |
The Importance of Suspension Travel
You may also see mountain bikes described as cross country, trail, free ride or downhill. The difference is in the amount of suspension 'travel' - in other words, the potential cushioning provided when the suspension springs contract and expand.
| | |
| --- | --- |
| Cross country | Cross country mountain bikes are ideal for light outdoor and recreational use. These bikes have the least suspension travel of the four types in this table and are not suitable for demanding terrain. However, for light off-road use, a cross country mountain bike is usually enough for a hobbyist rider. |
| Trail | A trail mountain bike is a good choice if you are ready to upgrade from a cross country mountain bike. If you feel your skills have advanced and need a better bike to tackle more challenging rides, an upgrade to a trail will give you better suspension travel. However, you will probably notice that your trail bike is heavier which can make riding tougher. |
| Free Ride | Free Ride mountain bikes are for serious cyclists who take on difficult outdoor rides and need a bike which can offer more suspension travel. Free ride models are best for advanced riders who are happy to trade off extra weight for a bike that's more capable and versatile. |
| Downhill | Downhill bikes are specialised and are for advanced cyclists. While these bikes can handle almost any terrain, they are the heaviest of the four types. Downhill bikes are therefore best suited to extreme sports situations where speed and comfort is less important than performance. |
Mountain Bike Brakes
Two different types of brakes are used on mountain bikes: disc brakes and rim brakes. Again, both have their advantages and disadvantages, but there are some safety factors you need to consider.
| | |
| --- | --- |
| Disc brakes | Disc brakes add considerable weight to a bike and are more expensive than rim brakes. However, disc brakes provide good all-round performance in all weathers. These brakes are similar to the braking systems used in cars, and unlike rim brakes, disc brakes will still function if the wheel rim is damaged. They work well in the rain and are easier to use, so they are suitable for people who cannot grip brake levers tightly. |
| Rim brakes | Rim brakes may also be called V-brakes. They are lighter than disc brakes and cost less. However, the shape of the bike wheels can affect their performance, and poor weather can cause rim brakes to slip. Any damage to the rims could cause a serious issue with the bike's safety, and wet conditions could present a hazard. |
Mountain Bike Tyres
Choosing the right tyres for your mountain bike will ensure a comfortable, safe ride. Depending on your experience in bike maintenance, you may wish to spend more on tyres that will be more durable.
| | |
| --- | --- |
| Tube tyres | Tube tyres are traditional bicycle tires with an inner tube for inflation. These tyres can be prone to punctures, making them unsuitable for heavy off-road use. Although replacing tubes in tyres is not difficult, it is a skill a new rider would need to master before heading out on a long ride. The one advantage is that a standard bicycle pump can be used. |
| Tubeless tyres | Tubeless tyres are sometimes called Universal System Tubeless (UST) tyres. These tyres are inflated using a sealed chamber instead of a tube. In general, they last longer, attract fewer punctures and need less maintenance. However, tubeless tyres are heavier and more difficult to inflate. |
How to Buy a Mountain Bike on eBay
Mountain bikes are listed in the Bikes category on eBay, under the Sporting Goods section. Using the filters on the left-hand side of the screen, tick the mountain bikes check box to narrow down the results.
Male and Female Mountain Bikes
Mountain bike frames are manufactured in different shapes for men and women. Consider the differences in shape before you start looking for your bike on eBay:
* Women's arms are generally shorter. Women's mountain bikes are angled differently so that the handlebars can be gripped comfortably without over-stretching the back.
* The horizontal section that joins the head to the seat - the top tube - will normally be positioned at an angle on a woman's bike. On a man's model, it will be almost flat. Some women find it more comfortable to mount and dismount a bike with an angled top tube.
* Handlebars on women's bikes may incorporate smaller grips and brakes to make controlling the bike easier.
* On a man's bike, the far edges of the handlebar grips are sometimes further apart than on an equivalent women's bike. Women may find the handlebars on a man's bike are an uncomfortable width.
From Bikes, filter the results to show boys', men's, girls' or women's bikes. You'll also find unisex bikes which can be used by men or women.
Find the Correct Size Mountain Bike on eBay
Using the filters on the left-hand side of Bikes, you can select your preferred frame size. This is an important step that will help you to select a bike that's the right size for the rider.
Mountain Bike Delivery on eBay
To save money on your eBay purchase, consider buying your mountain bike from a local seller.
Using the filters on the eBay website or app, you can narrow down your search results to only display items that are available for local collection. This can help to make your purchase more affordable and free up your budget for a better bicycle.
If you prefer not to collect your mountain bike, choose a seller that offers free postage on mountain bikes. Many authorised eBay sellers provide free shipping as standard. Again, you can use the listing filters to narrow down your results.
Mountain Bike Accessories on eBay
Consider buying your mountain bike from a seller that can provide the necessary accessories. Apart from spare parts, there are a host of other items you will need, and buying these as a bundle will make your purchase more affordable.
| | |
| --- | --- |
| Helmet | There are several different types of bicycle helmets, including road, commuter, downhill and mountain helmets. Mountain bike helmets have a visor and are most suitable for heavy off-road riding. Specially designed helmets are available for women and children. Helmets can be purchased from the Clothing, Footwear & Helmets eBay category. |
| Clothing | Special clothing offers comfort and ease of movement. Your eBay seller may have listed lightweight jackets, cycle shorts or cycle trousers. Buyers who plan to ride on the road, or those buying bikes for children, may wish to invest in a high visibility jacket. Explore cycling clothing in the Clothing, Footwear & Helmets category on eBay, or check your seller's other listings to make a combined purchase. |
| Lights | Standard bicycle lights are suitable for fitting on mountain bikes. LED lights will provide the best illumination and are best for visibility. Serious cyclists may also choose to buy a light for their cycling helmet. There are many affordable bicycle lights in the Cycling Accessories category on eBay. |
Conclusion
Mountain bikes make perfect first bikes for children, yet the sheer range of features and types of mountain bike means adults can use them to tackle very challenging terrain. Over time, you can opt to invest in more and more advanced mountain bikes as your strength and stamina improves. Armed with the right information, you can now search eBay for a new or used bike, the right accessories and the correct features.