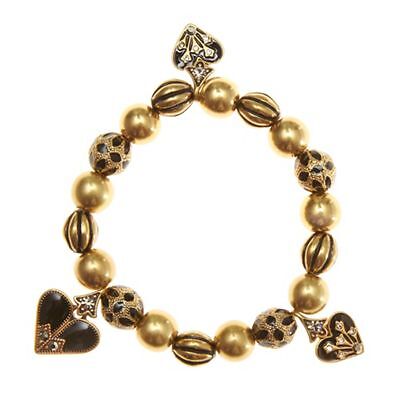 The Art Deco style that rose to prominence in the 1920's is one that has captured the attention of people ever since. With its bold geometric styling and air of modernity it is a style that has never gone completely out of fashion. Nowhere has this longevity been more on display than in the area of jewellery. While Art Deco stylings have appeared on everything from automobiles to skyscrapers, the style was perhaps most influential in the decorative arts, particularly when it comes to jewellery. This is especially noticeable in charm bracelets, where the style took hold in full force. The bold geometric shapes of the bracelets themselves make a stark contrast against the smoothly stylised figure work characteristic of the Art Deco style. The combination produces an adornment that is truly eye-catching. While many jewellers have continued to work in the Art Deco style, many of the finest examples come from the period itself. No modern reproduction can quite match an antique Art Deco charm bracelet.
Introduction to the Art Deco Style
While the origins of the style can be traced back at least a decade prior, it was not until a Paris exposition in 1925 that it got its name. It was a style steeped in classic geometry, that played with avant-garde modernity in an attempt to capture the power and grace of the machine age that was already seen as the way of the future. Much was made of rectangular shapes and angles rather than smooth curves, a clear sign of Cubist influence on the growing style. Throughout the 1920's and 30's it spread across the world, carrying with it the sense of invincibility and power that came with the growth of the machine.
Reasons to Buy an Antique Art Deco Charm Bracelet
Not everyone who enjoys the Art Deco style necessarily wants to buy an antique Art Deco charm bracelet. Many people are perfectly happy buying a modern charm bracelet in a similar style. However, for others there is no substitute for the original. They want the classic Art Deco style and are not willing to accept any substitutes. There are several reasons as to why people may have this opinion, the importance of which depends on the individual priorities of each person.
Buying an Antique Art Deco Charm Bracelet for the Connection to History
The height of the Art Deco movement was before the Second World War, and so any surviving antique charm bracelets from the era have a history. By buying an antique Art Deco charm bracelet, the purchaser can make a personal connection to that time. They can hold something that predates their birth and which was in existence through events they only know from books and movies. The antique bracelet provides a tangible bridge to the past, a way for the owner to put themselves in the place of people of that time just by knowing they wore the same bracelet.
Buying an Antique Art Deco Designer Charm Bracelet
There were many great designers who worked in the Art Deco style, and the only way to get a true example of their work is by purchasing an antique bracelet. Modern reproductions may approximate the style, but they are no substitute for a genuine example of the artistry of an Art Deco designer. For those who want to appreciate all the work and artistry of these long-dead creators, the only option is to take the time to seek out their pieces. Not only are there designers who can add value to anything with their name on it, there is also the cachet of owning anything from a famous designer.
Steps for Buying an Antique Art Deco Charm Bracelet
Buying an antique Art Deco charm bracelet can be a significant investment. Some can cost more than the buyer's mortgage payment, and anyone making that kind of investment can only serve themselves well by doing their due diligence before making a purchase. The more buyers know about the bracelet, the better they are able to equip themselves to make a wise purchase. Knowledge is power; not just knowledge about the antique Art Deco charm bracelets, but also the buyer's knowledge of themselves and their needs. Buyers who understand what they are looking for, and what qualities matter most to them are better able to make an informed decision about which antique Art Deco charm bracelet best fits their needs.
Set a Budget for the Antique Art Deco Charm Bracelet
Whenever someone looks for something they really want, there is always the chance that they may spend more than they originally expected. This is very common, and only to be expected. The best way to combat this is to set a firm budget before even starting the search. By using this budget as a hard limit when looking for an antique Art Deco charm bracelet, it becomes much easier for the prospective purchaser to keep control of their finances.
Research the Antique Art Deco Charm Bracelet Carefully
Whether buying locally or online, it is important for a buyer to take the time to find out all they can before making an expensive purchase. This importance only increases with the price of the item. Every antique Art Deco charm bracelet is unique. Even if the designer created others that were more or less identical, almost a century of history leaves a mark on any surviving artefact, and a charm bracelet is no exception. A wise buyer should pay attention to every piece of information the seller provides, both to the prose description and any pictures or photographs. No written description can adequately describe any piece of jewellery; jewellery is appreciated with the eyes, so the purchaser should inspect every photograph they can get their hands on.
Check the Provenance of Designer Antique Art Deco Charm Bracelets
There are some names in every industry that add to the value of their works, and Art Deco jewellery is no exception. Unfortunately, records can get lost and provenance can get muddled when dealing with something that may have been made before the purchaser's parents were born. This is where documentation and provenance comes in. Buyers who are looking for a particular name on their antique Art Deco charm bracelets should consider paying particular attention to the history of the piece. When a name can add to the insurable value of a piece, it is very important that the owner be able to trace that connection so he or she can insure the antique Art Deco charm bracelet for the appropriate amount.
How to Buy an Antique Art Deco Charm Bracelet on eBay
eBay is a superb place for anyone to buy an antique Art Deco charm bracelet. The site is easy to use and offers a wide variety of bracelets for any budget. All you need to do to get started is enter your terms in the search box that appears on every page. Once the results come up, you can use the filters in the sidebar to narrow them down. You can not only filter to your exact budget, but also by everything from seller location to any gemstones on the charm bracelet in question. Then, after you have your results narrowed down, you can use the sort function to arrange your new list in order to focus on the antique Art Deco charm bracelets that best fit your needs. You can arrange them by anything from price to seller distance, whatever matters most.
The next step is to pick the seller that best matches your needs. The first thing to do is check them out at their profile page, where you can see everything from their feedback to their location. Notice whether they offer any special bundle deals such as perhaps earrings with a charm bracelet, or even if they allow local purchasers to save on shipping by picking up their purchases in person.
Conclusion
Buying an antique Art Deco charm bracelet is a simple matter for anyone who is willing to spend some time learning not only about the bracelets themselves, but also about their own personal needs for such a bracelet. Those who simply want a real and tangible connection to history and the past can easily find an antique Art Deco charm bracelet to fit their needs. Those looking to enjoy the work of a particular designer may need to research the provenance of an individual piece in order to guarantee it is indeed the work of that designer and can be insured as such. In either case, it behooves any buyer to put in the required time to research the piece they are buying. This includes not only reading any descriptions and documentation, but also paying attention to any photographs of the piece that may be available. As long as the buyer takes the time to do a little investigating, buying an antique Art Deco charm bracelet can be both an easy and pleasurable experience.