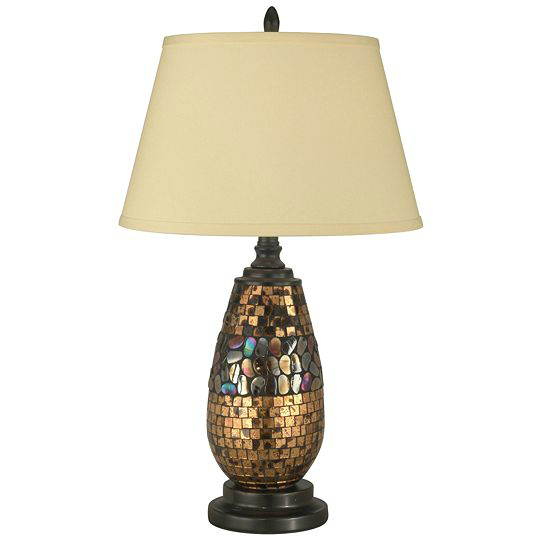 Antique Art Deco lamps are reminiscent of the changing and exciting world of the twentieth century. With their unique departure from previous designs, and their antique value, collectors and enthusiasts often seek these lamps for home décor or collections. Upon first browsing eBay, a prospective buyer may notice that the selection of antique Art Deco lamps is vast and varied, but by following a few simple guidelines outlined below, the many choices that present themselves when purchasing can be made clearer. By considering a few factors such as what constitutes an Art Deco lamp, what distinguishes a piece as 'antique,' the various materials used in their construction, and the features to look out for, buyers can be better prepared to discover the right antique Art Deco lamp for their needs.
History of Antique Art Deco Lamps
Tens of thousands of years ago, some of the first lamps were made by soaking moss in animal fat and then burning it inside shells or on handheld sticks. Ancient Greek ceramicists then replaced the handheld torch with terracotta holders, and in the seventeenth century, the French introduced the first public oil lamps to illuminate the streets. It wasn't until the mid-nineteenth century that oil and kerosene lamps were replaced by the modern light bulb. This revolutionary invention introduced qualities to lighting that had not been seen before. These new lights were brighter and steadier, and during the late 1800s the electric light paved the way for the creation of new fixtures that decorated and directed the bulb. By the turn of the twentieth century, these modern lamps received another huge shift in creative design. The Art Deco movement of the 1920s and 1930s replaced the ornate Victorian designs with more modern geometric lines, and many 'exotic' materials and influences from around the globe. It is these Art Deco lamps, thousands of years after man's earliest efforts, which have set a standard for style and beauty on the antique marketplace today.
Discover Antique Art Deco Lamps
Antique Art Deco lamps are generally representative of the wider creative principles of the Art Deco movement. Embracing many areas of design, but especially home décor, Art Deco employs the use of strong geometric shapes as opposed to the overly ornate designs of the past. With the machine age coming to life during the 20s and 30s, many of these items have the sleek look that was connected with speed and progress. Attractive and vastly diverse additions to the home, antique Art Deco lamps use ancient approaches such as Japanese lacquering, all the way through to materials of recent invention, such as Bakelite plastic.
While the Art Deco movement continued until World War Two, it is important for a prospective buyer to understand what it is that makes an Art Deco piece truly antique. Seeing that many professionals consider pre-1930 to be of antique age, a reader may notice that the entire Art Deco timeline does not fit into the antique category. Though several definitions of the term may be applied, it is important to note that just because a lamp is Art Deco, does not automatically give it antique classification.
Materials Used in Antique Art Deco Lamps
The lamps of the antique Art Deco era, while similar in basic function to other lamps, were made in a wide variety of materials listed below.
| Material | Description |
| --- | --- |
| Chrome | Alloy of the element chromium that offered an attractive, shiny finish and is often applied as a thin coat around another metal. |
| Copper | A malleable red-orange element often used for the base or the shade of the lamp. |
| Nickel | A hard and ductile metal that offers lustre and is often plated on the surface. |
| Wood | Various species including mahogany, ebony rosewood and cork are used for the base of Art Deco table lamps. |
| Alabaster | A hard variety of the calcite mineral that is suited to sculpture. |
| Marble | A soft rock that is not prone to shattering and is used for bases of table lamps. |
| Bronze | A metal alloy generally consisting of copper and tin that is less susceptible to excessive corrosion. This sometimes has nickel or chrome plating over top. |
| Lacquer | Various durable, natural and clear coatings that offers protection to the lamp's surface. |
| Bakelite | A hard synthetic plastic invented in the early twentieth century. |
| Glass | Often used for the shades of lamps and can be crystal, frosted or stained. |
| Wrought Iron | A tough and easily welded iron alloy that is used for lamp bases. |
| Enamel | A smooth coating made from fused glass powder. |
Types of Antique Art Deco Lamps
A buyer may notice that the term 'lamp' includes several designs and functions during the antique Art Deco era.
Type

Description

Advantages

Considerations

Table Lamp

Small lamp with a solid base

Can be sat on a desk or bedside table.

Small and emits less light than some other lamps

Floor Lamp

A larger version of the table lamp, often with a long stem to the base that sits on the floor.

Leaves tables and desks free

Can emit attractive light from the corner of a room

Generally emits ambient light as opposed to bright and practical light

Ceiling Light

A light fixture that sits on a room's ceiling, generally in the middle

Emits evenly distributed room light

Not always referred to by sellers as a 'lamp'

Sconce

A light fixture that is attached to a wall

Offers a unique ambient alternative to the ceiling light

Wall needs to be strong enough to take the weight of the lamp

Generally emits low ambient light
Factors to Consider When Buying an Antique Art Deco Lamp
Before finalising a purchase of an antique art deco lamp, a buyer may wish to consider a few further points.
Bulb – Different lamps require different bulbs, such as screw-in or bayonet, and the wattage required may depend on the diffusion of the shade and the amount of light required by the buyer.
Form vs. Function – A buyer may also consider if their antique lamp is for solely for décor use, and if it will be placed in a high-traffic area.
Art Deco Style – Modern reproductions of Art Deco lamps are readily available on the market and should not be confused with antique pieces.
Re-wiring – Many antique lamps have been rewired prior to sale for safe use. The condition of the lighting fixture, and of the lamp itself, should be assessed.
Typical Features of Antique Art Deco Lamps
1. Base
The base of an antique Art Deco lamp can be found in a wide variety of designs, shapes and materials. Often made to be heavy in order to keep the lamp stable, table and floor lamps will generally have metal or stone bases, and have tiered steps that complement the symmetrical designs of the period. Sconces and ceiling do not have bases in this sense.
2. Shade
An antique Art Deco lampshade is responsible for diffusing or bouncing the light from the globe, and is predominantly metal or glass. Frosted glass shades emit a soft light, while some metal designs, such as nickel plated bronze, simply bounce the light downwards or upwards, away from the eyes.
3. Sculpture
Due to a sense of liberation during the 1920s, may Art Deco lamps will have carved sculptures of naked figures that perform the function of the lamp's base. Some of these figures appear to hold up the globe itself. Other antique designs have sculptures adorning the sides of the lamp, and are often carved from marble or alabaster.
4. Engraving
Many elements of Art Deco lamps will be engraved using acid etching, allowing for Art Deco patterns to be applied to the design. These designs are often not overly ornate, and many Art Deco lamps on the eBay site will simply have elegant, parallel lines. Metal and glass elements are common choices for acid etching.
5. Switch
As is common on most lamps, antique Art Deco designs have a switch that allows the user to turn it on and off without having to unplug it from the wall. These are often made from the same materials as the lamp itself and can be free hanging or attached to the base or below the bulb.
Popular Antique Art Deco Lamp Manufacturers
Betty Beck

Markel
Nuart
Ronson
Jumo
Dominique
Gerdago Mellifiori
Finding Antique Art Deco Lamps on eBay
Once you determine the type of antique Art Deco lamp you want to purchase, visit the Antiques portal on eBay, click on Art Deco and start searching item listings. The Categories list on the left-hand side of the eBay page helps to narrow the search.
Searching forArt Deco Lamps on eBay
Search eBay listing titles for specific words when shopping for antique Art Deco lamps. For example, to find an antique rosewood Art Deco table lamp, type 'Antique Rosewood Art Deco Table Lamp' into the search box, and then click the Advanced button to customise the results. Also visit eBay's Search Tips page for more advice on searching for Art Deco lamps with keywords. If you can't find the exact lamp you want, try shopping eBay Stores.
Conclusion
Antique collectables can bring a unique presence to home décor, and the antique lamps of the Art Deco era are a fine example of contemporary taste meeting with yesterday's style. With the help of this guide, you will hopefully be able to approach the purchase of an antique Art Deco lamp with an informed, clear opinion on the product. Considering what it is that defines the Art Deco era, the variety of lamps on the antique market, what it is that classifies them as antique, and their typical features, will help the process of finding the right antique Art Deco lamp for your needs. Once you have collected this information, you can buy an Art Deco lamp safely and securely on eBay.