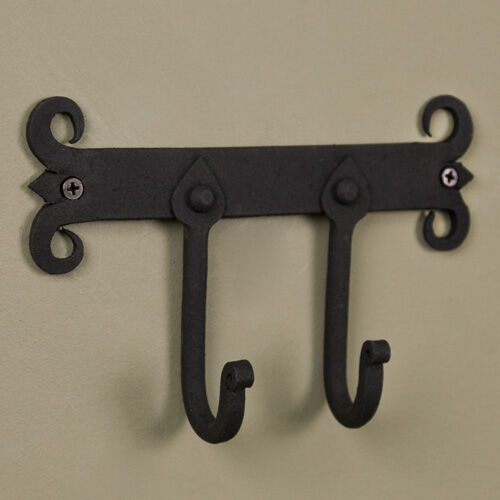 Ordinarily, coat racks are those indispensable household items that are most noticeable when absent. Whether wall mounted or free-standing, they keep wraps well organised when not in use. Antique coat racks, however, are often anchor pieces for home decor with their weighty wood and wrought iron architecture. They are also in demand by antique collectors. Finding an antique coat rack to purchase requires some advanced planning as well as a bit of research. Knowing the basics, such as how to recognise an antique piece, is essential. Purchasers who take the time to learn about types, styles, and features of coat racks possess the best basis for making informed buying decisions.
How to Identify an Antique Coat Rack
Even buyers who are new to the world of antiques can easily learn to identify antique coat racks. Determining a working definition of the term "antique" is the first step in becoming an informed shopper.
Characteristics of Antique Coat Racks
Probably the most accepted definition of an antique is an item more than 100 years of age. An antique coat rack should be well-crafted and exhibit distinctive design elements of the era in which it was made. Ideally, the piece has a maker's mark that helps the purchaser pinpoint its age. It might also provide clues to its era of origin through the type of nails or joinery used in its construction.
Joinery and the Antique Coat Rack
Furniture artisans of antique eras used mortice and tenon or dovetail joinery techniques to connect wood sections. The mortice and tenon method dates to ancient Chinese woodworkers. Most often a method for joining wood pieces at 90 degree angles, this type of joinery has two components. The mortice is a square- or rectangular-shaped hole carved into one section to be joined. The tenon, cut to fit snugly and precisely into the mortice, extends from the adjacent section of the joint. The feet of a floor-standing coat rack might be attached with mortice and tenon to the base of the piece. Furniture makers most often used dovetail joints to attach drawer fronts to drawers or join the corners of chests. This type of joinery is equally ancient as the mortice and tenon method. One component of the joint has trapezoidal tail extensions while the other has pins that interlock with the tails. An antique, bench-style coat rack with a storage drawer often has dovetail joints. When shopping for an antique coat rack, examine the places where pieces come together. Although high-quality, contemporary pieces may make use of mortice and tenon or dovetail joints, antique pieces are always constructed using these age-old methods. In addition, many antique coat racks have iron or brass hooks that attach to their wood bases with nails. If the coat rack includes hand-forged nails that appear original to their manufacture, consult the chart below to get a general idea of the era of origin. Keep in mind, however, that modern manufacturers make reproduction nails that mimic authentic antique nails, so use discretion.
| Era | Metal | Method | Appearance | Head |
| --- | --- | --- | --- | --- |
| 1700s | Iron | Hand-forged | Tapered, square shafts | Rose cut or faceted |
| Late 1700s | Steel | Hand-cut from steel sheets | Tapered, rectangular | Rectangular, machine-attached |
| 1800s | Steel | Hand-cut from steel sheets | L-shape | None |
| Mid 1800s | Steel wire | Hand-formed | Small brads | Tiny, integral |
| Late 1800s | Steel wire | Machine made | Straight shafts | Flat, attached |
Coat Rack Style Considerations
Each furniture style and era possesses distinctive features that help date period pieces. For example, Victorian era coat racks from the mid-1800s often have ornate carving and curves. Art nouveau pieces, dating to the turn of the 20th century, display sweeping curves and undulating lines. Due to the diversity of design style and eras, purchasers should identify their favourite styles and research the defining characteristics of each so they can best judge the merits of their final selections. The chart below provides a quick reference to various eras and furniture design styles.
| Period | Style | Wood | Distinguishing Features | Finishes | Hardware | Construction |
| --- | --- | --- | --- | --- | --- | --- |
| Early 1600s | Jacobean | Oak | Spiral-turned legs, straight legs, rectangular lines, sparse ornamentation, dark finishes, motifs of acorns, diamonds and geometrics | Dark | Brass, iron | Mortice and tenon |
| Late 1600s | William and Mary | Oak, pine, walnut, maple, ebony veneer, fruitwood | Lighter profiles, elegant lines, bun feet, serpentine stretchers, caned seats, floral and scroll motifs | Oriental lacquers, varnish, paint | Brass, iron, silver | Mortice and tenon, dovetail |
| 1700s | Queen Anne | Walnut, mahogany, cherry, maple | Claw and ball feet, spade feet, delicate yet comfortable | Dark | Brass | Dovetail |
| | Chippendale | Walnut, mahogany, maple, cherry | Strong, simple lines, cabriole legs, ball and claw feet, broken pediment scroll tops, motifs of lions, eggs and darts | Dark, heavy lacquer, gilding, wood veneer | Brass, wood | Dovetail |
| | Georgian | Oak, walnut, mahogany, | Absence of intricate carvings, ornamental inlays, heavier proportions of Queen Anne style | Gilding, wood veneers | Brass | Dovetail |
| Late 1700s | Federal | Mahogany, cherry, black walnut, birch and satinwood inlays | Tapered legs, graceful lines, light construction, motifs of pineapple, shells, and stars | Gold leaf, clear wood finishes, paint | Brass | Dovetail |
| Mid to Late 1800s | Victorian | Mahogany, rosewood, oak | Elaborate ornamentation, carvings, motifs of leaves, vines, scrollwork | Red stain, painted decorations | Glass, wood | Dovetail |
| | Industrial "Revival" Styles: Greek, Rococo, Gothic, Renaissance, Italian | Rosewood, mahogany, burl walnut | Excessive ornamentation, carvings, inlays, stencils | Varnish, paint, gilding, veneer | Brass, glass | Mortice and tenon, dovetail |
| Late 1800s | Arts and Crafts/Mission | Oak | Simple lines, utilitarian designs, country or farmhouse style | Lacquer, shellac, stain, wax | Iron | Mortice and tenon, dovetail, exposed joinery |
| Early 1900s | Art Nouveau | Beech, walnut, mahogany, oak | Intricate detail, curving lines, motifs of flowers, foliage, tulips | Lacquer, varnish, pain | Brass, chrome | Dovetail |
| | Art Deco | Metals, plastic, glass, ebony, veneers | Sleek, smooth lines, geometric patterns | Intense colours | Metal, plastic, glass | Dovetail |
Evaluating Antique Coat Racks
Due to their essential natures, antique coat racks of all styles and sizes are available to contemporary purchasers. Deciding which one to buy depends largely upon personal preferences and intended usage. For example, the antique collector may use a unique but delicate period piece by displaying it high on a wall where guests can admire it but not touch it. Another buyer may look for a sturdy antique hall tree for the express purpose of daily use. Despite differences in motivation, buyers should evaluate antique coat racks for sale on the basis of some standard criteria.
The Condition of the Antique Coat Rack
When shopping for an antique rack, consider the cosmetic and integral condition of the piece. Look for deep scratches or nicks in the wood sustained during years of use. Examine the coat hooks to verify that all of them are present and functional. If the coat rack is free-standing, check the base to verify its integrity and judge its ability to withstand the weight of the garments that it will accommodate. Also, check the functional condition of other features on each prospective coat rack, such as a bench seat or a mirror. Even if the purchase will be for decorative rather than functional use, keep in mind that a more intact piece is generally more valuable.
The Coat Rack's Visual Appeal
Another consideration in buying a coat rack, albeit a largely subjective one, is the visual appeal of the item. Sometimes the thrill of happening upon a particularly dramatic or historic item may cloud the buyer's judgement. However, when choosing an antique rack for a particular setting, comparing it in terms of appearance, style, and colouring to the other items in an existing furniture grouping helps purchasers come to wiser buying decisions. For example, a Gothic revival hall tree in excellent condition may be a tempting purchase, but consider how it will coordinate with the Arts and Crafts style furnishings in the room. A wall-mounted rack with antlers for coat hooks demands an appropriate environment as well. With all of the different looks available in antique coat racks, considering a selection in terms of its intended location and setting is a good way to narrow down a final decision.
How to Find Antique Coat Racks on eBay
Navigate to eBay's home page to begin browsing its vast selection. In the search box toward the top of the screen, type in a general phrase such as "antique coat rack," and hit the Search button to glean the broadest range of results. Take a few moments to page through some of the items for sale to get a sense of the variety, types, and prices of pieces currently for sale. To locate a coat rack from a particular historic era, return to the search box and key in a phrase like "art deco coat racks.". Then, select Antiques from the Categories listed on the left of the screen. Alternatively, search for such types as antique oak coat racks, antique iron coat racks, or whatever best describes the desired items. Be sure to take advantage of eBay's efficient email messaging system to ask sellers any pertinent questions about an item prior to moving forward with a purchase. Shop confidently in the knowledge that eBay's Buyer Protection program backs up buyers throughout the process.
Conclusion
eBay constitutes an enormous resource for shoppers looking for the ideal antique coat rack. With listings for items in the UK, Europe and abroad, buyers multiply their chances of locating the right item at a great price. Also, because new listings for coat racks come online frequently, purchasers can check back often until they find exactly what they are looking for.