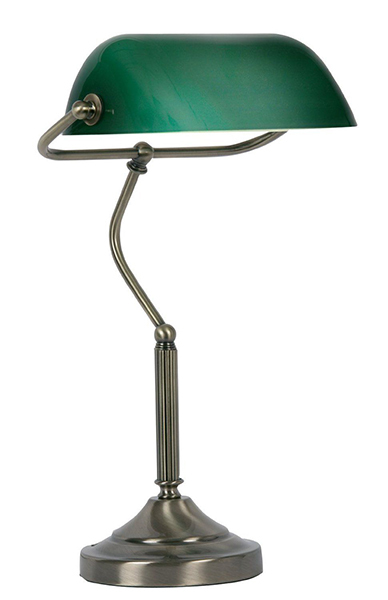 An antique desk lamp can lend ambience and charm to any office or home. Not merely an ornament, it brings functionality and history to an environment. There is no shortage of antique desk lamps available. There are many different styles and designs from which to choose. Finding one that suits a room's decor can be challenging, but also fun. This buying guide will provide information about the history, types and styles of antique desk lamps. It will also provide tips to assist the selection process, and instructions for care and maintenance after purchasing.
History of Antique Desk Lamps
Compared to other antique lamp styles, the desk lamp has a relatively short history. Studying or working at a desk requires a specific kind of light. Unlike table lamps, where light escapes from the shade at the top and bottom, the desk lamp needs to be a source of light that can be easily manipulated to illuminate a specific area. The trajectory of the light must point downward to illuminate the desk top, work surface or writing area. By the early 1900s, work-specific lamps for use on desks began to appear.
According to some definitions, desk lamps may not meet the criteria of an antique, which some sources suggest, should have existed for 100 years or longer. As such, desk lamps should be called 'vintage' items, rather than antiques. However, others define antique as any item produced before 1930. By this latter standard, there are many varieties of desk lamp that meet the antique criteria. Either way, there are many interesting styles and designs of desk lamp from which to choose.
Discover Antique Desk Lamps
An antique desk lamp is a great way to jazz up an office or living room. One of the most interesting and enduring models is the banker's lamp. The key characteristic of this style is the blue or green emeralite glass shade, often cylindrical in shape. Most modern reproductions use green, but it's important to note that blue was the colour used more commonly originally. These lamps also feature a pull chain instead of a switch or knob, and a brass post, although there are many styles and variations. These unique lamps provide a light that is warm and soft but surprisingly bright.
Antique banker's lamps in good condition are quite rare now, which makes them very desirable among collectors. So it's important to consider the intended use for a piece. Original banker's lamps can be wired for the technology of the time. If the lamp is only for decorative purposes, it needn't be altered at all. If functionality is important, the lamp will have to be rewired according to modern electrical standards.
Parts of Antique Desk Lamps
There are limitless variations of antique desk lamp designs, but the core form is common to all.
| | |
| --- | --- |
| Part | Description |
| | Supports the stem and lamp top |
| Stem | Supports the lamp top, can be adjustable |
| Socket | Usually brass, the socket houses the on/off switch and wire assembly |
| Switch | Turns the lamp on or off |
| Cord | Supplies power to the lamp, runs from the socket through the base and into the wall |
| Shade | Shields the bare bulb and focuses the light downward or can be adjusted to direct the light as desired |
Types of Antique Desk Lamps
Desk lamps only started to appear at the end of the 1800s but from then, a number of different types and styles sprung up. Below are some of the most popular.
| | | | |
| --- | --- | --- | --- |
| Type | Description | Advantages | Considerations |
| | Emeralite cased glass shades, blue or green on the outside and white on the inside, with brass stand | Classic style that will look great in most office settings | One form of banker's lamp, as other styles of banker's lamps could be made entirely of metal |
| Gooseneck desk lamp | Half-shell style shade made to force the light downwards, often on a round base with coil stand | Light direction can be adjusted via the coil stand | Light and portable for easy re-positioning on work surface as needed |
| Banker's lamp | Also known as a pharmacy lamp, shade can be emeralite blue or green, steel or brass | Shade is usually adjustable to direct light where needed, height is also sometimes adjustable | First introduced in the early 1900s and became hugely popular again in the 1990s |
| Magnifying lamp | Has a light and magnifying lens | Ideal for intricate model-building | Not suitable as standard office lamp |
| Swan neck lamp | Thin brass neck with large hook shape at the top and a glass shade | Shade and base can have intricate patterns | Late-Victorian period lamp |
| Tiffany lamp | Multi-coloured stained glass shade and bronze body which can be have asymmetrical motifs down to the base | Add character and charm to any desk or work space | Tiffany lamps are much replicated but original Tiffany shades will have cut edges |
| Brass lamp | Cylindrical brass shade similar to banker's lamp | Often with a gooseneck design and double joint for moving light source extremely close to work or surface | Likely the most multi-functional style of antique desk lamp |
Factors to Consider When Buying Antique Desk Lamps
Purchasing an antique desk lamp can be a very sound investment, as most of these lamps will increase in value over time.
Research
It is important to glean some information about any antique desk lamp that you are looking at purchasing to ensure that your money is well spent. Ask the seller questions as you cannot always see everything you need to know in photos. Most sellers are happy to provide the information so that everyone is left satisfied with the transaction.
Style
There are hundreds of different types of antique desk lamps available, from stained-glass Tiffany lamps to unique banker's lamps made of distinctive green emeralite. Once a potential style or design is identified, it's time to really look into the individual eBay listings.
Condition
Original condition is important, but an antique desk lamp will have to be rewired to work with today's modern technology. This will lower the value of the lamp, but likely less so than replacing any other part. Replacement bases are common on some styles of antique desk lamps, usually because the original bases were damaged. But if the work is of high quality, then the lamp should hold its value.
Restoration
If the base of the lamp is different from the original or has been poorly restored, then it could potentially devalue the lamp. Purchasing an antique lamp with replacement bases or shades is fine if aesthetic delight is the main goal. If investment is a consideration, seek to find all original parts.
How to Care for Antique Desk Lamps
An antique desk lamp requires careful attention and maintenance. If left untouched for too long, the vigorous cleaning needed to remove the dirt and grime could damage the integrity of the lamp and affect its value. This is especially true of brass and Victorian desk lamps. Special care must be taken with the shade, which is often glass and much more delicate than the base.
Base Cleaning Tips
1. If the lampshade can be removed, do so before cleaning the base.
2. Dust carefully with a slightly dampened cloth.
3. Spray a light mist of water over intricate inlays or mouldings.
Glass Shade Cleaning Tips
1. Gently wipe inside and out with a dry cloth to remove dust and surface dirt.
2. Put a few drops of laundry soap into a tub of warm water. Completely immerse the shade and use a cloth to scrub dirty areas.
3. Rinse the shade with clean water and allow to dry.
Accessories for Antique Desk Lamps
Below are a few items that will assist in the care and maintenance of an antique desk lamp.
* Different shades so that they can be alternated to change the lamp's appearance, and the light it casts.
* Mild soaps or cleansers.
* Soft cloths or brushes.
Finding an Antique Desk Lamp on eBay
Once you determine the type of antique desk lamp you want to purchase, visit the Antiques portal on eBay, click on 'Antique Furniture', then 'Lamps' and start searching item listings. The Categories list on the left-hand side of the eBay page helps to narrow the search.
Search eBay listing titles for specific words when shopping for an antique desk lamp. For example, to find an antique desk lamp, type 'antique desk lamp' into the search box, and then click the Advanced button to customise the results. Also visit eBay's Search Tips page for more advice on searching for antique desk lamps with keywords. If you can't find the exact antique desk lamp you want, try shopping eBay Stores.
Conclusion
With this guide, you can find an antique desk lamp that will suit your home decor. These lamps can look beautiful but yet be a valuable piece of furniture. Once you have collected all the information you need, you can buy an antique desk lamp safely and securely on eBay.