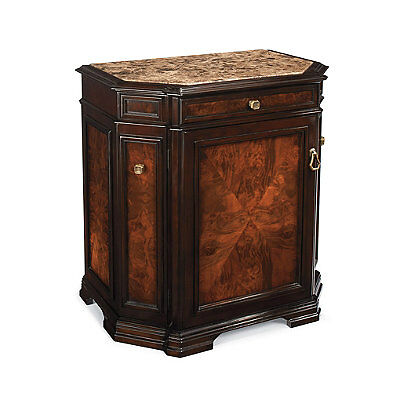 Antique furniture can inject warmth and character into a home, but antique drinks cabinets go one step further, as they also serve a practical purpose. In times gone by, the drinks cabinet was considered a sign of refinement and elegance, and was a staple fixture in many wealthy households. In recent years the popularity of drinks cabinets has dwindled, but thanks to a resurgence in the demand for antique furniture, the cabinet style is making a welcome comeback into twenty-first century homes. This guide offers buyers information about antique drinks cabinets that will equip them with the knowledge required to select the right piece for their home.
History of Antique Drinks Cabinets
Cabinets have always been popular for their functional purposes, but fine hand-crafted cabinets were often a luxury reserved only for the wealthy. However, middle class growth in the seventeenth century led to a higher demand for these kinds of furnishings, not only for domestic purposes, but also as a means of showcasing the wealth of an individual to visitors and guests. Many of the antique items we see today were once custom-built and designed by expert craftsmen and were tailored to suit the requirements of a specific family or household. This explains the diversity of antiques commonly seen in the market, and why they can sometimes fetch such high prices at auction. Many notable furniture makers designed and crafted drinks cabinets, with renowned manufacturers such as Thomas Chippendale and Gillows of Lancaster & London producing some of the finest examples of the genre.
Discover Antique Drinks Cabinets
Antique furnishings add a touch of elegance to their surroundings, and this is especially true for antique drinks cabinets. Due to their nature, they are useful when entertaining guests and can often serve as a fantastic conversational piece. Moreover, investing in antique furnishings can often prove to be a wise decision, as the item's value will likely be retained as time goes on - and in some case may rise. However, before purchasing an antique, it is useful for buyers to familiarise themselves with the factors that may affect its desirability; such as age, condition and materials – all of which may increase or decrease its value in the marketplace.
Materials of Antique Drinks Cabinets
The main material used in the manufacturing of antique drinks cabinets is wood. Below are just some of the types commonly used in the production of antique furniture:
| Part | Description |
| --- | --- |
| Beech | Pale brown with a mottled grain. |
| Elm | Typically light brown in colour with a characteristic dark grain. |
| Oak | Strong and durable, oak often darkens with age and polishing. |
| Maple | Tends to be muted in colour with distinctive ribboned markings. |
| Rosewood | Usually a rich shade of brown, rosewood is known for its warm colouring and unique grain. |
| Yew | Ranges in colour from dark brown to an attractive orange-red colour. |
| Walnut | A very tough wood, walnut is golden brown with an attractive grain. |
| Sycamore | A subtle shade of golden brown with a unique mottled effect. |
| Mahogany | A very popular wood with a rich brown-red colour. |
Types of Antique Drinks Cabinets
There are a number of different drinks cabinets available to prospective buyers, so it is important to consider which style is right for each individual and their home. Some styles include:
Type

Description

Advantages

Considerations

Classic Drinks Cabinet

Used to store wines and spirits as well as glasses; such as wine glasses, brandy glasses, champagne flutes etc.

· Ample shelving for storage.

· Can be used to store other articles.

· Items which owners may want to display are hidden behind solid doors.

Surprise Drinks Cabinet

Disguised as a table, the cabinet opens from the top-rear.

· Useful for keeping drinks out of view from children.

· Functionality may be somewhat restricted by the design.

Corner Cabinet

Designed to tuck in to the corner of a room and showcase decorative ornaments.

· Useful in rooms with little space.

· Room positioning is limited.

Smoking and Drinks Cabinet

A cabinet fitted with decanters, a tobacco jar and an ash tray.

· Dual-purpose and useful for those who smoke.

· Storage for drinks is limited compared to more traditional styles.
Factors to Consider When Buying an Antique Drinks Cabinet
Before purchasing any new item, it can be worthwhile learning more about the product and what makes it unique. This is especially true for antiques, as there are a number of things that should be considered prior to buying; such as age, markings, materials, rarity and condition.
· Original material/finish – When it comes to antiques, original is always best. Check the item for any signs of repair or refinishing as this may affect its value. General wear-and-tear, however, isn't usually of concern to collectors, as pieces can often still fetch high prices in spite of signs of slight deterioration.
· Markings – Most antique furniture will bear the markings of its manufacturer. These markings serve as useful indicators of the item's time period and craftsman.
· Age – As a general rule, older pieces are often more rare, which can in turn increase their value. However, this also means that they may show more signs of usage. Before committing to a purchase it is a good idea to ask the seller questions about any hidden damage or weaknesses that may affect the overall value.
· Hand-carvings – Items which have been hand-crafted often command higher prices than those that have been mass-produced. Pieces featuring hand-carvings and intricate detailing are incredibly appealing, as the price of an item typically goes up in proportion with how long the item took to produce.
How to Care for Antique Drinks Cabinets
If you've ever wondered what gives antique furniture its striking sheen, it's likely to be its patina. Patina is a film that develops on woodwork – such as antiques – over time, and occurs when corrosion on the surface of the timber dries and matures. The result is an attractive glossy finish that is very difficult to replicate, and has likely come about after many years of care and polishing from its previous owners. However, unknown to some antiques owners, household cleaning products can cause untold damage to the patina and can in the long-term harm the piece by stripping the woodwork of its natural oils. To avoid damaging antique furniture when cleaning, owners should dust regularly with a soft lint-free cloth (cotton and cheesecloth are recommended) and polish the item with beeswax once or twice a year. If possible, leave the beeswax on overnight before rubbing off the next day. Other factors to consider when caring for your antique furniture include; avoiding exposure to heat sources (such as radiators), ensuring items are not placed in areas of high humidity and keeping antiques away from direct sunlight. All of these issues can damage the woodwork and sometimes lead to uneven fading.
Popular Antique Drinks Cabinet Manufacturers
Edwards and Roberts
Thomas Chippendale
William Kent
Thomas Sheraton
George Hepplewhite
Thomas Hope
Howard and Sons
John McLean
Useful Accessories for Antique Drinks Cabinets
Antique furnishings not only add warmth and character to a home, but they can also attract comments and compliments from those who behold them. This is why owners are keen to preserve the lustre of the antiques and ensure that they remain in tip-top condition at all times. But caring for traditional furniture doesn't come without its challenges; due to their age, they inevitably require a great deal more attention than more contemporary pieces, and a selection of products should always be on-hand to guarantee antiques retain their legendary sheen.
A soft cloth (such as cheesecloth or cotton)
Dehumidifier
Gloves
Beeswax
Lemon Oil
Finding Antique Drinks Cabinets on eBay
Once you determine the type of antique cabinet you want to purchase, visit the Antiques portal on eBay, click on 'Antique Furniture' then 'Cabinets' and start searching item listings. The Categories list on the left-hand side of the eBay page helps to narrow the search.
Searching for Antique Drinks Cabinets on eBay
Search eBay listing titles for specific words when shopping for antique cabinets. For example, to find a Mahogany Inlaid Antique Drinks Cabinet, type 'Mahogany Antique Drinks Cabinet' into the search box, and then click the Advanced button to customise the results. Also visit eBay's Search Tipspage for more advice on searching for antique cabinets with keywords. If you can't find the exact antique drinks cabinet you want, try shopping eBay Stores.
Conclusion
If you are thinking about adding a piece of antique furniture to your home, it is important not to rush the decision, making a considered judgement before making a purchase. Where possible, look for hand-crafted pieces that bear the initials or signature of the furniture maker, and try to avoid pieces that have been repaired or refinished. Items that have been restored will probably reflect this with a lower price, however, it is important to note that minor scuffs and scratches should not decrease a piece's value greatly – if at all. With the help of this guide, you should now have the knowledge required to make a purchase, taking into consideration the item's age, condition and provenance. Once you have collected this information, you can buy an antique drinks cabinet safely and securely on eBay.