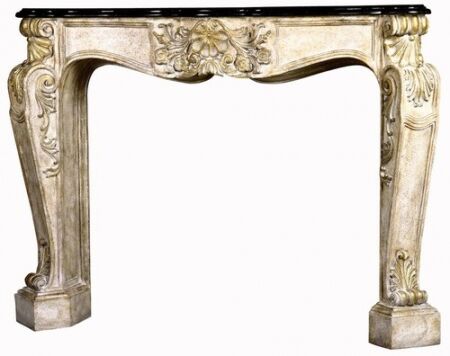 A fire surround isn't necessarily a common item to find online, let alone an antique one. That is why the best place to shop for one is at an online auction site like eBay where buyers can find items from sellers across the globe. This buying guide is designed to give consumers enough information to be able to confidently find an antique fire surround on eBay. It includes a brief history of fire surrounds and lists the main types of fire surrounds produced more than 100 years ago. Find each one on eBay by following the search tips offered in this guide.
History of Antique Fire Surrounds
The fireplace as we know it evolved from fire pits in ancient times. Those were dug-out holes in caves that were basic and lacked proper ventilation. As society progressed and developed secure housing structures, the smoke from a fireplace would be vented through a chimney. It became efficient to heat the home and comfortable to sit around the fire. Now that the practical aspects of the fireplace were established, the stylistic features soon became the concern. By the 1750s in Colonial America, marble was the primary material used to build mantelpieces or surrounds. These referred to the structure around and over the fireplace. Mantelpieces featured intricate designs and carvings. As the demand for marble increased, designers in England started carving timber mantelpieces. By the Victorian age, iron cast surrounds became common and remain so even today in the antique market.
Discover Antique Fire Surrounds
Fire surrounds made more than 100 years ago are considered antiques and are usually categorised as architectural pieces. Those that are between 50-100 years old are typically considered vintage. Every home with a fireplace is likely to have a mantelpiece. While constructed for decorative purposes to enhance the appearance of the fireplace, they also serve practical purposes such as to improve heating efficiency. Most antique fire surrounds should be installed by professionals to meet safety standards.
Components of an Antique Fire Surround
An antique fire surroundis the mantelpiece that surrounds the fireplace. It consists of three parts: one horizontal board that connects two vertical pieces. On top of the horizontal piece is the mantelshelf. Between the two vertical pieces is the hearth, which is in the wall. The surround lines the surface of the wall facing into the room. Antique fire surrounds were commonly made from cast iron, brass and wood.
Types of Antique Fire Surrounds
There are several types of antique fire surrounds. They include cast-iron fire surrounds, brass fire surrounds and pine fire surrounds. The following list outlines some of the types of antique fire surrounds.
Type

Description

Advantages

Considerations

Cast iron fire surrounds are the most common type of antique fire surround available. It is usually grey or white in colour, depending on the type of cast iron used.

Ÿ Cast iron can absorb a lot of heat and hence, the room could take a long time to warm up.

Ÿ Over time, cast iron fire surrounds can rust and accumulate dirt.

Brass fire surrounds are yellow or bronze in colour and are generally of a thinner material than cast iron surrounds.

Ÿ Brass is an attractive metal.

Ÿ Brass surrounds tend to tarnish and may require brass polish to maintain.

Pine fire surrounds are brown and could feature carvings.

Ÿ Pine fire surrounds have a softer look than iron or metallic ones.

Ÿ The surface of pine has excessive graining patterns.

Oak fire surrounds are darker than pine.

Ÿ Oak is solid and resistant to rot and decay.

Ÿ Oak may discolour from smoke and soot.

Mahogany surrounds are brownish-red.

Ÿ Can be polished with a high-gloss finish.

Ÿ Ages well and maintains its appearance.

Ÿ Mahogany fire surrounds can make a room look dark and atmospheric.
Factors to Consider When Buying Antique Fire Surrounds
There are several factors to consider when purchasing an antique fire surround including the composition of the piece, its condition and whether it meets the fire code where the buyer lives.
Material – Fire surrounds produced more than 100 years ago were primarily made from iron or cast iron, but there were other materials that were used to manufacture fire surrounds. The composition of the fire surround is an important factor because it affects several things, including the appearance of the fire surround and its heat-absorbing properties. Some of the other materials used to produce antique fire surrounds include brass, oak, pine and mahogany.
ŸCondition – The quality of the fire surround is another factor to consider when purchasing an antique fire surround. Any damage to the fire surround, such as cracks, chips, or uneven construction will ruin the appearance of the fireplace. Some of these issues can be repaired, but if the damage is too much, avoid the piece. The best way to identify problems with the fire surround is to examine it first-hand. If that isn't possible, study pictures and information provided by the seller.
ŸFire code requirements – Probably the most important factor to consider when purchasing an antique fire surround is that it meets today's requirements for fire safety. This is especially important if the antique fire surround will be used with a working fireplace, as opposed to just being a decorative piece. Check the installation requirements with a local contractor before purchasing an antique fire surround.
Typical Features of Antique Fire Surrounds
Antique fire surroundshave three key elements:
1. Decorative elements – Most fire surrounds enhance the appearance of the fireplace. Some of the pieces feature elaborate carvings. The mantelshelf sits on top of the surround and typically holds items such as photo frames and other decorative items.
2. Protective structure – The structure of the fire surround provides a barrier between the room and the fire.
3. Heat-absorbing material – The material in most fire surround absorbs heat from the fire and in time, radiates it out into the room. While this could slow down the process of warming up a room, it also prevents over-heating.
How to Care for an Antique Fire Surround
The majority of antique fire surrounds are made of cast iron. This material wears down over time. Ash and debris may stick to the surface of the fire surround. Remove this with a dry cloth and vacuum up the dust as it falls from the fire surround. The surface beneath this may have rusted. One way to remove this is to spray a vinegar solution and wipe the surface with a clean cloth or use a wire brush to scrape the rust away.
Fire surrounds should be placed around the fireplace but there are different requirements for installation. Antique fire surrounds need to meet these requirements to avoid becoming a fire hazard. The mantelpiece, hearth extension, and firebox have different safety requirements, including distance from the fireplace opening and composition. If the fire surround is made of combustible material, such as wood, there are usually more requirements for their specifications in order to reduce the fire risk.
Popular Styles of Antique Fire Surrounds
Ÿ Gothic
Ÿ Georgian
Ÿ Art Deco
Ÿ French
Accessories and Add-ons for Antique Fire Surrounds
There are several accessories that would complete an antique fire surround.
Log bin
ŸHearth screen
Fireplace tool set
Wood bellow
Finding an Antique Fire Surround on eBay
After determining the type of antique fire surround you want to purchase, visit the Antiques portal on eBay, click on 'Architectural Antiques', then click 'Fireplace' and start searching item listings. The Categories list on the left-hand side of the eBay page helps to narrow the search. Click the box for 'Fire Surround'. Further refine the results by age, style and price.
Searching for an Antique Fire Surround on eBay
Search eBay listing titles for specific words when shopping for an antique fire surround. For example, to find an antique fire surround with Victorian features, type 'Antique Victorian Fire Surround' into the search box, and then click the Advanced button to customise the results. Also visit eBay's Search Tips page for more advice on searching for antique fire surrounds with keywords. If you can't find the exact antique fire surround you want, try shopping eBay Stores.
Conclusion
Antique fire surrounds add value to a fireplace and to a home. Its structure and design can make it a significant focal point in a room. Not only does it look stylish, it also makes the fireplace more efficient. There are several types and styles to choose from on eBay. After finding the antique fire surround on eBay using the search feature or category listings, review the details. The product listing page on eBay contains valuable information including the price, shipping details and product description. Know exactly what the seller is offering before making a purchase. Once you have collected all the information you need, you can buy an antique fire surround safely and securely on eBay.