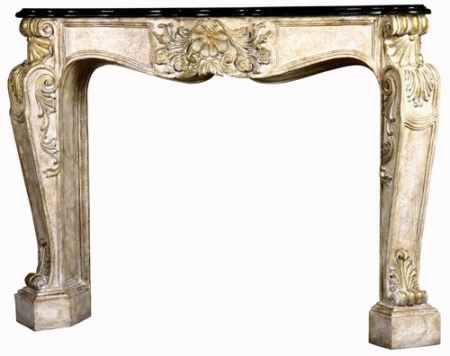 The fireplace mantel – also known as a mantel shelf or mantelpiece today and as a chimneypiece in the past – has a significant place in houses old and new. From hanging Christmas stockings, holding pictures of family or decoratively framing a comforting fire, an antique fireplace mantel can be the focal point of any room. An antique fireplace mantelpiece can be simply-made or incredibly ornate, ranging in styles to suit any decor. As an antique a hundred years or older, it can display the popular styles of its period, serving as a piece of art history at the hearth. This guide outlines some of the basic features of an antique fireplace mantel, popular designs used for antique mantels and some proper methods of caring for an antique fireplace mantel.
History of an Antique Fireplace Mantel
Although fires and fireplaces have existed since prehistoric man, chimneypieces originated in the Middle Ages to serve a particular purpose – to catch smoke billowing out from the fire grate in the wall. Previously, chimneypieces were unnecessary because domestic fires were placed in the middle of the room, and smoke was vented through a hole in the roof. In later periods, fireplaces set into the walls were constructed for homes. This also changed the purpose of the chimneypiece, which soon became the fireplace mantel. It evolved from first serving as a protective shield to becoming a canvas to showcase decorative arts. The fireplace mantel soon became a reflection of privilege and wealth in any home. For example, during the opulent Rococo period in France, fireplace mantels could extend to the ceiling and across the walls of a room in an ornate, florid fashion. Indeed, fireplace mantels were the most decorative aspect of a room for many centuries.
Discover Antique Fireplace Mantels
An antique fireplace mantel is a great way to create a beautiful focal point in a room. Depending on the design and degree of ornament, an antique fireplace mantel can showcase the decorative art of a particular historical period in opulent style. In this way, an antique fireplace mantel is a bit of art history that can blend in seamlessly with the decor of a room. What's more, an antique fireplace mantel can be functional. Whether it's holding picture frames and books, hanging Christmas stockings or serving as a standalone decorative piece, an antique fireplace mantel is a necessary addition to any working fireplace, as it keeps smoke from invading the interior of a room. Throughout history, antique fireplace mantels have incorporated virtually every kind of sculptural technique into its designs, so there are plenty of options and varieties to surround a family hearth with.
Components of an Antique Fireplace Mantel
| Part | Description |
| --- | --- |
| Structure | An antique fireplace mantel may be made with a variety of materials. Limestone, marble, granite, ceramic, woods (oak, cherry, mahogany, walnut) and cast iron are common materials used. |
| Mantelpiece or mantel shelf | The main shelf above the fireplace; the most basic part of an antique fireplace mantel. |
| Jambs | The side posts of an antique fireplace mantel, which are often carved, pillared or feature some other kind of decorative detailing. |
| Mirror | Sometimes an antique fireplace mantel may have a mirror above the mantel shelf, framed by the same material used for the mantel shelf. |
| Carvings | Carvings are very popular decorative details found in antique fireplace mantels. |
| Inlaid panels | Inlaid panels can sometimes be found on the jambs of an antique fireplace mantel. They may have decorative tiles in the inlay part, or other kinds of carvings or designs. |
Types of Antique Fireplace Mantels
Antique fireplace mantels displayed the popular designs of different historical periods. Some of the most desired antique fireplace mantel styles are listed here.
| Type | Description |
| --- | --- |
| Georgian (1714-1811) | A simple style, Georgian antique fireplace mantels are usually made with marble or wood materials. The carvings are understated but tended to be floral. |
| Victorian (1837-1901) | Spanning the nineteenth and early twentieth century, the Victorian era features revivals of historical styles such as Gothic, Baroque and the Renaissance. Often quite ornate, these mantel designs use floral patterns, scrollwork, and decorative images of fruit and figures. Could be made with a variety of materials, from marble to wood to limestone. |
| Arts and Crafts (1860-1910) | This style draws from other historical periods, such as neo-classical, while incorporating natural elements like flowers and other figures. |
| Art Nouveau (1890-1910) | The ornate style of Art Nouveau may incorporate asymmetrical, stylised floral patterns, curved details and ornate scrollwork. |
| Rococo (1700s) | A French style popular in the eighteenth century, Rococo is a highly-ornate style that features scrollwork, serpentine shelves, and other elaborate floral carvings. Usually made with expensive materials such as marble and granite. |
| Federal (1780-1830) | A more subdued American style that features lightly-carved woods like pine and oak, with a finish that shows the grain of the wood. |
Factors to Consider When Buying an Antique Fireplace Mantel
Style – There are many different styles of antique fireplace mantels to choose from. Decide on a style that suits the decor of the room it's to be placed in. Typically, more ornate styles like French Rococo will suit a more formal room of the house, while simpler designs like an American Federal antique fireplace mantel can work with a bedroom fireplace.
Dimensions – An antique fireplace mantel may only be designed to fit a particular fireplace size. Measure the mantel and fireplace carefully, and consult the buyer about the fit before making a purchase.
Material – Different fireplace mantels require different degrees of care and even serve different functions. A more affordable wooden fireplace mantel may require more regular polishing and cleaning, and it should also be put out of direct sunlight to reduce damage over time. A cast-iron mantel is more functional and basic, while a marble mantel tends to be the most ornate and decorative option.
Typical Features of an Antique Fireplace Mantel
1. Fine materials.
As the focal point of a room, an antique fireplace mantel tends to be made with fine materials like marble, granite, limestone, cast iron and prized woods.
2. Decorative detailing.
An antique fireplace mantel often features intricate carving, floral patterns, figures and other sculptural elements to display the popular styles of decorative arts in its period.
3. Durable construction.
Antique fireplace mantels were made in a time when fireplaces were regularly used. Hence, the mantels themselves were made to withstand smoke and hot conditions. Even though some mantels may require more care than others, generally they are made with durable, long-lasting materials.
How to Care for an Antique Fireplace Mantel
Caring for an antique fireplace mantel depends on the material.
For a marble antique fireplace mantel, simply wipe the dirt and soot from the marble with a wet cloth dipped in a non-abrasive, all-purpose cleaner. If desired, polish with a specially-made marble polish.
With a wood antique fireplace mantel, try an oil-based wood cleaner on a soft cloth to remove soot. About once a week, a regular furniture polish should be applied to the wood with a soft cloth to keep the finish of the mantel in good condition.
Antique fireplace mantels made of rougher stone materials like limestone or granite can usually be cleaned with a vacuum brush and soft bristled brush.
Accessories and Add-ons for an Antique Fireplace Mantel
Mantel clocks are decorative timepieces that are made especially for the fireplace mantel.
Andirons hold wood logs and also serve as decorative pieces by a fireplace.
Soft cloth to clean the surface of the fireplace mantel.
Wood polish, marble polish or a soft bristled brush to clean the fireplace mantel, depending on the type of material that it's made of.
Finding Antique Fireplace Mantels on eBay
Once you determine the type of antique fireplace mantel you want to purchase, visit the Antiques portal on eBay, click on 'Architectural Antiques', then 'Fireplaces' and start searching item listings. The Categories list on the left-hand side of the eBay page helps to narrow the search.
Searching for Antique Fireplace Mantelson eBay
Search eBay listing titles for specific words when shopping for antique fireplace mantels. For example, to find a French Rococo antique fireplace mantel, type 'Rococo Antique Fireplace Mantel' into the search box, and then click the Advanced button to customise the results. Also visit eBay's Search Tips page for more advice on searching for antique fireplace mantels with keywords. If you can't find the exact antique fireplace mantel you want, try shopping eBay Stores.
Conclusion
Antique fireplace mantels are finely-made antiques that can add a note of charm and beauty to a traditional fireplace, while serving as the focal point of a room. Featuring an abundance of popular styles from historical periods, antique fireplace mantels showcase the skill and craftsmanship cultivated in centuries of decorative arts. This guide has provided an outline of some of the most popular styles, the basic elements of antique fireplace mantels, and how to care for an antique fireplace mantel. Once you have collected this information, you can buy an antique fireplace mantel safely and securely on eBay.