Many people find that an antique jewellery box provides a unique way to store jewellery that complements a variety of styles and tastes. When browsing these products, shoppers should know more about the products out there, pay attention to their condition, and confidently evaluate each item's age.
Different Types of Antique Jewellery Boxes

Fortunately, those in the market for one of these antique boxes can find different designs and sizes to meet most jewellery storage needs. Cases meant for display atop a dresser or next to a sink tend to hold several pieces of jewellery at once, while single bobble holders of the past make for a special gift packaging or display of one piece. Antique jewellery boxes feature a wide range of materials and shapes as well. Some include ornate inlays of painted wood or stone, while carvings dominate the surfaces of others. Round, oblong, rectangle, and square designs typify what most buyers can discover while browsing these products. Some even see other antiques that might serve as jewellery boxes, like snuff containers.
Examining the State of a Jewellery Box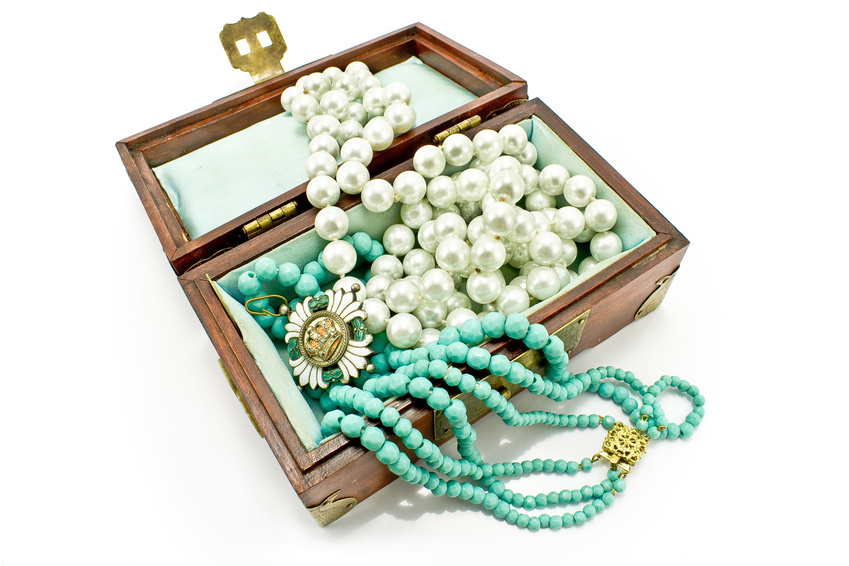 Depending on how often previous owners handled the antique, the amount of visible wear will vary. Oils and bacteria on the skin transfer to these boxes every time they are touched, so those made of wood might show some light discoloration. Luckily, a little varnish or paint resolves issues like these. Metallic jewellery encasements also exist, and these will likely show some tarnishing on their surface. Fortunately, many products offer the ability to easily remove such wear and restore these boxes to their original shine. Most can easily replace broken hardware like hinges and clasps as well. The only real deal-breakers in terms of damage would include large cracks or holes in the antique's lid or base that inhibit a product's functionality.
Determining Age
Many design characteristics reveal the age of an antique jewellery box. For example, anything that hails from the Victorian era is likely small as most people used trinket boxes during that time period to store rings and little pendants. Metal dominated the 1900s, and musical jewellery boxes rose to popularity in the 1950s. Other popular antiques include the lines produced by luxury jewellers, like Cartier. Many also seek famous older jewellery box brands such as Lionite Ltd. When questioning the age of a specific product, always research whether its composition matches common materials of the time period before you buy. This should help prevent paying more for something labelled antique that might prove to be a reproduction later.