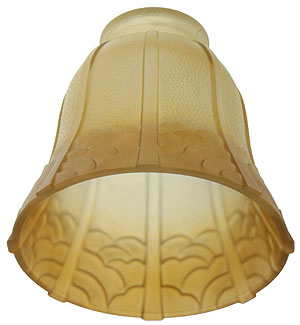 Having an antique lamp shade in the home can add character, history, and old-world style to a home's décor. While an antique lamp shade is a worthwhile investment, it will require care and maintenance. eBay sells a diverse range of antique lamp shades, from 1930's Art Deco vintage ceiling lights to chrome silver beaded droplet pendant chandeliers. This guide will provide in-depth information on how to buy an antique lamp shade, including its history, the advantages of buying an antique lamp shade, and how to find one on eBay.
History of Antique Lamp Shades
Before the introduction of electricity in the late 1800s, homes burned lard or whale oil in kerosene lamps, in addition to candles, to light the home. These portable lamps were versatile and could be carried around by hand and were mostly functional. As the variety of lamp styles increased, so did the decorative elements of the shades. Antique lamp shades make a nice addition to any living room, and can be placed in the middle of a room to highlight its design. Antique lamp shades are distinguishable by their complex designs. Kerosene lamp shades were vase shaped and allowed air to the flame, while protecting it from breezes. Over time, the design of the kerosene lamp shades changed to a taller and slimmer design. The introduction of electricity helped antique lamp shade manufacturers produce designs in a variety of sizes and shapes. Stained glass designs took lighting to a new direction. Not only could a colourful lamp shade highlight a home, but they indicated wealth and prosperity.
Discover Antique Lamp Shades
There are many advantages to an antique lamp shape. Not only can it be desirable, the detail of the lamp creates credibility. An antique lamp shade can create a pleasant finish when coupled with a period fireplace. Vintage lamps are available in diverse styles and designs, from Japanese porcelains to traditional Georgian. A heavily restored lamp will retain its worth, although restoration costs can be high. Not only do these lamps create ambience and comfort, they have a beautiful finish, especially when they highlight other pieces of antique furniture, which are widely available on eBay. Antique lamp shades are a useful gift to buy friends, family or work colleagues.
Parts of an Antique Lamp Shade
For lovers of antique lamp shades, there are various ways to restore a piece. These parts allow the dealer or user the opportunity to restore an antique lamp shade.
| Part | Description |
| --- | --- |
| Glass lamp chimneys | Glass lamp chimneys are heat resistance and provide a colourless, light finish. |
| Glass lamp shades | Replacement glass lamp shades are available in a variety of styles and shapes to suit all budgets. |
| Lighting hardware | The hardware contains all the necessary pieces that will allow a dealer to restore an antique lamp shade. |
| Candle covers and bulbs | Antique style bulbs and candle sleeves allows the user to find a piece that matches their lamp fixture or décor. |
| Oil lamp parts | To convert an oil lamp to electric, all of the parts in this range will be of assistance. |
| Chandelier parts | Chandelier crystals and prisms can create a nice finish on antique lamp shades. |
| Lamp shades | These include silk lamp shades, floor lamp shades, fabric lamp shades, and fringed lamp shades. |
| Light sockets, wire and cord | Add an early style fixture to the antique lamp shade with the use of cluster sockets, wiring devices, lamp wires, and wall plugs. |
| Industrial style lighting | Popular fixture styles include the industrial style lighting to create a 30s, 40s or 50s finish. |
| Iron wall bracket lamps | These pieces allow the user to create a unique antique lamp shade that can be wall mounted. |
Types of Antique Lamp Shades
There are various types of antique lamp shades, each with its own unique design.
| Type | Description | Advantages | Considerations |
| --- | --- | --- | --- |
| Art Nouveau | Means "The New Art" and it features a curved shape. | Hides the socket and the bulb. | This is a popular design used by many. |
| Astral lamp | A kerosene burning lamp highlighting a bright light. | | |
| Candelabra | Glass prisms, baubles and chains are crafted to create a stylish finish. | Creates the centrepiece of a room. | Chandeliers and candelabras are delicate and should be handled as so. |
| Argand lamp | The circular wick allows sufficient oxygen to reach the flame. | Named after the inventor of the Argand burner, Aime Argand. | |
| Hurricane boudoir lamp | This design protected flames from being extinguished in high winds. | Looks elegant when used as a mantle lamp. | |
| Rochester lamp | Available in diverse styles, this lamp eliminates shadows and is a helpful light for studying. | A good light source for studying. | The prices vary upon the choice of style. |
| Reverse painted lamp | Art is hand painted on the reverse of translucent glass to illuminate the design when lit. | They exude wealth and class. | This design of lamp can be expensive. |
Factors to Consider When Buying an Antique Lamp Shade
Comparing various items can help the user come to a decision on what is best suited to their environment, and if the item is affordable. An important point to factor when buying an antique lamp shade is knowing whether the item has been repaired or restored, as this can increase the final price of the item.
Size – Since antique lamp shades are available in an array of sizes, it is important to choose a design that meets all of the user's needs.
Price – Designs such as the chandelier offer an elegant centrepiece in any room, but they are expensive and will not be within the budget of all buyers.
Research – It can be advisable to contact an antique expert before investing in an expensive antique lamp shade. The expert will be able to clarify whether the piece is vintage, or a copy.
Restoration or repair – Has the item received restoration or repair, or is it purchased new? Many antique lamp shades will be used items of furniture, but have been well looked after by the previous owner.
Typical Features of an Antique Lamp Shade
Colour - There are a diverse number of antique lamp shades available in a multitude of colours to suit all home furnishings.
Design - From floor lights to mantelpiece designs, antique lamp shades provide a home with elegance.
Finish - Dependent on price, some antique lamp have are more detailed than others. Chandeliers are one such piece that is worth that investment.
Glass - Handcrafted lamp shades use Favrile glass. These are easy to distinguish in genuine Tiffany lamp shades.
How to Care for an Antique Lamp Shade
Antique lamp shades require care and maintenance to look their best. However, if the item is an investment, or there is monetary value in the item, then it is worthwhile to buy the appropriate tools to care for your item. The shade is often more delicate than the base.
Before cleaning the lamp shade, remove it from its base and dust it carefully with a damp cloth. If there are intricate mouldings, spray a little water onto the surface. To clean fabric shades, use a dry cloth to remove any dust and debris from the internal and external areas of the lamp shade. Add warm water into a tub with several drops of laundry detergent, submerge the shade underwater, and gently scrub the surface to remove any dirt or stains. Rinse with clean water and allow to air dry.
To clean non-submersible shades, carefully wipe the internal and external areas of the lamp shade with a dry cloth. Whisk clean water together with several drops of liquid soap to form a dry cleaning solution. Dip a fresh cloth into the solution and gently dab over any stains or dirt. Remove the soap with a damp sponge, and finish by drying with a new cloth. Once dry, reattach to the lamp's base.
Popular Antique Lamp Shade Manufacturers
It is easy to identify antique lamp shades according to the style of furniture. Below are several of the most popular:
Tiffany
Handel
Bradley and Hubbard
Durand
Pairpoint
Aladdin
Accessories and Add-ons for Antique Lamp Shades
For effective care and maintenance of an antique lamp shade, consider these items.
Mild soap and/or detergent
Soft cloths
A spray bottle
Soft brush
Finding Antique Lamp Shades on eBay
Once you determine the type of antique lamp shades you want to purchase, visit the Antiques portal on eBay, click on 'Lamps' then narrow it down to the material, period or style, and condition of item and start searching item listings. The Categories list on the left-hand side of the eBay page helps to narrow the search.
Searching for Antique Lamp Shades on eBay
Search eBay listing titles for specific words when shopping for an antique lamp shade. For example, to find a Tiffany table lamp, type 'antique lamp shade' into the search box, and then click the Advanced button to customise the results. Also visit eBay's Search Tips page for more advice on searching for antique lamp shades with keywords. If you can't find the antique lamp shade that you want, try shopping eBay Stores.
Conclusion
Finding the correct antique lamp shade includes first knowing what exactly you require. eBay provides a wealth of information, and searching for the item is easy. Once you have collected this information, you can buy an antique lamp shade safely and securely on eBay.