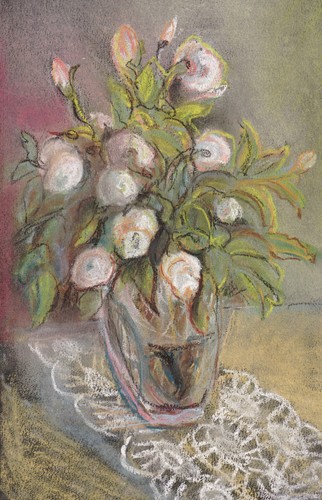 Pastel paintings are a wonderful way to decorate a house, and with a great selection available on eBay finding antique paintings with history, style and an affordable price is easy.
This guide to antique pastel paintings will assist buyers in finding a painting with the ideal style, size, price and provenance for them. As well as advice on buying paintings on eBay, it is also the site with the best range and competitive prices on the market.
Buying Pastel Paintings
Having decided upon pastel as the preferred medium, the buyer should establish what they want in their painting, as this will help narrow the field and guide their search to find exactly what they want, as well as setting what budget they will need.
Having a painting with some history and reputation can be a long-term advantage in terms of investment, provided that the buyer goes into buying informed about the needs of the painting as well as what they must know before purchase. The buyer will need to consider:
Price – paintings, antiques in particular, will come at a higher price than print reproductions. The buyer should decide how much they are happy to spend, and fixing on a budget will help hone the choices available.
Artist – many paintings will come with artist signatures, and proven provenance will raise the price.
Age – pastels have been used by many artists for hundreds of years, and age will reflect the condition of the painting as well as the cost.
Size – paintings are available in a range of sizes from small portraits and sketches to large landscapes, it is important to consider the ideal size as this will determine buying and shipping prices.
Painting or Print – if cost is an important factor then many antique prints are available of earlier works. These antique reproductions are less costly than genuine antique paintings; however they do not have the same value.
Though pastel paintings may not have the same prestige or reputation as oil paintings or watercolours, many artists have chosen it as their primary medium or have small sketches in pastel. With delicate colours and effects, they are just as distinctive and striking on a wall as a heavy oil painting on canvas. Paintings make great investments, as not only are they lovely to look at they can gain value over time, particularly as artists are 'rediscovered' by the wider community.
Identifying Antique Pastel Paintings
Buying antiques of anything can be a complicated business, with a huge range of aspects to consider before even looking at a single artwork. Artists, histories and condition must be examined before buying, and artworks are especially vulnerable to forgeries or convincingly antique copies. When buying antique pastel paintings then it is essential that the buyer is able to identify genuine antiques in a world where many people unknowingly own fakes or later reproductions.
Check Price – the price of the piece should reflect the medium, artist name, price and provenance. Provenance means the record or known history of painting, and genuine antiques belonging to a known artist should have a history tracing back through previous owners to the artist themselves. Pieces from known artists should be traceable.
Support Medium – though a great deal of antique artwork is on canvas, many 18th to 19th century pastels may be on wooden board instead. Buyers should check the period cited in the product description.
Signature – many pastel artworks carry the signature of their artist, but many older works do not have one. Many art students also copied the art of their master including signature whilst learning. While the signature can be a good indication of a genuine antique, it is always best to do more research.
Condition – antiques of any medium deteriorate with the passage of time, and in particular cracking is a common condition – thin cracks in the pastels are a definite indication of age, and are present in most antiques. Pastels, however, are the most permanent of artistic mediums and do not oxidise like many others.
Pastel – if a painting rather than a print, the pastels in the painting will likely have a chalky texture and some of the pastel may be smeared or fallen down inside the frame.
With this guidance, buyers should be able to at least begin identifying antique works and whether they are worth the price. If in doubt of any signature or claimed artist, many archives and lists exist online detailing the works and locations of various well-known pastel artists including Chandler, Braley, Glatthaar and Gunderson.
Caring For Antique Pastel Paintings
As with many artworks, pastel paintings need some care and work to prevent wear and damage, and this is especially important with more delicate antiques. Paintings can be vulnerable to a variety of problems that are easily preventable if the buyer is pre-informed. The buyer must remember to:
Keep the painting out of direct sunlight to prevent fading.
The painting must not be cleaned with soap and water.
When framing paintings, the glass must not be flush against the painting as there must be a small space to allow the painting to 'breathe'. If pressed against glass the piece may buckle, stain or develop mould due to trapped condensation.
The painting must not be handled too often, as natural oils and moisture from hands may transfer onto the painting and damage it.
Hang in a place with regular temperature, preferably cool but at least not over a radiator or fireplace as heat can damage the pastels.
The backing materials of the painting may need to be changed to newer acid-free materials, as archival materials conservers used to use are now known to slowly damage artworks.
Though many pastel paintings do not require the extensive and detailed care of many valuable oil paintings, with this advice the buyer can make sure that their artwork lasts for many more generations yet.
Buying Antique Pastel Paintings on eBay
eBay is an ideal place to buy paintings of any medium, with a huge range of works to suit any aesthetic taste. Paintings can be expensive in brick and mortar art dealerships and antique stores, and may not offer much in the realm of pastels over oil and watercolours. On eBay antique pastels can be found at competitive prices and with a huge range of subject matters and painting styles in the Art section. When looking on eBay for the ideal painting, the buyer should consider:
Cost – antiques can come at a high price but there is something on eBay to suit every budget, and the search options can be adjusted to reflect this. With items available at both Auction and Buy It Now, buying paintings on eBay is very flexible and incredibly simple.
Size – eBay sellers provide photographs and descriptions of the items on sale, but if unsure check with the seller for exact measurements. Size will also affect shipping costs, and with delicate items such as paintings further shipping measures may need to be taken to ensure the safety of the item.
Artist – if the object is the purchase of a pastel artwork from a known or at least named artist, check the descriptions and photographs of the piece, and do not be afraid to ask the seller for more detail or a closer photograph showing the name.
Local Sellers – looking for local sellers is the ideal way to purchase an artwork, as it will save on shipping costs and even with delicate artworks meet-ups between seller and buyer can be arranged to make sure the piece arrives safely.
If searching for a particular item, it may be most effective to use both the category selections provided in the Art section of eBay as well as the search bar, as this will greatly reduce the amount of results and allow for a quick and easy search of what is available. More advice on searching eBay is available at the Search Tips page, with extra guidance on search operators, options and shortcuts.
When buying something as valuable as an antique painting, it is essential that the buyer is certain of all the details about the piece. They should not be afraid to ask the seller any extra questions, or ask for further information about the piece so that the buyer can run their own checks.
Conclusion
Antique pastel paintings are a fantastic way to decorate any wall, and antiques with a provenance and known artists are great ways to invest in something valuable and beautiful. With the wide range available for the choosing, finding the ideal painting can be a time-consuming task with no guarantee of success.
With this guide to antique pastel paintings eBay should become the ideal way to search and purchase, with accessible search functions, helpful sellers and the most competitive prices around.
When buying items from eBay, buyers should keep in mind the added security benefits of using PayPal as a well as quick and reliable payment method and included eBay Buyer Protection.