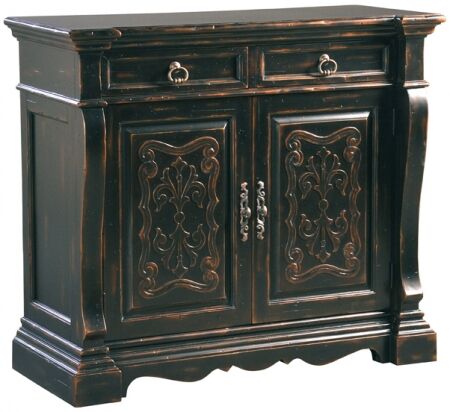 A sideboard, sometimes called a buffet, is a piece of furniture that is usually set against the wall of a dining room. Most sideboards have a serving area at waist height and drawers and cupboards that can be used to store cutlery, dishes, and glasses below. Some sideboards also have a raised back, often with a mirror set into it. Mahogany antique sideboards, oak antique sideboards, and pine antique sideboards can add style and function to any home.
A Brief History of the Sideboard
The sideboard became a common piece of furniture in a time before fitted kitchen cabinets existed, and they are still very useful to families who don't have enough kitchen storage space. Shelves and narrow tables have been used as aids in serving food since ancient times. However, the modern sideboard, or buffet, appeared in the 16th century. Buffets first became popular on the European continent, and by the late eighteenth century, they had become a common fixture in British dining rooms, as well. Today, antique sideboards are still useful for their original purposes, but they're also practical for storage and display in living rooms, bedrooms, and halls.
Types of Antique Sideboards
Below is a table with a few guidelines for identifying antique sideboards by period and style. However, it can be difficult to determine the age of an antique sideboard without expert assistance. Older styles often continue to be produced in later years, and, of course, the twentieth and twenty-first centuries have brought numerous revivals and a constant stream of reproductions. It's entirely possible for a piece to be a genuine antique and to be an imitation of a style from an even earlier period.
| | |
| --- | --- |
| 18th Century Sideboards | In the late eighteenth century, sideboards often had curved tops and thin, tapered legs. It is common for the storage areas on the sides of these early sideboards to be larger than the one in the middle, giving them a desk-like look. |
| Victorian Sideboards | During the Victorian era, it was fashionable for mirrors to be built into a vertical panel behind the display surface. Carvings of organic patterns, animals, and even mythical scenes decorated the more ornate examples. By this time, the industrial revolution was taking hold, and middle class families had more possessions than ever before. Victorian sideboards tend to be large, heavy, and equipped with quite a bit of storage space. They may have classical, Egyptian, gothic, or rococo details and design, or incorporate a mixture of styles. |
| Chinese Sideboards | Chinese furniture was fashionable in Victorian times, and in parts of the twentieth century, as well. It is characterised by simple, perpendicular lines and prominent circular or rectangular iron or bronze latches, pulls, and hinges. These pieces may have a reddish or black glossy finish. |
| Rustic Sideboards | While the middle class indulged in increasingly stylised and heavily ornamented furniture, rural and less well to do families used simpler pieces built out of oak and pine. Many of these pieces have also survived into the present day, and they are often both charming and practical. |
| Arts and Crafts Sideboards | In the late nineteenth century, there was a reaction against the poor quality, mass produced products that had become available during the industrial revolution. The furniture design style that came out of this philosophy was simple, elegant, and highly functional. Arts and crafts buffets often feature unique and artistic details. New furniture with a similar aesthetic is sometimes called 'mission style.' |
| Art Deco and Modern Sideboards | Beginning in the late 1920s and continuing into the 1940s, mass produced furniture with a modern, streamlined look, embellished with complex decorative veneers, came into vogue. Art deco antiques are often reasonably priced, and they have a distinctive style. |
In general, it's possible to find out a bit about the age of an antique sideboard based on the hardware and the joinery. Before the mid-nineteenth century, hinges were larger and bulkier, and screws were not machine-made. Screws weren't used at all until the late 1700s. Additionally, pre-twentieth century screws did not have pointed tips. Most pieces of furniture have a maker's mark or manufacturer's stamp on the underside or the back. These are the best ways to identify antique furniture. There are many attractive and well built pieces of furniture that are not exactly what they appear to be, and many genuine historic pieces that have been painted or otherwise altered. It takes a personal evaluation by an expert to verify the age and origin of an antique. However, most people are happy to find a solidly constructed and high-quality piece of furniture with a design that they find appealing.
Sideboard Materials and Repair
Most antique sideboards are constructed of solid wood, although some early twentieth century sideboards have an ornately detailed hardwood veneer over pine. Generally, solid wood sideboards are durable and straightforward to refinish, while veneers can be fragile and difficult to repair and refresh. However, it is not a good idea to refinish an antique that's in good condition, and even with flawed pieces, removing the original finish can lower the value. Consider fitting a custom-cut coloured glass or stone top to an antique buffet with a stained or damaged top instead of refinishing it.
Choosing the Right Antique Sideboard
When choosing an antique sideboard, it is important to think about both style and practical considerations. The right sideboard will have enough space to fit the dishes, cutlery, or linens that need to be stored in it. Measure the size of the items that require storage and check them against the sizes and shapes of the sideboard's cupboards and drawers. The sideboard will also need to be a size and shape that can fit through doors and up staircases that are on the way to its destination. Like any piece of furniture, an antique sideboard will need to fit the space available, leaving enough room for circulation and for chairs to be pulled out. This can limit the width of the piece. As a general rule, at least a metre of space is needed between the edge of a table and a sideboard, and more is better.
Questions to Ask Sellers
Buying an antique sideboard without seeing it first-hand requires care and caution. A piece of furniture as large as a sideboard can be expensive to transport and expensive to return. That's why it's important to collect as much information as possible about the sideboard before buying. First, ask the seller to look for a maker's mark, a company stamp, a date, a serial number, or any other information on the underside and the back of the sideboard. Enquire about the type of wood the antique buffet is made of, and ask if it has a veneer. If there are drawers or cabinets with locks, ask if the keys are included. If there is fine detail in the piece, then ask for close-up photographs. Make sure that a clear photo of the top is included. That's where stains and damage to the finish are most likely to be found. Ask if it's solid and sound, or if it needs some work. Find out whether or not the drawers and doors are working smoothly. Make sure that the sellers give the exact dimensions of the piece, and an approximate weight. If it's large and getting it into place might be an issue, then have them check to see if it can be partially disassembled.
Finding Antique Sideboards on eBay
To find the right antique sideboard or antique buffet on eBay, try searching for the desired material or style, plus the word 'sideboard' or 'buffet.' For example, try searching for 'antique oak sideboard,' or 'antique Victorian buffet.' Then scroll down, looking at the left hand column, and choose the 'sideboard' option and any other setting that will narrow the search. Try several different variations on the search terms. Alternatively, go to All Categories, then choose Antiques followed by Antique Furniture and finally Sideboards from eBay's front page, and limit the options on the left column. eBay also has categories for specific types of antique sideboards, including Pre-Victorian antique sideboards, Victorian antique sideboards, Edwardian antique sideboards, and Twentieth century antique sideboards. When searching for any large item on eBay, it's a good idea to begin locally and gradually widen the search. Transporting furniture can be time consuming and expensive. In addition, it's difficult to evaluate an antique through photographs, and returning an antique sideboard to a far away seller is costly. The box for setting the local area is at the bottom of the left column.
In Conclusion
Antique pine sideboards, antique oak sideboards and antique mahogany sideboards are in especially high demand, and for good reason. Buying an antique sideboard or buffet is an excellent way to add a beautiful and high quality piece of solid wood furniture to a modern home.