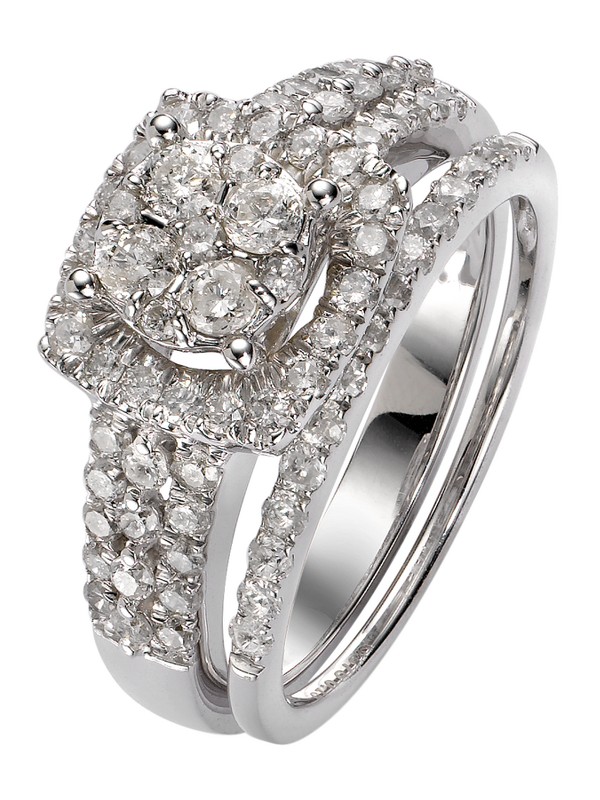 Buying an engagement ring is an exciting process, one that allows individuals to explore and search for ring options that accurately symbolise their unions and their partners. For those who like to make dramatic style statements and stray a bit outside tradition, Art Deco engagement rings are a strong choice. These classic styles give an engagement ring a look that makes it a real standout from standard, run-of-the-mill solitaires.
Given the unique nature of Art Deco jewellery, however, individuals who are in the market for a ring may need to gather some information on the characteristics and designs of Art Deco engagement rings. Understanding common design themes, metals, and gemstone cuts used in these rings can greatly facilitate the purchasing process. Consumers can also experience an easier search for an Art Deco engagement ring if they understand where and how to purchase these classic rings, such as in antique jewellery shops and on the online auction site eBay.
Art Deco: A Classic of the Twentieth Century
Art Deco is a visual arts style that began in the 1920s that defined much of the design work done in that decade on into the 1930s. Art Deco is defined by stark geometry, contrasting colours, and an aesthetic appeal that, at the time, emphasised futuristic themes. Art Deco influenced everything from jewellery to basic household appliances with its geometric design work and contrasting colour schemes. Today, it remains one of the classic design aesthetics of the twentieth century and is still widely collected and enjoyed around the world.
Design Themes and Accents in Art Deco Engagement Rings
Art Deco engagement rings are dramatic and ornate choices that emphasise contrast, both in terms of colour and form. Unlike an engagement ring from a more contemporary era that might stress the diamond, an Art Deco engagement ring focusses on the gestalt pattern and uses contrasting stones and lines to create a complex visual pattern.
Common design themes include filigree patterns or milgrain edging throughout a broad frame that surrounds the central stone, as well as horizontally-placed, contrasting stones, such as sapphires, that are placed on either side of the central diamond to draw the eye outward. Another design scheme often seen in Art Deco engagement rings is the placement of the central stone within a ring of black onyx, which creates a stark, black and white contrast.
Materials Used in Art Deco Engagement Rings
Art Deco engagement rings offer a wide array of gemstone and metal choices to the consumer. Understanding the different options available can help individuals quickly zero in on the appropriate ring choice during the purchasing process.
Metals Used in Art Deco Engagement Rings
Platinum was the most popular metal choice for rings created during the Art Deco era. It was valued for the neutral, silver-white base it created, onto which a jewellery designer could build contrasting themes and colours. Platinum is an expensive metal and, as such, is often replaced by either silver or white gold in some Art Deco rings. White gold is a gold alloy that combines gold with rhodium to give it a silver and white tone that is similar to platinum.
The choice of metal used in an Art Deco engagement ring directly correlates to its value and price point. Consumers in the market for an Art Deco engagement ring should determine which type of metal they want in a ring before beginning a search.
Gemstones Used in Art Deco Engagement Rings
As with contemporary-style engagement rings, Art Deco engagement rings feature a central diamond. This diamond is often surrounded with smaller diamonds that may be placed in a pave setting. Contrasting gemstones such as sapphires, emeralds, and rubies are often seen in Art Deco engagement rings, as well. These brightly coloured gemstones are used to create a high-contrast visual pattern that frames the central stone. Other popular materials used are black onyx, turquoise, and even coral.
Understanding Diamond Cuts in Art Deco Engagement Rings
The Art Deco period saw the creation of a number of gemstone cutting techniques that complemented the geometric forms of the era. These cuts are a cornerstone of quality Art Deco engagement rings and epitomise the Art Deco style. Representative of an era that came during a turning point for diamond cutting, Art Deco rings can sometimes feature older cuts, as well, from the Edwardian era and earlier. Understanding the look of each of these cuts can help a consumer make a more informed choice when selecting an Art Deco engagement ring.
Old European Cut
An old European cut is a round cut diamond with 58 facets and a high crown. The old European cut is hand worked and allows the diamond to showcase its natural brilliance. The focus in this cut is not on perfection or even geometry, which makes it a counterintuitive cut for Art Deco. It appears, nonetheless, in some Art Deco rings due to the fact that the Art Deco era occurred immediately after the period when this cut was still popular.
Marquise Cut
The marquise cut is a brilliant cut with an elliptical shape and sharp, pointed ends. The bold points on the cut make it a classic choice for the assertive lines of the Art Deco style. Marquise cut diamonds can look quite large on the face side of the diamond. An Art Deco Engagement ring with a marquise-cut diamond often either emphasises the long, dramatic line of the stone in a solitaire setting or sets it in contrast to two other marquise cut gemstones that are placed at a 90-degree angle to it on either side.
Asscher Cut
The asscher cut stresses the simple geometry of a square and features stepped notches that build toward a wide crown. Asscher cut diamonds are often set as solitaires in Art Deco engagement rings and are surrounded by filigree or a trim of pave diamonds.
Emerald Cut
The emerald cut and the asscher cut are often confused because the asscher is essentially a square-shaped emerald cut. Emerald cuts have the same 'step-up' feature toward the crown as an asscher and the same emphasis on geometry. An emerald cut is often rectangular in shape, which makes it a perfect addition to the assertive and futuristic motifs that characterise Art Deco jewellery. With its long lines, the emerald cut creates a surreal, smooth, glass-like quality on the stone that separates it from the faceted, busy sparkle of many brilliant cuts.
Shopping for Art Deco Engagement Rings
Vintage pieces and new rings created in the Art Deco style are both available in the market today. Consumers looking for either type of Art Deco engagement ring may find beautiful options at traditional brick-and-mortar jewellery stores; however, these vendors are often constrained by trend and may not offer a wide selection of jewellery from this era. Individuals looking for either vintage or new Art Deco engagement rings can access a much larger catalogue of options via online aggregators, as epitomised by the auction site eBay.
Buying an Art Deco Engagement Ring on eBay
The online auction site eBay is designed to facilitate a fast and user-friendly purchasing process. As such, it offers a helpful search interface that is located on every page of the site. When you visit eBay to begin your search for an Art Deco engagement ring, find the search bar and enter a keyword term that defines the type of ring you want to find. You can use a very specific term, such as 'art deco engagement ring with sapphire&', or use a general term to get an idea of the overall availability of items. You can also consider leveraging the Advanced Search options offered by eBay to run a very specific search. There are plenty of options of engagement rings you can purchase on ebay one of the leading brands are Tiffany & Co.
Getting to Know the Sellers on eBay
Shopping on eBay can be enhanced by taking the time to get to know any sellers associated with items that are relevant to your search. If an item catches your eye and you begin reviewing it in detail, take the time to click on the seller's name and review his or her information, as well. You can look through past auctions or even read the feedback that other customers have submitted. This gives you a good idea of the seller's understanding of Art Deco pieces and whether that vendor can get you the exact type of engagement ring you want.
Conclusion
Art Deco engagement rings are a unique choice that can bring a distinct look and feel to an engagement. Finding and purchasing rings from this classic style era is not a complicated process. Individuals in the market for Art Deco engagement rings only need to take a moment to familiarise themselves with some of the main style themes used in these pieces, as well as the materials, gemstones, and diamond cuts that are characteristic of the era.
With this information, individuals looking for the ideal engagement ring can begin an informed search for a quality Art Deco ring on the online auction site eBay or at traditional or antique jewellers. As an aggregator of vendors, eBay offers a large catalogue of Art Deco options. With its easy search interface, consumers can quickly access multiple listings for Art Deco rings and begin the process of vetting the various sellers associated with these pieces. In short order, consumers can find and purchase the perfect piece of Art Deco jewellery to complement a bride-to-be and give her a one-of-a-kind symbol of her union to wear today and into the future.