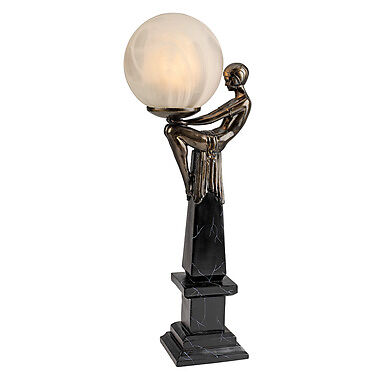 The Art Deco movement of the 1920s and 1930s held influence over many areas of creativity, and the lamps created during the period are typical of the sleek and stylish designs of the time. Many of these lamps can be found on eBay, and upon first browsing, a prospective buyer may notice that the selection is vast and varied. By following a few simple points outlined in this guide, however, the choices that present themselves when purchasing an Art Deco lamp can be made clearer and easier. By considering factors such as what constitutes an Art Deco lamp, what distinguishes a piece from Art Deco 'style,' the various materials used in their construction, and the lamp features that can be found on the eBay site, a buyer can be better prepared to discover the perfect Art Deco lamp for their needs.
History of Art Deco Lamps
The first lamp can be said to date back tens of thousands of years when animal fat was used to soak moss or other absorbent materials, and then lit inside shells or on handheld sticks. The Ancient Greeks replaced the handheld torch with ceramic holders, and then in the seventeenth century, oil lamps provided the first public lighting on the streets of Paris. It wasn't for another few hundred years, during the mid-nineteenth century, that oil and kerosene lamps gave way to the invention of the light bulb. Introducing functionality and luminosity not seen before, the electric light bulb increased in popularity during the late 1800s and paved the way for the creation of elaborate fixtures that decorated and directed the light. These modern lamps then received another huge shift in creative design at the birth of the Art Deco movement in the 1920s. During this artistic movement, complex Victorian designs were replaced with minimal geometric lines and many 'exotic' influences from around the globe
Discover Art Deco Lamps
Radically different to the lamps of the nineteenth century, Art Deco pieces are generally typical of the wider aesthetic principles of the Art Deco movement. The movement spread to all areas of design, including architecture and home décor, and with Hollywood's Golden Age approaching, Art Deco is now somewhat reminiscent of the Silver Screen. On top of its popularity, with the machine age roaring to life during the 20s and 30s, many of these Art Deco items have the sleek look that was associated at the time with speed and progress. They are often attractive in their simplicity and interesting for their diversity, generally highlighting the beauty of design over function. They have strong lines and symmetrical designs, and with the excitement of technology fuelling their progress, they are almost infinite in their variety. Techniques such as Japanese lacquering, and newly invented materials such as Bakelite plastic, all play a role in the variety of Art Deco lamps on offer for a buyer.
Materials Used in Art Deco Lamps
The lamps of the Art Deco era, while similar in basic function to their predecessors, were made in a wider variety of materials.
| Material | Description |
| --- | --- |
| Chrome | Alloy of the element chromium that offers an attractive, shiny finish and is often applied as a thin coat around another metal. |
| Copper | A malleable, red-orange metal often used for the base or the shade of the lamp. |
| Nickel | A hard and ductile metal that offers lustre and is often plated on the surface. |
| Wood | Various types including mahogany, ebony, rosewood and cork were often used for the base of Art Deco table lamps. |
| Alabaster | A hard variety of the calcite mineral that is suited to sculpture. |
| Marble | A soft rock that is not prone to shattering and was used for bases of table lamps. |
| Bronze | A metal alloy generally consisting of copper and tin that is less susceptible to excessive corrosion. This would sometimes have the nickel or chrome plating over top. |
| Lacquer | Durable, natural and clear coating that offers protection to the lamp's surface. |
| Bakelite | A hard synthetic plastic invented in, and unique to, the early twentieth century. |
| Glass | Often used for the shades of lamps; can be crystal, frosted or stained. |
| Wrought Iron | A tough and easily welded iron alloy that is used for the lamp bases. |
| Enamel | A smooth coating made from fused glass powder. |
Types of Art Deco Lamps on eBay

Though typically reserved for the floor or a desk, an eBay buyer will notice that the term 'lamp' takes into consideration several designs and functions during the Art Deco era.
Type

Description

Advantages

Considerations

Table Lamp

Small lamp with a solid base.

· Can be sat on a desk or bedside table.

· Is small and emits less light than some other lamps.

Floor Lamp

A larger version of the table lamp, often with a long stem to the base that sits on the floor.

· Leaves tables and desks free.

· Can emit attractive, ambient light from the corner of a room.

· Generally emits ambient light as opposed to bright and more practical light.

Ceiling Light

A light fixture attached to a ceiling, generally in the middle.

· Emits evenly distributed room light.

· Not always referred to by online sellers as a 'lamp.'

Sconce

A light fixture that is attached to a wall.

· Offers a unique, ambient alternative to the ceiling light.

· Wall needs to be strong enough to take the weight of the lamp.

· Generally emits low ambient light.
Factors to Consider When Buying an Art Deco Lamp
Before making a final decision, a buyer may want to consider a few further points before choosing a specific type of Art Deco lamp.
Bulb – Some lamps require certain bulbs, such as screw-in globes, and the wattage required may depend on the diffusion of the shade.
Use – A buyer may want to consider if their Art Deco lamp is for décor, practical lighting, or if it will be placed in a high-traffic area.
Art Deco Style – Modern reproductions of Art Deco lamps are available and should not be confused with original Art Deco pieces.
Antiques – Some professionals define pre-1930 as the measuring era for an antique, which means that some Art Deco lamps may have acquired antique value.
Typical Features of Art Deco Lamps
Although Art Deco lamps come in a variation of styles and designs there are some features that are common.
1. Base
The base of an Art Deco lamp can come in many forms and materials. Often heavy in order to give the lamp stability, table and floor lamp bases will generally be made from metal, and often have tiered steps that complemented the strong, symmetrical composition of the period.
2. Shade
An Art Deco lampshade can be made of metal or glass and diffuses the light in various ways. Frosted glass shades emit a soft light, while some metal shades simply bounce the light downwards or upwards, away from the eyes.
3. Sculpture
Due to the sense of liberation experienced during the 1920s, many Art Deco lamps will have carved sculptures of naked figures around the lamp's base. Other designs have the sculptures either side of the globe. These figures are often carved from marble or alabaster.
4. Engraving
Many glass and metal elements on Art Deco lamps will be engraved using acid etching, allowing for Art Deco patterns to be applied to the exterior. These are often not overly ornate, and many Art Deco lamps on the eBay site will simply have elegant, parallel lines.
5. Switch
Most lamps, including Art Deco designs, have a switch that allows the user to turn it on and off without having to unplug it from the wall. These can be free-hanging or attached to the lamp, and are often made from the same materials as the lamp itself.
Popular Art Deco Lamp Manufacturers
Kurt Versen

Markel
Gilbert Rohde
Frankart
Muller Freres
Jumo
Walter Von Nessen
Dominique
Norman Bel Geddes
Charles Schneider
Edgar Brandt
Betty Beck
Ronson
Nuart
Finding Art Deco Lamps on eBay
Once you determine the type of Art Deco lamp you want to purchase, visit the Antiques portal on eBay, click on Art Deco and start searching item listings. The Categories list on the left-hand side of the eBay page helps to narrow the search.
Searching for Art Deco Lamps on eBay
Search eBay listing titles for specific words when shopping for Art Deco lamps. For example, to find a marble Art Deco table lamp, type 'Marble Art Deco Table Lamp' into the search box, and then click the Advanced button to customise the results. Also visit eBay's Search Tips page for more advice on searching for Art Deco lamps with keywords. If you can't find the exact lamp you want, try shopping eBay Stores.
Conclusion
Considering the Art Deco movement's large impact on lamp design, and the vast number of choices that are on offer on the eBay website, a buyer may find it helpful to turn to some of the above-mentioned guidelines before making a purchase. Considerations such as the style of the Art Deco era, the variety of lamps on the online market, the materials from which they can be made, and the typical features to look out for, all play a part in finding the right Art Deco lamp for your needs. Once you have collected this information, you can buy an Art Deco lamp flask safely and securely on eBay.