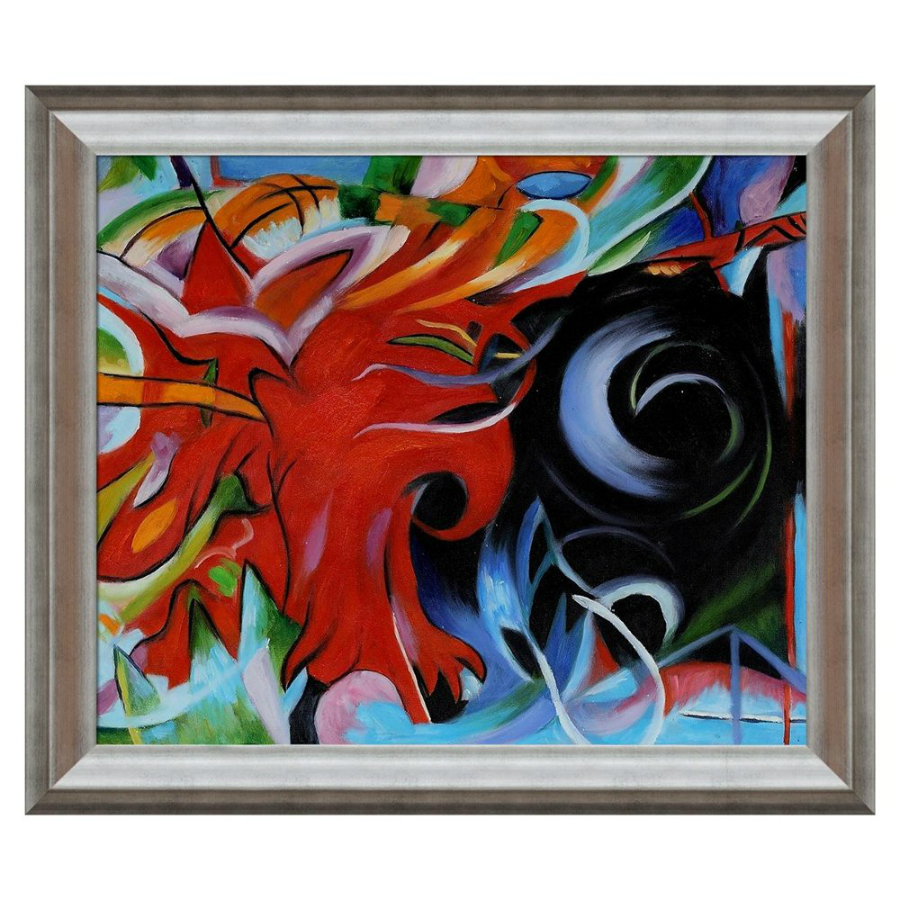 An Art Deco painting can be an exciting purchase. It can act as a bold piece of decorative art and may also be the missing link in an art collection. An Art Deco painting will usually be a conversation starter, as it very design will not allow people to be passive towards it. Although in terms of history, the Art Deco movement may not be that long ago, an Art Deco painting can give an owner a direct insight into that period.
It is believed that the term Art Deco was first coined in 1960's but the best years for Art Deco movement were undoubtedly the 1920s and 30s. Although most people will be familiar with the term Art Deco they may not have a deep understanding of what the term. The period was one of the most creative and innovative in human history.
This guide offers buyers some insight into the Art Deco painting world. It highlights the history of Art Deco, some famous Art Deco paintings and painters, and outlines some of the factors that a buyer should consider before finalizing a purchase of an Art Deco painting.
History of the Art Deco Painting
Art Deco is a term that describes a movement of visual art and design that flourished in the 1920s, 30s and 40s. It first appeared in France in the 1920s and by the late 40s its popularity started to decrease. The Art Deco movement is known for its use of geometrical forms as its artists and designers liked to implement a lot of shape and symmetrical lines into their work.
Art Deco paintings celebrated the advances in technology, machinery and industry during the 1920s and 1930s. It is considered to be a form of abstract art and the content would often consist of jarring angles and metallic or vibrant colours.
The value of the Art Deco paintings can be very high and some Art Deco artists' work is extremely sought after. Owning an Art Deco painting can be a statement as Art Deco works are often bold and brazen and the movement represents a time of change and industrialization. Art Deco paintings took inspiration from classical styles of European art and gave a modernistic twist to revitalize the work of their predecessors.
Discover Art Deco Paintings
An Art Deco painting can be bought for various reasons. Some people will see it as a great addition to their home and will hang it on a wall decoratively, leaving it on display for others to experience and admire. Others will see an Art Deco painting purely as a financial investment; they may believe that the painting is likely to gain in value in future years and may hope to sell it for a profit. Some more benevolent people will purchase an Art Deco painting as a great donation to an art gallery. Art Deco is a hugely popular artistic movement and an Art Deco painting, especially a rare one, could be a very welcome gift.
An antique is an item or piece of art that is over a hundred years old and Art Deco will soon be coming into this classification. This would suggest that the value of Art Deco paintings is going to rise over the next few decades, making an Art Deco painting an attractive purchase for the casual buyer and the more professional collector.
Renowned Art Deco Paintings
The following list outlines some of the more renowned art deco paintings:
In a Position to Know by C. Cole Phillips - is a painting of a young maid peeking through a key-hole in a door. This painting has the tenets of many paintings from the Art Deco era with its clean lines and bold, large blocks of colour. 'In a Picture to Know' made it on to the cover of popular magazine 'Life' in 1921 and made Phillips' 'fade-away lady' technique famous.
Tamara in Green Bugatti by Tamara de Lempicka - This self portrait of Tamara de Lempicka driving a Bugatti is a famous Art Deco image because its subject matter is one that is synonymous with the Art Deco movement, that of a beautiful woman. The clean lines and bold colours are perfect examples of the Art Deco style.
Les Perruches by Jean Dupas - This painting was of beautiful females standing in front of a colourful tree full of parrots. The themes in this painting, the vibrant colours and female form, are typical of Art Deco paintings.
Influences on Art Deco Paintings
The following table outlines some of the influences on Art Deco Paintings.
| Influence | Description |
| --- | --- |
| Expressionism | Natural forms were often distorted, and intense and expressive colours were used. |
| Cubism | Often consisted of reducing forms to their geometric equivalents. |
| Futurism | A derivative of Cubism. Traditional forms of expression were shunned in Futurism. Quick and dynamic movement was often represented. |
Factors to Consider When Buying an Art Deco Painting
There are many things that a buyer should consider before buying an Art Deco painting; below is a brief outline of some of these considerations.
Ask the seller if they have provenance. Provenance is a document that details the history of painting, including its previous owners and authentication of who the artist was. If the amount of money that the buyer is spending on an Art Deco painting is significant, provenance should be provided.
Buyers should ask the seller as many pertinent questions as they can about the painting. It is good to have as much knowledge possible about a painting, its origins and its history before making a purchase. If the buyer can see any mark or blemish on a photograph of the painting they should ask the seller to explain, as this sort of damage could severely affect the value of an Art Deco painting.
The buyer should plan where he or she is going to place the painting. Art Deco's bold and unique style means that it will not fit in with every interior design scheme so careful consideration should be given as to where the painting will be put.
Typical Features of an Art Deco Painting
The following list outlines the typical features of Art Deco paintings.
Geometric Shapes - Many of Art Deco paintings had symmetrical shapes and clean lines in them. This could be considered to be a part of the wider message of Art Deco.
Bright Colours - As with the content of its paintings the colours of Art Deco paintings were bold, brave and vibrant.
Decorative - Although it is an abstract form of art, Art Deco paintings were still created with decoration in mind.
How to Care for an Art Deco Painting
An original Art Deco painting will be nearly a hundred years old, so it will require delicate and specialized care. When handling an Art Deco painting, it is advised to avoid putting pressure on the image or canvas with hands and fingers. This could smudge the artwork or damage the materials that it is painted on. It is advised that an Art Deco painting be hung on a wall securely. This will prevent it from being touched too much and will preserve its condition. Do not hang the painting above a radiator because overtime the heat could cause damage to the painting.
Famous Art Deco Painters
The following list outlines some of the more well-known Art Deco artists:
Cole Phillips - (1880 - 1927)
Tamara de Lempicka - (1898 - 1980)
Jean Dupas - (1882 - 1964)
Erte - (1892 - 1990)
Georges Barbier – (1882 – 1932)
Paul Iribe – (1883 – 1935)
Georges Lepape – (1887 – 1971)
Accessories for an Art Deco Painting
As well as purchasing an Art Deco painting, accessories can be bought to help maintain it safely and securely. Some of these accessories are listed:
Soft Cloth - If there is any dust on the painting use this to gently wipe it off. Do not use an abrasive cleaner.
Frame - Can add decorative qualities to an Art Deco painting.
Carry Case - It is essential that an Art Deco painting is packaged securely when it is being transported, otherwise it could be easily damaged.
Wall Hooks or Bracket - If an Art Deco painting is being hung from a wall it is imperative that it is securely fastened.
Finding an Art Deco Painting on eBay
Once you determine the type of Art Deco painting you want to purchase, visit the Art Deco portal on eBay, click on 'Paintings' and start searching item listings. The Categories list on the left-hand side of the eBay page helps to narrow the search.
Searching for an Art Deco Painting on eBay
Search eBay listing titles for specific words when shopping for an Art Deco painting. For example, to find a Tamara de Lempicka Art Deco painting, type 'Tamara de Lempicka Painting' into the search box, and then click the Advanced button to customise the results. Also visit eBay's Search Tips page for more advice on searching for Art Deco painting with keywords. If you can't find the exact Art Deco painting you want, try shopping eBay Stores.
Conclusion
Art Deco paintings are bold and expressive. An Art Deco painting can be a great addition to any home or art collection. There is a lot of information on Art Deco paintings, and it is advised that you equip yourself with as much knowledge as you can before making a purchase. Once you have collected this information, you can buy an Art Deco painting safely and securely on eBay.