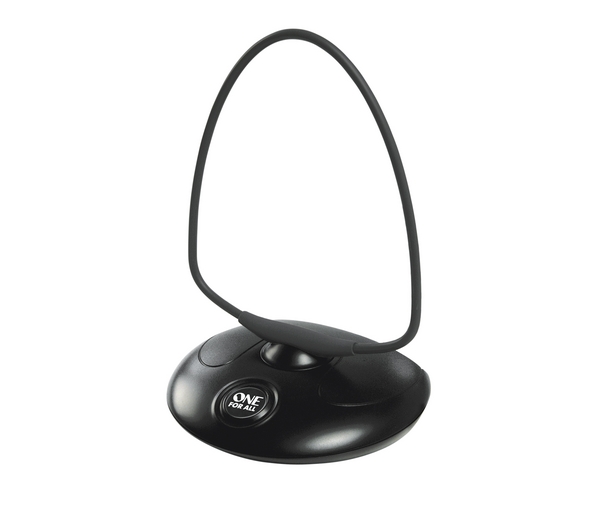 Television is a great way to keep up to date on the news and community events, as well as various entertainment programmes. Indoor TV aerials add to the number of channels received, making the aerial a useful tool for watching many different television programmes. There is a large number of indoor TV aerials available to purchase with different features.
The knowledge of how the aerial connects to the TV, and how TV placement impacts reception are important factors to keep in mind when purchasing an aerial. There are other considerations that buyers should think about, as well, including the type and design of the aerial, the frequencies received, and the amount of power the aerial has. Another important consideration is how the aerial changes the room design. Some aerials are smaller and can be put in places that don't take away from the room's decor, while others are larger.
Indoor TV aerials are available in electronic and television stores, as well as online at various websites including eBay.
Basics of Indoor TV Aerials
Aerial structure varies between brands and models. Make sure that the components of the television fit with the aerial purchased, including the cable connector. There are a variety of different cable types that fit into the television. If the aerial connector does not fit into the television, inexpensive adapters are available.
Various factors influence television reception. Higher altitudes have better television reception than lower altitudes, which is why flats in upper stories often get better reception than those on lower floors. Different brands, and quality of television sets impact reception, as well, regardless of the aerial. Each television has its own interpretation of the signal, and so viewers might notice slight variations from set to set. Weather is another factor that affects television reception. Snow, wind, and thunderstorms disrupt even high quality TV aerials, from time to time.
Different Signals Received on Indoor TV Aerials
Aerials receive signals in a variety of frequencies. Ultra high frequency, or UHF, is a radio frequency between 300 MHz and 3GHz (3,000 MHz). Very high frequency (VHF) waves are also used to transmit television programming, and are just below the UHF levels on the electromagnetic spectrum. Most aerials are designed to receive both of these signal types. When placing aerials that receive UHF and VHF signals, it is important to keep in mind that large obstacles, like trees and buildings, block the signal from getting to the receiver.
Freeview is a free-to-air service in the UK. Freeview is available in both analogue and HD signals. Most televisions sold in the UK are Freeview ready, but some aerials are not designed to pick up all of the Freeview channels. Aerials specify whether they receive Freeview signals or not. Aerials that are not designed specifically to pick up Freeview signals still receive some of the signals, but not all. To watch Freeview HD, an aerial that picks up analogue and HD is required.
Buyer with HD televisions should check before purchasing to determine whether the aerial works best with analogue or digital set-ups. Some indoor TV aerials are designed to work with digital boxes. If the aerial has this capability, it should be specified in the product description.
Indoor TV Aerial Designs
There are many different shapes, sizes, and colours of aerial designs to choose from. Some can be mounted, while others foldaway out of sight. A few different types and styles of indoor TV aerials are described in detail below. While an aerial may be attractive, it may not be the best fit, technologically. Functionality is more important than appearance when picking out an indoor TV aerial.
Some aerials, called powered aerials, require an electrical outlet to work. Powered aerials generally have a stronger signal than non-powered aerials. They are not usually much more expensive than non-powered aerials.
Simple Stick
The simple stick aerial is a straight, lightweight stick approximately 20 cm high. The simple stick can receive limited Freeview channels, providing there is an uninterrupted path from the transmitter. The simple stick aerial is extremely small and lightweight, making it an unobtrusive addition to a room.
Indoor Yagi
The Yagi aerial is 30 cm long, and has slightly better reception than the stick aerial because of its larger size. The Yagi aerial is designed to be flexible, allowing it to be positioned facing the transmitter. The Yagi aerial has problems receiving some channels in locations where signal strength is weak.
Indoor Panel Aerial
Indoor panel aerials have a different design than other types of indoor aerials. They look similar to an outdoor panel aerial, but they have similar reception quality as the Yagi receiver. Some users prefer the appearance of the indoor panel aerial over any others. When an indoor panel aerial is electrically powered, its reception capability is dramatically improved.
Indoor TV Digital Aerial with Booster
Aerials are designed for different signal spots. Some aerials work only in high signal locations, while others are stronger, and are designed to pick up weaker signals. Some TV aerials have built-in boosters that boost the reception if they are located in a weak signal area.
The indoor digital aerial is a very popular option, and it usually has a better signal than non-digital aerials. An indoor TV digital aerial with a booster provides a strong signal, and is a good choice for users in low-signal areas. It costs a little bit more than other models, but it can boost a signal by 36dB. When properly placed, it provides uninterrupted reception on all channels. It is popular with buyers because of its dependability and flexible style.
Portable indoor TV aerials are available as well. Portable aerials are easy to move around if there are multiple TVs in the home, and they can also be used on trips and vacations. They can even work outside, making them a good option for camping trips and outdoor television viewing.
Indoor TV Aerial Brands
Some major brands in the aerial market are One For All, Maxview, Technika, and Labgear. One For All carries the majority of indoor TV aerials out on the market. Each brand has a variety of different types of aerials to fit lots of needs. Reading reviews of each brand helps new buyers understand what previous buyers thought of these companies' products.
How to Buy an Indoor TV Aerial on eBay
Indoor TV aerials are available in a variety of electronic stores, as well as online at auction marketplaces like eBay. Begin your search by entering "Indoor TV Aerial" into the search box on the eBay homepage. From there, different selections can be made to narrow results, and to return only aerials that best fit your needs. Entering more specific and descriptive keywords into the search box also refines the search results. When you have found a few items you like, be sure to read the full product description, and make sure that the aerial fits your needs. Make sure the colour, style, connections, features, digital compatibility, and power source all match your requirements. Another feature many buyers like is the built-in booster. Boosters can also be purchased separately, as an add-on.
View the seller's other listings to see if you can arrange to buy more than one item from the same seller. Bundled shipping can significantly reduce shipping costs. Review the seller's previous feedback to see how well they have satisfied previous buyers. Sellers with a great deal of positive feedback are much more likely to provide great service and a quality product than are sellers with a lot of negative responses on their profiles. eBay has a wide variety of aerials for sale, for many different needs.
Conclusion
Indoor TV aerials affect a television's reception quality and channel integrity. The wrong aerial can lead to interrupted TV shows and other hassles. It is important to know the basics of TV aerials in order to avoid difficulties. Indoor TV aerials are simple to use; they just need to be plugged into the output socket. Be sure to check that the aerial and the television are compatible.
An indoor aerial can assist with the signal quality of digital television as well. If digital television is desired, make sure you choose an aerial that works with digital as well as analogue signals.
Indoor TV aerials need to be located in an optimum spot for best reception. Buyers should also understand that to improve reception on multiple televisions, an outdoor TV aerial may be the best solution. However, if that is not possible, multiple indoor TV aerials are required. Many designs are available, including the stick, the Yagi, panel, and the digital aerial. Powered aerials need an electrical source, but they usually provide better reception. A booster enhances the aerial signal, and thus is very beneficial for use in areas with weak signal strength. Lots of different features are available in different aerials. Portable indoor aerials can be used in a variety of settings, including outdoors.
Indoor aerials are available for purchase in brick and mortar stores and online. eBay has a large selection of indoor TV aerials to fit every need.