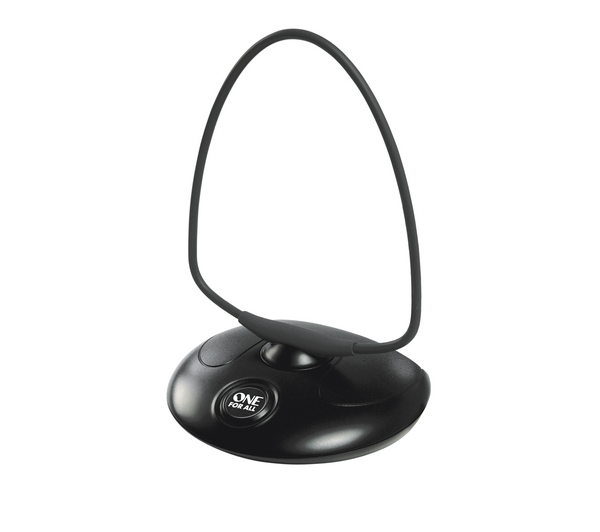 TV aerials are designed for the reception of television signals broadcast over the air that are transmitted at various frequencies, otherwise known as terrestrial television. TV aerials help to improve or boost the signal to the TV. They are ideal for viewers who are receiving a fuzzy picture or for those who want to be able to receive local channels when not watching cable or satellite programmes. TV aerials are manufactured in two different types: indoor and outdoor.
Indoor TV aerials are simply plugged into the TV's receiver and usually stand next to or on top of the TV set. Indoor TV aerials are ideal for rooms where there is no socket that allows the TV to be connected to a rooftop aerial. They are also beneficial for people living in blocks of flats. Indoor TV aerials can carry analogue or digital content and may be standard or high definition (HD). Buyers who prefer digital or HD benefit from a high quality indoor TV aerial as digital signals tend to be temperamental if a strong enough signal in not detected. When buying an indoor TV aerial on eBay,, buyers should consider the benefits and drawbacks of the device, the various types, and any additional components that may be needed.
Benefits of an Indoor TV Aerial
There are many benefits of using an indoor TV aerial in comparison to cable or satellite. Indoor TV aerials are simple to install and adjust. Also, they can be an affordable option and are less exposed to poor weather.
Affordability of an Indoor TV Aerial
The greatest benefit is the amount of money saved by the owner of an indoor TV aerial. An indoor TV aerial allows viewers to watch terrestrial television channels for free as opposed to paying a monthly service charge.
Access to Terrestrial Channels with an Indoor TV Aerial
The number of channels offered by cable and satellite providers is greater than those received solely using an indoor TV aerial. However, viewers are able to receive terrestrial television channels in addition to the those that are offered with cable and satellite services.
Wear and Tear for an Indoor TV Aerial
Indoor TV aerials are also less prone to damage from external weather conditions such as excessive rain or sunshine. Both rust and UV damage can pose problems and can decrease the efficiency of an outdoor TV aerial, which leads to more frequent replacement of the aerial.
Rented Property and Indoor TV Aerials
Indoor TV aerials aerials are also ideal for those who rent a property, in particular, lofts. Often, landlords prohibit the installation of an outdoor TV aerial, leaving an indoor aerial a tenant's only option.
Types of Indoor TV Aerials
Although eBay's large selection of products is often the main reason buyers are attracted to the site, it is necessary to do a bit of research to understand the different types of indoor TV aerial that are available in order to buy the right one. Indoor TV aerials have a wide array of features and benefits, so deciding which type is best is simply a matter of understanding aerial technology and the characteristics of the signal in the room with the TV. Once the types are understood, eBay has filters in place that allow for easy navigation so that the ideal indoor TV aerial can be found.
Multi-Directional Indoor TV Aerials
Multi-directional indoor TV aerials are able to receive signals equally from all directions. These devices are ideal for situations where there are reception problems due to the location of broadcast transmitting stations. In some areas, the strongest signals for each particular frequency may come from several stations as opposed to just one. It will be clear if this is the problem if the viewer receives some channels, but not others.
Multi-directional indoor TV aerials should be avoided in city centres where it is normal to have tall buildings. The signals may bounce off the buildings, confusing the aerial. Multi-directional indoor TV aerials are best suited for viewers that live less than 25 miles from the nearest broadcast transmitting station. Broadcast signals tend to be degraded over further distances.
Directional Indoor TV Aerials
Directional indoor TV aerials are ideal for use in rural areas. These devices allow viewers to point their aerials precisely at the signal for a clearer reception. Viewers should make sure that all of the signals that they want are coming from the same direction. If signals are coming from various directions, a multi-directional indoor TV aerial may be more beneficial. Directional indoor TV aerials are best suited for viewers that live more than 25 miles from the nearest broadcast transmitting station.
Dipole Indoor TV Aerials
Dipole indoor TV aerials are relatively inexpensive and receive very high frequency (VHF)) TV reception. With TV stations now broadcasting using digital signals, dipole indoor TV aerials have become less common. This device may still pick up some signals, but a digital tuner may be needed.
Metal Loop Indoor TV Aerials
In addition to dipole indoor TV aerials, some indoor aerials have a metal loop. This loop is placed in front of the dipole aerial in order to make the device more effective for receiving particular channels. The metal loop indoor TV aerial is designed for ultra high frequency (UHF)) reception, but when paired with a dipole aerial it can receive both UHF and VHF broadcasts. Metal loop indoor TV aerials can be found in various shapes and sizes. However, a 7.5 inch wire loop is a standard component of the aerial's design. Viewers can adjust the position of the aerial by moving it in a circles or up and down to get a better TV reception.
Amplified Indoor TV Aerials
Amplified indoor TV aerials are ideal for viewers who live a great distance from broadcast transmitting stations. This type of aerial features a dipole indoor TV aerial, but also plugs into an electrical outlet.
Aesthetically Pleasing Indoor TV Aerials
Some indoor TV aerials are designed to double as household accessories to make them more visually appealing. These aerials can take the form of a picture frame which sits on top of the TV. Aesthetically pleasing indoor TV aerials work best in areas that have particularly strong signals.
Additional Indoor TV Aerial Components
There are additional indoor aerial components which can help to boost the quality of the viewer's TV picture. These components are best suited for viewers who are receiving poor reception, even with the use of an indoor TV aerial.
Signal Booster for an Indoor TV Aerial
Signal boosters can be used in conjunction with an indoor TV aerial to help to amplify the signal and improve the TV picture in areas with poor TV reception. Before considering a signal booster, buyers should attempt to reposition the TV aerial or replace any poor quality cables. Often this can solve the problem.
Attenuator for an Indoor TV Aerial
Attenuators are often used when viewers are receiving a poor signal because the indoor TV aerial is in a position where the signal is too strong. This device reduces the signal strength to help to improve the reception.
How to Find an Indoor TV Aerial on eBay
There are many ways to find an indoor TV aerials on the eBay website. From the eBay home page,, buyers can use the search bar to conduct a search for an indoor TV aerial.. This method is likely to result in a large number of listings. If buyers have a more specific idea about the type of aerial that they would like to purchase, they should use eBay's advanced search feature. This feature allows buyers to include additional terms which help to narrow down their results. Once on the search results page, buyers can filter their search by subcategory listings. These subcategory listings give buyers the option to choose between new and used indoor TV aerials, to search within a limited price range, and to search by the location of the item.
Feedback Ratings
Choosing "Top-Rated Sellers" on eBay ensures that the seller has a history of satisfactory customer service. This feature makes eBay a secure online marketplace to buy and sell indoor TV aerials. It is a good idea to become familiar with the terms and conditions of the seller before buying. For example, the seller should state whether he or she has a returns policy. Any questions that a new bidder might have are addressed in the eBay Answer Centre..
Conclusion
An indoor TV aerial is the best choice for those who live in flats where outdoor aerials are not a feasible option. They are also ideal for viewers who live in close proximity to a broadcast transmitting station. When buying an indoor TV aerial on eBay, buyers need to consider the various types, the position of the aerial, and any interference that the aerial may encounter from tall buildings or other large objects.
Directional TV aerials should be positioned towards the transmitter of the signal, while multi-directional TV aerials are designed to receive signals from all directions at the same time. Buyers should also consider whether to purchase an aerial that uses a UHF or VHF frequency range: many indoor TV aerials have the ability to receive both. Whichever type of indoor TV aerial a buyer decides to purchase, they should always review a seller's feedback ratings. eBay sellers offer a wide selection of indoor TV aerials.