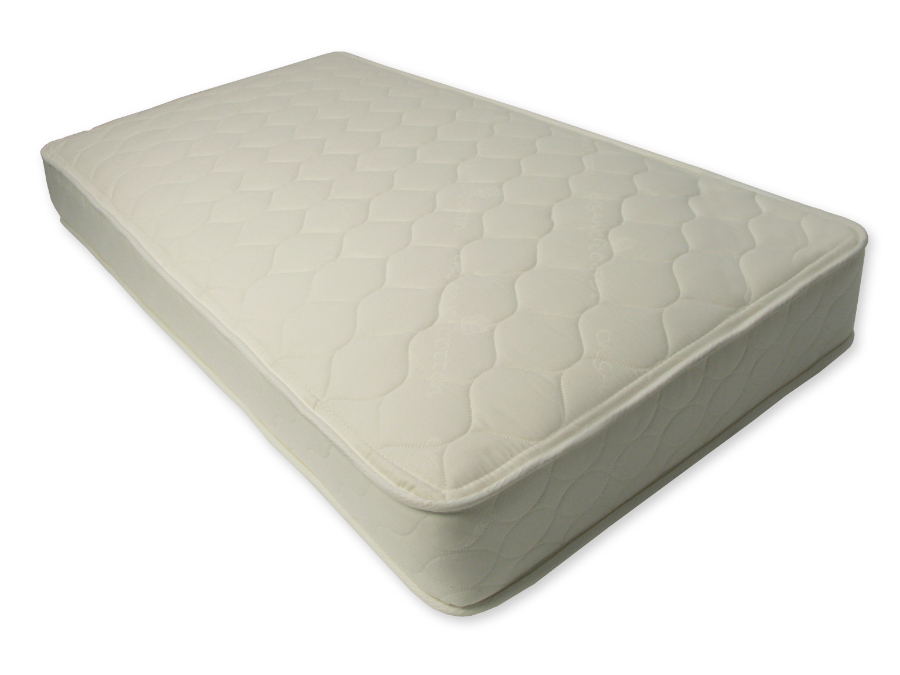 A mattress is one of the most important factors in getting a good night's sleep and on average, people spend over one third of their lives in bed. Sleep is the body's way of recharging and renewing itself in preparation for the coming day. So, getting an adequate amount of rest is essential for the health and wellbeing of every individual. Therefore, it is worth buying the best possible organic bunk bed mattress, in order to obtain the optimum level of support and comfort. Every person will have a preference with regard the appearance, size, and softness level of an organic bunk bed mattress. Research the brands which are available and the individual products. Use these findings to source an appropriate organic bunk bed mattress, which will provide many years of comfortable nights.
About Organic Bunk Bed Mattresses
The earliest beds were nothing but a shallow box into which soft bedding materials were placed, however, over the centuries, beds developed into one of the most important signifiers of wealth and status in a home. The term mattress is derived from the ancient Arabic language, meaning a cushion or comfortable mat. From the 1600s, timber framed beds held mattresses made of horse hair, cotton, and even hay. A few hundred years later, bed frames were made from most robust metals and the mattresses were also improved for the added comfort of sleepers. By the early 20th century, mattresses began to look far more like those present day shoppers would recognise. However, in recent years there has been an increased interest in the green movement and general concern with regard environmental issues. This has encouraged some buyers to consider an organic mattress made with natural materials, as an alternative to conventional mattresses. The process used in making organic bunk bed mattresses is chemical free and the mattress itself is biodegradable. Organic bunk bed mattresses are available in exactly the same measurements as other mattresses. They are just as stylish, comfortable, and long lasting, but are also hypoallergenic and made with sustainable materials.
Choosing an Organic Bunk Bed Mattress
Although choosing an organic bunk bed mattress will depend largely on the size of the bed it is needed for, there are a number of other characteristics that can be considered. The design, the depth, and the price will all contribute to a shopper's final decision.
Different Types of Organic Bunk Bed Mattress
Mattresses all serve the same essential purpose, however, the differences in their design will inevitably result in slight changes in a customer's experience of the end product. Here is a table to show the most common general types of organic bunk bed mattress.
| | |
| --- | --- |
| Natural Latex | A natural latex mattress is responsive to the contours of the body and it is flexible. It is also durable enough to retain its shape, resisting the sag effect, which can occur in the middle of a mattress. |
| Inner Sprung | An inner sprung mattress offers a more traditional feel, similar to a conventional mattress and costs less than natural latex. This is the obvious option for sufferers of a latex allergy. |
| Medium Firm Mattress | A firmer mattress is more supportive. It is better for front and back sleepers and people who weigh more. Firmer mattresses may provide some relief to sufferers of lower back pain. |
| Medium Mattress | A softer mattress will discourage active sleepers from moving around in the night, trying to get comfortable. It will benefit side sleepers and people who weigh less. |
What are the Benefits of Using an Organic Bunk Bed Mattress?
Aside from obtaining a comfortable product made from high quality materials, what can a consumer expect to benefit from when buying an organic bunk bed mattress? Primarily, the possibility of health risks posed by exposure to man-made products is avoided. Also, the mattress is produced in a way that sustains the environment and protects it. Less water is used in the production of organic bunk bed mattresses and the materials used are from renewable sources. The use of chlorine in refining the wool in conventional mattresses worries some people because chlorine gas, even at residual levels, has been linked to health problems. It is claimed that these residual amounts of chlorine gas may be to be harmful to people with pre-existing breathing conditions, like asthma or emphysema. Also from an environmental perspective, the waste products from the industrial use of chlorine can cause damage to marine life if they reach a fresh water supply. An organic bunk bed mattress is hypoallergenic and anti bacterial, as well as water resistant. One of the qualities of natural latex is its resistance to micro organisms and bugs, therefore mould spores and dust mites, which could irritate the lungs, cannot exist on its surface. In conjunction with this, the organic wool used naturally wicks away any trapped moisture that dust mites or other small organisms would usually thrive in.
How is an Organic Bunk Bed Mattress Made?
Although the process will vary from one manufacturer to another, what follows is a basic overview of how an organic bunk bed mattress is made. Organic bunk bed mattresses have an inner body made of natural latex, this is handled very carefully so as not to damage it. Layers of latex are built up to the desired thickness like a pile of rugs and then encased in natural wool. The entire article is then placed snugly inside an organic cotton outer casing.
How to Care for an Organic Bunk Bed Mattress
An organic bunk bed mattress should be allowed to breathe, both when it is first unpacked and during its general usage. Before positioning it, allow two hours for air to circulate freely around the mattress. When making the bed, select soft furnishings which are made of organic cotton or similar natural organic materials, to compliment the mattress and enhance its beneficial effects. Change the bedding regularly and with each change, allow the mattress a chance to air. Take the opportunity to vacuum and inspect the mattress for any stains which can be wiped clean with a damp cloth and organic detergent. Unless an organic bunk bed mattress made from natural latex has been chosen, turn it on a monthly basis.
The Types of Materials Used in the Production of an Organic Bunk Bed Mattress
Only natural materials are used in the production of an organic bunk bed mattress and these must come from renewable sources. Here is a table to show the raw materials and a description of each.
| | |
| --- | --- |
| Organic Cotton | Organic cotton is cultivated using natural methods to have minimal impact on the environment. No manufactured pesticides or fertilisers are used in its production. Organic cotton is highly robust and dense, despite feeling as soft as any other cotton. |
| Organic Latex | Latex is a totally natural product. It is harvested from rubber trees without harming the integrity of the growing plant. A small cut is made in the bark of the tree, through which the white sap of the tree flows and is collected to be used in latex production. The cut heals very quickly and trees are expected to live for 30 years or more. |
| Organic Wool | Organic wool is a naturally very flexible material, originating from sheep living on organic farms that have not been dipped in chemical baths. It is used to provide a fire retardant cover for organic bunk bed mattresses, in order that they meet the fire and safety laws and standards required of conventional mattresses. |
Finding an Organic Bunk Bed Mattress on eBay
In order to buy an organic bunk bed mattress on eBay, first of all navigate to the eBay homepage. Next select the All Categories tab followed by Home Furniture & DIY. Next select Furniture, then Beds and Mattresses, followed by the Mattresses tab. Then narrow the search to an organic mattress by using the word organic as a search term in the search box, proceed by choosing the correct size for the organic bunk bed mattress, from the choices available on the left hand side of the screen. Alternatively to search specifically for one product, for example an unused 2 foot organic mattress, type 'new organic 2ft mattress' into the search box, to considerably refine the results.
Conclusion
As sleep is of paramount importance to good health, choosing the right organic bunk bed mattress will need careful planning. Consider who the product will be used by, whether they have any health problems and where it will be placed. Spend time researching the various brands available, assess which is the most appropriate, then focus in on individual items in order to make an informed choice. Selecting the correct organic bunk bed mattress will lead to a comfortable, deep sleep for many years.