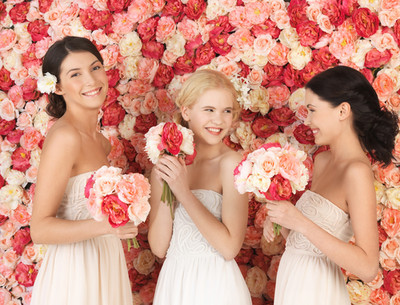 Bridesmaids are best friends, sisters and confidants who settle wedding morning nerves and drop everything to ensure you, the bride, have the best day of your life. Whichever dresses you settle on – pastel tones, metallics or bold prints – make sure your bridesmaids sparkle, swoosh or sweep along with you in stunning style by following our ten top tips.

1. Stick to your budget
It's easy to get carried away when shopping with the girls so make sure you have an overall figure in mind and stick to it. Decide whether your budget incl
ud
es
shoes
and accessories (see later). Have you included hair and makeup for the bridesmaids or will they do this themselves? Do you want each to have a necklace/corsage to match or just to wear their normal jewellery? Do you want to buy second hand dresses?
2. Season and venue
This should be the starting point for deciding on the type of bridesmaid dresses and fabrics to suit your wedding theme and venue. Be practical: a luxuriou
s winter wedding means weightier fabrics and the possibility of shrugs, fur wraps and shoes to withstand the elements. Satins, taffetas and velvets lend themselves perfectly to the
jewel colours
of the season: berry reds, lush greens, golds and midnight blues.

If you are planning outside photos or walking to or from venues, make sure your lovely ladies won't turn purple to match their dresses and provide a glamorous cover-up of some sort. Summer weddings of course promise sunshine and garden-party chic. Floaty, light fabrics such as chiffon and silk crepe are perfect in pretty summer colours such as coral, rose and periwinkle.

3. Comfort equals confidence
Versatility and individuality are major considerations. Many brides now choose to have their bridesmaids wear differing styles in the same fabrics, colours or shades of a certain colour. This approach allows each of your party to wear a dress that is flattering to her.
Measurements
A tape measure is an essential tool in your wedding planning kit. Sellers display the exact measurements of ready-to-wear dresses so you can order with confidence.

Customising
Some retailers will tailor custom dresses to your exact requirements. Relying on rough measurements is a false economy and wastes valuable time. You will need the following measurements: waist; hips; waist to floor; shoulder to floor; height (consider shoes: heel heights and styles).
Size variation
Dress sizes across Europe, the UK and US vary so double-check to ensure you order the correct size. A comparison chart for dress sizes is given below.


US
UK
Europe
(Continent)
Italy
France
4
6
34
40
36
6
8
36
42
38
8
10
38
44
40
10
12
40
46
42
12
14
42
48
44
14
16
44
16
18
46
18
20
48
4. Allocate time
Don't panic. Plan ahead to get your ladies together one weekend to start the shopping ball rolling. Trying on different shapes, styles, fabrics and colours will give a feel for what suits each of your special friends.
Research
Once your feet are aching from tramping the streets, plonk on the sofa with pizza and the internet and search for ideas from online retailers, where the range is endless. Some sellers can ship ready-made dresses quickly and directly to your door, others will take longer to make up dresses to specific requirements. Don't feel rushed into buying ones that aren't quite perfect because time is ticking on.

5. Listen and learn
Make a note of each bridesmaid's preferences and the dress styles each girl finds most flattering for her figure and style. Ultimately, the bride will have the final say on dresses, but ensuring everyone is thrilled with her dress will show in confident bridesmaids still loving their dresses come carriage time. Be considerate of any sensitivities and email ideas for shapes, fabrics, colours and finishes first to gauge reactions.

6. Contingency
Crystal ball
Difficult to predict, perhaps, but the possibility of weight gains and losses, last-minute panics and baby bumps are always worth bearing in mind. Differences between the colour of dress you receive and the one advertised on screen may also throw up challenges. Consider your returns policy carefully.
Swatches
Some sellers are happy to answer queries and send a fabric swatch of your chosen colour and fabric for review. This can be useful too when shopping for shoes to guard against outfit mismatches and glaring colour errors revealed by sunlight or under artificial lights.
Second choice
Having a back-up option is sensible in case something is out of stock, discontinued or, when it arrives, looking downright awful when tried on!

7. Pretty as a picture
Sit down with your groom and photographer and decide how you want your wedding snaps to look. By decking your bridesmaids in bold beautiful colours or dictating shorter hemlines with incredible shoes, photographers can play with fun compositions. This approach gives formal wedding shoots a fashionista edge and really puts bridesmaids dresses in the frame.
Look from behind
Pay attention to the back view of any dresses you are considering. Lace details, keyhole closures and ruffles all look great in pictures, especially as your bridesmaids follow you down the aisle and off into married life.

8. Underwear
Be prepared to brief your bridesmaids about their briefs. Special underwear instructions may help to keep floaty slip dresses, lacy numbers or gowns made of sheer material looking decent! Quality underwear and shapewear can really
boost confidence.

9. Don't forget the extras
Necklines, skirt lengths and undies are just the tip of the iceberg. Don't forget shoes, wraps, shrugs, slips, stockings, jewellery and even gloves.

Decide your budget for these additional items early on – or whether you'll cover them at all. Your bridesmaids may offer to ease the financial strain and happily buy their own accessories. Just be clear what you have decided to pay for to avoid any difficult moments.



10. Flower girls
Consider practicality for young bridesmaids, who will have to contend with their outfits all day. Flower girl dresses are as cute as a button and can easily be decorated with a silky bow in a coordinating colour. Or consider mirroring the style of the bride's dress in miniature by adding trim or sparkles to a plainer dress. Don't forget to factor in dresses for the young bridesmaids if you are going for a colour-coordinated theme.

---