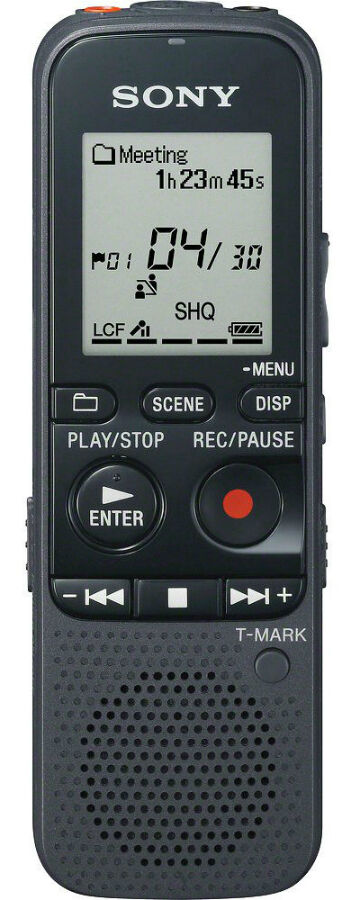 Audio recording involves the replication of sound waves, such as vocals, instrumental music, and sound effects. Recording technology first utilised analogue signals before the introduction of the current digital signal standard. For years, an audio recorder remained stationary, mostly as a device used to record studio musicians. Eventually, the demand for live audio recording led to the development of portable audio recorders that allowed producers to record from different positions within live venues. The popularity of live music prompted manufacturers to produce consumer versions of the professionally made portable audio recorders, and thus, bootleg recordings were born. Consumers now purchase portable audio recorders to record everything from zoo animals to children's birthday parties.
Consumers can find a wide selection of portable audio recorders on eBay. The increasing popularity of the electronic devices, combined with their buyer-friendly format, makes eBay the best way to find high-quality recorders. Before shopping for portable audio recorders on eBay, buyers should review the standard portable audio recorder features, the feature options, and the factors to consider before buying a portable audio recorder on eBay.
Portable Audio Recorder Features
Portable audio recorder manufacturers differentiate their models by adding or removing various features. However, virtually every brand of portable audio recorder possesses three similar features. Consumers should verify that each of the three features are present in a portable audio recorder that they want to purchase on eBay.
Removable Media
All of the recorders presented in the chart below allow users to access their personal computers to download recorded audio files. When memory cards become full and no more audio can be downloaded, it is important that portable audio recorders considered for purchase have removable memory cards. This feature provides users with unlimited audio recording access.
External Microphone
The capability to carry a portable audio recorder in a shirt or coat pocket may sway many consumers to purchase this electronic device, but portability means little unless the recorder can connect to an external microphone. Every recorder model listed below allows for an external microphone connection that can record on multiple channels.
Portable Audio Recorder Size
Manufacturers typically construct portable audio recorders to fit within shirt and coat pockets. Small may be a good thing until users have trouble punching the navigation buttons or viewing the LCD screen. Larger LCD screens and navigation buttons make it easier to switch recording modes or delete unnecessary audio files. Consumers who want the brightest and clearest LCD screens should consider buying portable audio recorder models on eBay that include large screens.
Feature Comparison of Six Critically Acclaimed Portable Audio Recorders
Consumers have dozens of portable audio recorders to choose from on eBay. To simplify the eBay portable audio recorder shopping process, consumers should consider six models that receive high marks from both electronics experts and the general public. The following chart lists six critically acclaimed portable audio recorders and six of their features.
Portable Audio Recorder Features

Edirol R-09HR

Tascam DR07

Yamaha Pocketrak CX

Zoom H2

Yamaha Pocketrak W24

Sony PCM-D50

Recording channels

2

4

2

4

2

2

Multiple pickup patterns

No

No

No

Yes 90/120/360

No

Yes X-Y/Wide stereo

Best WAV recording formats

24 bit

96kHz

24 bit

48kHz

16 bit

48kHz

24 bit

96kHz

24 bit

96kHz

24 bit

96kHz

Internal speaker

Yes

No

Yes

No

Yes

No

Software included

Cakewalk Pyro Audio Creator LE

None

Cubase AI4

None

None

Cubase AI4

Variable pitch control

No

Yes

No

No

No

Yes
Portable audio recorder features and the cost that eBay sellers add to their portable audio recorders influence many buying decisions. Some eBay sellers may be open to bundling additional features into the cost of a recorder. Besides recorder features, buyers should consider other factors before they make a purchasing decision on eBay.
Factors to Consider Before Buying a Portable Audio Recorder
Once consumers rank the features they want in their portable audio recorders, the next phase of the eBay buying process is to consider a handful of important buying factors. For instance, some eBay portable audio recorder sellers may only offer one type of input, while other sellers may offer recorders that record in a preferred file format. The most important factor to determine may be the trade off between price and quality.
The Price-Quality Debate
Many eBay buyers believe the misconception that purchasing a high-quality portable audio recorder is outside of their budget constraints. While it is true that some high-quality recorders can cost up to four figures, manufacturers continue to grow the market of inexpensive recorders that produce excellent quality. Moreover, eBay buyers can find sellers who offer nearly mint condition portable audio recorders at discounted prices because either they purchased the wrong model or they changed their mind about the features they want in a recorder. Remain patient and wait for the best deal on a high-quality portable audio recorder.
Portable Audio Recorder Inputs
eBay buyers have three basic microphone inputs to select. While the type of audio connector does not guarantee high quality, portable audio recorders that include connectors that ensure good audio quality tend to rank higher than other recorders.
Most electronics experts rank the XLR connectors as the highest-quality connectors. XLR connectors are referred to as balance connectors, since both the positive and negative signals balance each other to prevent signal interference. The third plug is grounded, which further reduces the amount of signal interference. XLR connectors are typically made with materials that repel moisture and do not crack due to constant use. eBay buyers should look for sellers that list XLR connectors as part of their portable audio recorder selling package.
TRS connectors also balance positive and negative signals, and hence, eBay buyers reap the same audio quality benefits that they enjoy using XLR cables. However, TRS connectors lack a locking mechanism that properly secures the connector to the jack, which means this connector is easier to remove than the XLR. The lack of a secure connection can be problematic for buyers who need to move around during a concert. Musicians use TRS connectors on stage and as studio sound mixers.
The smaller mini connectors fit within 0.25 cm jacks and work best with the smallest portable audio recorder models. This type of connector can sometimes become unbalanced, which can negatively impact sound quality. Some electronics experts claim mini connectors create static, especially when the connector plug moves around inside of a jack.
Portable Audio Recorder Format
A vast majority of newer portable audio recorders record uncompressed audio. The is important because over-compressing audio files results in garbled, scratchy audio quality. Overly compressed audio files degrade when transferred to MP3 players, since the transferred MP3 file must be opened, edited, and then recompressed. Here are the portable audio recorder file formats to consider when buying on eBay and a brief description of each type.
File Type

Description

WAV

Waveform Audio Format

Considered industry uncompressed audio file standard format

BWV

Broadcast Wave Format

Uses same extension as wave, but includes synchronisation features

AIFF

Audio Interchange File Format

Apple proprietary audio file format

MP3

Most popular audio file format

Some compression reduces audio quality

AAC

Advanced Audio Coding format

Similar to MP3 file format

Used with iPods

WMA

Windows Media Audio format

Can be compressed and uncompressed
Most eBay buyers should seek out sellers who are offering portable audio recorders that utilise the WAV file format. Professional musicians and recording engineers typically want some form of synchronisation, so the BWV format works best for them.
Portable Audio Recorder Durability
Most manufacturers construct portable audio recorders with lightweight plastic to improve portability. However, eBay buyers should consider more durable metal recorders to protect against hard impacts and moisture damage to audio files. Metal recorders withstand falls and resist breakage. eBay buyers should consider durability to be an important factor during the buying process.
Conclusion
Portable audio recorders allow people to experience the joy of recording live music, sounds of nature, and family celebrations from anywhere, at anytime. The issue is not whether portable audio recorders provide functionality. The question is how to shop for high-quality models. While many consumers may consider shopping for portable audio recorders elsewhere, the best way to shop for the recorders is to go online and search for sellers on eBay. The leading online website attracts sellers who offer every combination of portable audio recorder features imaginable. The key is to know which features are available and how the features influence quality and price.
Most portable audio recorders come with three standard features. eBay buyers should look for recorders that contain removable media, external microphones, and large LCD screens. Then, eBay buyers must consider myriad optional features that include a number of recording channels, and whether the recorder has internal speakers. Finally, eBay buyers should consider buying factors, such as inputs, file formats, and durability. To find a high-quality portable audio recorder on eBay, buyers should search for sellers who offer recognised brand name models.