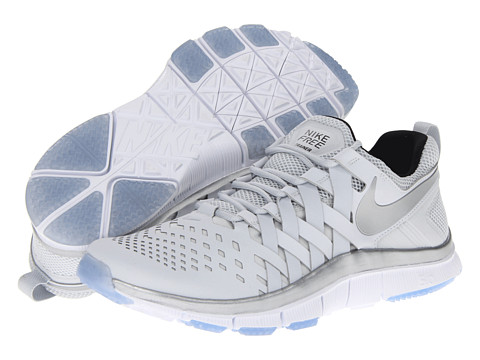 There are many ways to buy the best trainers for the gym. The best trainers are usually those that are comfortable. The comfort of gym trainers depends upon the type of feet, the size of the feet, and the type of material used to make the trainer. Trainers for the gym can also be stylish but beware of purchasing trainers for colour and style, rather than fit. Many of the best-looking trainers do not have arch support or the correct sizing. After finding the correct size and arch support, the next step should be finding the right trainers for specific gym activities.
When a woman is using a gym to train, she should ask what the protocol is for gym floors. Some gyms do not allow a standard tennis shoe. Asking around the gym about the shoes that are best to wear is also a good idea. Gym trainers can be purchased at sporting goods retailers, athletic shoe shops, and on the popular auction website, eBay. Before purchasing the best trainers for the gym, a consumer should learn how to find their correct size, know the different styles of gym trainers, and learn about the right type of trainers for their workout.
Sizing of Gym Trainers
Like all shoes, trainers can be uncomfortable if they do not fit correctly. Women can find their direct fit by measuring their feet. The correct shoe size can prevent conditions like painful blisters and chafing. Sometimes a tighter fit can be made with shoes that are a bit large by wearing thick socks, but there is no way to enlarge a shoe that is too small. When considering how to buy a set of trainers for the gym, women should first consider their size and fit. Finding the right fit of different trainers is not difficult once the feet are measured.
Measuring Length
To measure the length of a gym trainer, one has to stand with a piece of paper under each foot. Then, they need to trace, or have a friend trace, the outline of the foot as accurately as possible. Next, measure the templates between the largest toe and the end of the heel. Another method is to simply draw a line in front of the largest toe and the end of the heel, and then measure the distance.
Measuring the Width of Trainers
Some people have narrow feet and some have wide feet. There are other people who have feet somewhere in between these two distinctions. To find the width of the foot, use a tailor's tape measure to measure the circumference of the widest part of the foot. Simply wrapping the tape measure around the widest part of the foot provides the width of the foot. When purchasing shoes, width designations are alphabetic.
Wearing the incorrect shoe size can be extremely painful and dangerous if the proper support is not provided. A standard size guide should provide a general idea as to which shoe size to purchase.
| | | | | | | | | | | |
| --- | --- | --- | --- | --- | --- | --- | --- | --- | --- | --- |
| Shoe Size | 3 | 4 | 5 | 6 | 7 | 8 | 9 | 10 | 11 | 12 |
| Length (cm) | 21.6 | 22.4 | 23.3 | 24 | 25 | 25.9 | 26.7 | 27.3 | 27.9 | 28.5 |
| Width N-AA | 7.1 | 7.5 | 7.8 | 8.1 | 8.4 | 8.7 | 9.0 | 9.4 | 9.7 | 10.0 |
| Width M | 8.1 | 8.4 | 8.7 | 9.0 | 9.4 | 9.7 | 10.0 | 10.3 | 10.6 | 10.9 |
| Width W | 9.0 | 9.4 | 9.7 | 10.0 | 10.3 | 10.6 | 10.9 | 11.3 | 11.6 | 11.9 |
| Width WW | 10.0 | 10.3 | 10.6 | 10.9 | 11.3 | 11.6 | 11.9 | 12.2 | 12.5 | 12.9 |
Although this chart is an average of a general population, there are much more detailed charts available through manufacturers. Sizing charts are often available at the distributer and sometimes at brick and mortar shops. These sizes are very important to know. There are also shoe inserts available to purchase if additional adjustments need to be made.
Arch Height
Another factor to consider is the arch of the foot. There are typically three different types of arches: flat, high, and normal. To find one's arches, take two pieces of paper and wet the feet. Then, stand on the paper before the feet dry. Remove the feet from the paper when they have made an imprint. If only the sides of the feet are shown, then a high-arched shoe is needed. If the entire foot is shown on the paper, it is an indication of flat arches. If the paper is wet with the full outside of the foot and a small amount of arch, then they are normal arches. Too much or too little arch support can cause pain on the bottom of the foot and increase the chances of contracting foot, ankle, knee, and hip problems.
Styles of Trainers for the Gym
Shoes are available in a vast amount of styles, and gym trainers are no exception to this. There are designer styles and others that are less expensive. Be sure and look at the quality of the shoe if an off-brand is purchased. Although some off-brand shoes are just as sturdy and durable as designer shoes. Some of them are even built better than the average designer shoe.
Breathable materials, such as canvas or nylon, are the most popular type of tennis shoes. This is because they are easier to keep clean and do not crack or flake. This is a popular style of gym trainers because they can be used for multiple workouts at the gym. The soles of these shoes are ordinarily rubber, which allows the shoe to better grip a polished gym floor.
Buying Trainers for a Specific Gym Activity
There are styles of trainers to suit just about any activity that can be performed at the gym. Some of these trainers have a softer sole, while others have thick soles. Finding the right trainers for the gym depends upon the type of activity that is performed.
Basic Workout Trainers
Basic workout trainers are shoes that have an average sole with a good grip. The sole does not scuff the equipment or the floor of the gym, but holds traction on surfaces, such as treadmills and elliptical machines. These trainers are often made from a combination of leather and canvas, or just canvas. These trainers also contain low tops, meaning that they end just below the ankle. These are the most versatile of women's gym trainers.
Aerobic Trainers
Aerobic trainers are specifically meant for waxed gym floors and movement on other hard surfaces. These trainers have a thicker sole for cushioning the impact of an aerobic workout. The shoe comes up just over the ankle for more support during impact.
Wrestling Trainers
As the name implies, these are trainers meant just for wrestling. They ordinarily contain a soft bottom so that they do not hurt another wrestler on impact. They have enough tread to grip the mat, but not enough to cause imprinting or damage. This type of gym trainer has a high ankle, much like a basketball shoe, which supports the ankle when the wrestler is moving against an opponent to keep her from twisting or damaging her ankle.
Basketball and Other Team Sports Trainers
This category of gym trainers is specialised for indoor team sports, such as basketball. They often have a thick sole that does not slip on polished floors. The non-slip properties make them a preferred trainer for running, jumping, and stopping on wooden and polished gym floors. They also have a high ankle for support, and generally lace all the way up the ankle.
No matter the gym sport in which a woman is engaging, there is a trainer that is suitable for it. If one is unsure about which trainer to purchase, many trainers salespeople are happy to make recommendations for which trainers are best for each activity.
Buying the Best Trainers for the Gym on eBay
eBay can be a great website to purchase many different gym trainers and inserts. Their listings have everything from shoelaces to high-end boots. High-top and low-top trainers, as well as designer running shoes are all available. All you need to do is input the search terms for the item you are looking for into the search bar. For instance, type "women's gym trainers" into the search bar, and click search. To narrow your search results, specify your search terms further. For example, type "women's black sports trainers" to view only the results that match this description.
eBay also has reviews and other feedback to help you to ensure that you are purchasing from a reputable seller. eBay designates its top-rated sellers with a ribbon icon, which indicates that the seller has received positive feedback numerous times, and conforms with eBay policies. When purchasing the best trainers for the gym from eBay, choose a top-rated seller to ensure a positive buying experience.
Conclusion
All trainers have a sole that provides traction to prevent slipping on surfaces that are either slick or wet. Canvas trainers can also be worn to perform a number of other gym activities besides running. Canvas trainers are easy to clean, typically less expensive, and last longer than leather trainers. They also dry a lot faster than other types of trainers. Many women wear them because they are lightweight and provide good balance for running or working out in a gym. They do not slip on concrete floor surfaces or other surfaces that one may encounter at a gym. This is particularly important if indoor basketball courts, racquetball courts, and any other surface that is waxed on a regular basis is used. Nike offer a great range of trainers available to buy or purchase on eBay as well as many other used trainers.
Once a customer learns their shoe size, they can choose a pair of trainers for the gym that are specifically made for a certain gym activity. They can look for a good pair of running shoes, or versatile trainers, to encompass more than one sport, or choose a shoe for a specific gym activity. A good place to browse through different types of trainers is eBay, the popular auction website. Remember that a good pair of trainers for working out is important and can prevent long-term damage to one's joints. How to find and buy the best trainers for the gym may not seem important at first, but the wrong trainers can cause lasting damage to one's joints.