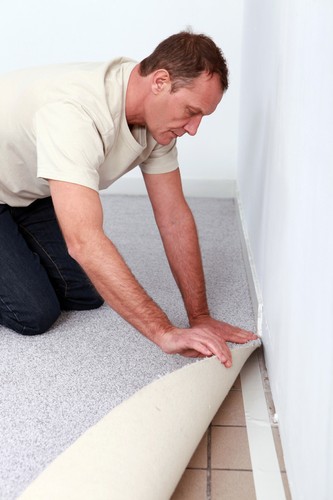 Fitted carpets are a popular flooring choice for the home. Often preferred over hard wooden flooring for their warmth and insulating properties, carpets are the ideal choice to create a homely and inviting atmosphere in the living room. There are many different colours and textures of carpet available, and which is selected will depend both upon individual style and practical reasons.
Choosing Fitted Carpet
Decision making is often a difficult task, especially with an investment as large as a carpet. Bearing the following points in mind should prove helpful.
Type of Fitted Carpet
There are two basic types of fitted carpet – tufted and woven. Both are suitable for living rooms.
Tufted Carpet
Tufted carpet is the most popular type and is readily available. It is also cheaper than woven carpet. It is manufactured by a machine with needles punching the yarn though backing fabric. Tufted carpet is available in a wide range of colours and textures and has a pleasant, springy feel underfoot. Any pattern is printed on the surface.
Woven Carpet
Woven carpet is manufactured by weaving the yarn and backing fabric together using a loom. It is a higher quality product than tufted carpet that takes longer to make and is correspondingly more expensive. It is also more hardwearing and retains its appearance longer. Woven carpet may be manufactured either with natural wool or synthetic materials, or a blend of the two. Any pattern is woven into the design rather than printed on the surface.
Type of Pile
Carpets come in different types of pile or texture. The pile of the carpet affects how it looks and feels as well as its performance and durability. Different types of pile are more suitable for different rooms in the house and for more or less frequent use.
| | |
| --- | --- |
| Twist carpet | The most popular type of tufted carpet, twist carpet has a short pile. It is made from fibres which have been twisted to give a textured appearance. It is available in either plain or heathered styles. Heathered is slightly speckled. Twist carpet is one of the easiest types of carpet to maintain. It is hardwearing and suitable for heavy use areas. It doesn't attract or show fluff as easily as some other types, and the heathered style can camouflage markings. |
| Loop carpet | Another type of short pile carpet, loop carpet is made from loops of yarn that are uncut to give a rougher, more natural appearance. Loop carpet is easy to maintain and the loop weave makes it resilient to heavy use. However it is not generally suitable for homes with pets as they can catch the loops in their claws. |
| Velvet carpet | A more luxurious type of short pile tufted carpet. Unlike twist carpet, the fibres are straight, which can give some areas a more shaded appearance. It is easy to clean, but can show markings more easily than twist or loop carpet. Velvet carpet has a beautifully soft, smooth texture and appearance. It is especially suitable for rooms where a formal or more opulent look is desired. |
| Long or deep pile carpet | Types of long or deep pile carpet include shag and saxony. They have a luxuriously soft texture and appearance but can be more difficult to clean and maintain than short pile carpets. With heavy use, they can flatten. Long pile carpets are especially suitable for bedrooms due to their sumptuous feel and appearance and because these rooms receive less frequent use. |
| Patterned woven carpet (Axminster) | A hardwearing woven carpet that is easy to maintain and can hide markings due to the patterned design. Patterned woven carpet has a smooth texture. It is available in a wider range of patterns and colours than tufted carpet. |
| Plain woven carpet (Wilton) | A hardwearing woven carpet. It is easy to maintain but can show markings more easily than patterned woven carpet. It has a smooth texture. |
From the above types of carpet, twist, loop, velvet, patterned woven, and plain woven are the most suitable for living rooms. Long or deep pile carpet is less suitable.
Type of Fibre
Carpets are made with different fibres which may be natural or synthetic. Often carpets are made with a combination of natural and synthetic fibres. The type of fibre affects the performance and longevity of the carpet.
| | |
| --- | --- |
| | The best and most widely used type of fibre in carpets for its superior properties. It has a soft, springy texture which doesn't easily flatten or lose its shape. It has a luxurious appearance which is well retained without easily fading or fraying. Wool is also durable, easy to clean, and dirt and flame resistant. It has good heat and noise insulating properties and is sustainably sourced. However, it is also more expensive than other fibres. |
| | A synthetic fibre that is durable, hardwearing, and easy to clean. It is warm and comfortable with a silky appearance, especially in long pile carpets. Disadvantages include that it can flatten easily and fade more readily than other fibres. |
| | A synthetic fibre that is very strong and hardwearing. It flattens less readily than other synthetic fibres and is also easy to clean and stain resistant. All these qualities make it ideal for high use areas. Compared to wool it loses its appearance more quickly. It is cheaper than wool. |
| | A synthetic fibre that is durable, stain resistant, easy to clean and doesn't fade easily, making it a good option for heavy use areas that receive a lot of sun. Disadvantages are that it flattens easily and loses its shape more quickly than other fibres. It is inexpensive compared to wool and even to other synthetics such as nylon. |
| | The synthetic fibre that has the closest feel and appearance to wool. It is strong, durable, and easy to clean, but does not retain its appearance as well as wool. |
To combine the advantages of wool with those of synthetic fibres, they are often blended together. For the best quality carpets, manufacturers recommend that if 100% wool is not used it comprises at least 50 per cent of the fibres. A typical blend contains 80 per cent wool and 20 per cent synthetic fibres. Synthetic fibres can add durability and definition to the carpet.
Style and Colour
The style and colour of the living room carpet will depend upon a number of factors. These include personal taste, colour scheme of living room, and colours and flooring of adjoining rooms. When it comes to adjoining rooms, remember that the two floors will be in close contact so it is best to choose complementary colours rather than those that clash. Maintaining the same style with complementary colour schemes throughout the house creates a harmonious effect.
Plain and Patterned Carpets
The two basic styles are plain and patterned. Plain carpets offer versatility and are a superb choice for blending in with other aspects of the room, such as furniture and soft furnishings. If furniture and soft furnishings are brightly coloured or patterned themselves, then plain carpets are a good option. In large and more sparsely decorated rooms, plain carpets can fail to provide the level of contrast and decoration that is needed to make the room interesting. Patterned carpets offer interest and are also a good option for heavy use areas as they are more effective at hiding marks, stains, and wear and tear. There are many patterns available, from stripes and geometric shapes to florals and traditional motifs. Patterned carpets are ideal in larger rooms, especially those with minimal decoration and lightly coloured furniture, but larger patterns in small rooms can make it seem smaller and claustrophobic.
Colour
Carpets are available in various colours, from neutrals to pastels and bright, bold colours. Consider the long term plan and remember that neutrals are generally the best option for coordinating with other elements of the room. Creams and similar colours will not date as readily as some other colours. Consider the size of the room and also its aspect and how much sunlight it receives. Both these factors may influence colour selection. Smaller rooms are made to appear larger with light coloured carpets, while dark north facing rooms can be made warmer with reds and yellows.
Find Fitted Carpet on eBay
To find fitted carpet on eBay, use the search function at the top of the screen. From the drop down menu adjacent to the search bar, select Home, Furniture & DIY. Type "carpet" into the search bar and click on Search. Under Categories to the left of the screen, click on Rugs & Carpets followed by Fitted Carpets & Underlay. There are then options to narrow the listings by Type, Style, Material, Main Colour, Size, and other criteria.
Conclusion
There are many types and styles of fitted carpet available. Which is chosen for the living room will depend upon personal taste and practical considerations, such as pets and how heavily used the room is. All the short pile and woven carpets are generally suitable for living rooms, but long pile carpets are less suitable as they are more difficult to maintain. Wool or wool blend carpets are the highest quality, but synthetic fibres offer a number of valuable characteristics such as durability and ease of maintenance. Carpets are available in plain and patterned fabrics, each with their own suitability for different sized and styled rooms. The colour will depend upon individual taste as well as considerations such as room size and aspect. The perfect carpet will complement the living room and blend harmoniously with adjoining rooms and existing decor.