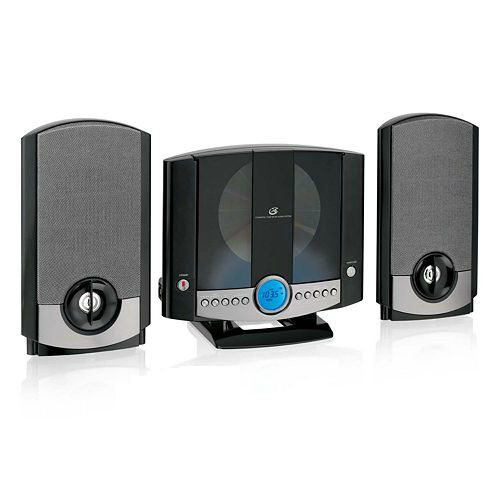 Buyers can enjoy great Hi-Fi sound in their own home by purchasing a new or used home audio system. There are a wide variety available at competitive prices. Home audio systems usually include all-in-one stereo systems, audio components, and audio speakers placed strategically throughout the home for a more immersive audio experience. Home audio systems could be as simple as an iPod in a docking station or as extravagant as a multi-room wireless system, and there are an array of options in between. Some home audio systems are equipped with components like receivers, amplifiers, speakers, and even turntables. There are many manufacturers of items that are used to compose home audio systems, so buyers should research thoroughly so that they know what they are looking for and what kind of budget they have.
When buying the right home audio system a buyer needs to consider which components are required, which type of home audio system suits their requirements, and whether they want a standard wired system or a more advanced wireless system. Home audio systems can be bought from electronics shops and department stores, as well as online at eBay..
Components for a Home Audio System
Some buyers wish to build a customised home audio system, while others may need to add, replace, or upgrade a specific component of an existing system. Buyers can create the sound that best suits their acoustic tastes with items like speakers,, stereo receivers,, amplifiers,, subwoofers,, iPod docks,, and turntables. Using these components, buyers can build a customised home audio system that delivers high quality sound with bespoke characteristics.
Types of Home Audio System
There are various types of home audio system, including all-in-one Hi-Fi systems and multi-room systems. Buyers should consider which areas of the home they would like to install a home audio system.
All-In-One Hi-Fi Home Audio Systems
Buyers can enjoy their favorite songs from an all-in-one Hi-Fi home audio system. Micro systems and mini systems deliver crisp, powerful sound with a sleek design that brings style to any room. The range of micro and mini Hi-Fi systems combine high quality audio and easy access to a buyer's favourite CDs or digital music tracks. Usually very compact, all-in-one Hi-Fi systems offer versatility and are usually easy to move to another room, although they often stay fixed in one place. These systems either come equipped with a lightweight rechargeable lithium-ion battery or are mains powered. Most all-in-one Hi-Fi systems have a remote control for easy use and access to menus, volume control, track selection, and features such as alarm clocks and timers.
Multi-Room Home Audio Systems
Multi-room home audio systems let buyers listen to audio in a number of rooms. They can be controlled from anywhere in the home, even when not in sight of a sensor. Basic systems consist of multiple sets of speakers in different rooms with an individual control. The most complex systems allow buyers to listen to any source in any room of the house. The deluxe models allow listeners to use different audio sources in different rooms. For example, a listener may choose to use the speakers in one room for TV audio, but listen to music in a different room. This type of system can also link to a home network and stream music from a computer or Wi-Fi capable device. Due to the potential complexity of wired multi-room systems, it is recommended that these systems are installed by a professional.
Wired vs. Wireless Home Audio Systems
Home audio systems may be wired or wireless. When searching for the right type, buyers should consider the benefits and drawbacks of each style.
Wired Home Audio Systems
Wired home audio systems use a fully wired network to connect all of the components. Components are linked by CAT5 or CAT6 cables, and a coaxial cable. The CAT5/6 cable is a multi-functional, low resistance network cable that carries sound and power. Video is carried by a standard coaxial cable. Speakers are connected with a standard speaker cable. Buyers who purchase this kind of system prefer the stability that it provides, as the constant wired connection experiences fewer losses of sound and a consistent performance. Wired home audio systems are typically interference free and do not affect wireless devices such as garage doors, remote controlled toys, and home computer networks.
Buyers should bear in mind that wired systems usually require professional set-up in most cases. They have restricted remote control access as the listener has to be in sight of the sensor. Finally, buyers should consider that wired systems require permanent installation. These systems are much harder to dismantle if moving house so other options make provide greater flexibility if renting a home for short periods of time.
Wireless Home Audio Systems
Wireless home audio systems are quickly becoming the industry standard. These systems have the ability to use a wireless multi-room design, but can also be limited to a specific area or room. This creates a wireless network around the home that carries audio and, in some cases, video. It works in a similar way to a Wi-Fi home network hub. Some of these systems use multiple points of transmission rather than a single hub, thereby providing more reliable network coverage than a wireless home network hub. Buyers who purchase this type of system enjoy the quick and easy setup, and the systems are easy to expand. Buyers can move compact wireless speakers easily from room to room without the trouble of tangled cables.
Wireless home audio systems have the advantage of portability, so buyers can pack the system easily when they decide to move house. They are also easy to stream from computers and can be controlled with a PC, Mac, iPod Touch, iPhone or radio controller. Buyers should bear in mind that they may experience poor audio quality or performance. Wireless home audio systems have the potential to drop the audio, as well as interfering with other wireless systems.

Conclusion
Buyers using eBay to purchase a home audio system should thoroughly research the kind of system that they want before buying. It is important to know the advantages and disadvantages of the different types of systems. Buyers that prefer something portable and compact may be interested in an all-in-one audio system. Whereas, buyers that would like to turn their home into a concert space may prefer an all-encompassing multi-room wireless home audio system. For buyers who want a simple to install system, the all-in-one format may be best, but buyers who want to build their own customised home audio system can purchase individual components.
Buyers should consider whether they want a wired or wireless system. Wireless systems allow buyers to listen to their favourite tracks straight from their laptop, PC, Android, or Apple device for a more liberating listening experience, but they may experience connection failures, high bandwidth use, and interference from other wireless devices. Wired systems offer reliability and consistency, but they demand installation that can often be complex. Buyers with any questions about a particular item should always research the item and contact the eBay seller for more information.