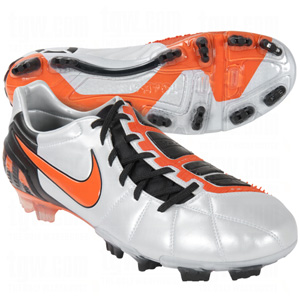 How Should Your Football Boots Fit?
The football boot you choose must fit closely. Loose fitting football boots will cause blisters and mean that you can't control the ball so well. You will also lose some control when shooting, which can become painful if the football boot does not fit your foot properly.
Some experienced players recommend buying leather football boots half a size smaller than they need because the boots will stretch a little once they've been worn for their first few games.
Synthetic materials do not stretch as much so your normal shoe size should be right for you.
After that, it's all about marketing. People want to emulate their football-playing heroes by wearing the same type of football boots. The top brands pay handsomely to ensure that their boots are worn by leading professional players. Good advice here would be to make sure that the right type of boot fits the foot first; everything else comes second.
By all means buy the same brand that your football hero wears; just make sure that it fits your foot and your style of play.
Sizing guide for football boots
Be careful; you may find that your regular shoes size does not exactly match your football boot size. Remember that your football boots must accommodate your football socks.
Either stick with the same size boot that you are comfortable. Buy the same size from the same brand that you already wear; boot sizes vary considerably by manufacturer.
Using a standard ruler, measure the length of your foot.
Length should be measured from heel to the tip of your longest toe.
Reduce your measurement by 3 to 5 millimetres and check the chart below. A close fit is what you are looking for.
| Foot length in centimetres | UK Size |
| --- | --- |
| 23.7 | 6 |
| 24.1 | 6.5 |
| 24.6 | 7 |
| 25 | 7.5 |
| 25.4 | 8 |
| 25.8 | 8.5 |
| 26.2 | 9 |
| 26.7 | 9.5 |
| 27.1 | 10 |
| 27.5 | 10.5 |
| 27.9 | 11 |
| 28.4 | 11.5 |
| 28.8 | 12 |
| 29.2 | 12.5 |
| 29.6 | 13 |






The Right Boot for You
Generally, the right football boot depends on:
The surface you play on
The position you play in
Your style of play
How much you want to spend.
Lightweight boots are designed for forwards and wingers as they are built for a combination of speed, acceleration and control. Nike, Puma and Adidas all produce lightweight boots for professional players.
Lightweight boots are not really suitable for defenders, who tend to demand more of the comfort and protective padding that you would expect from Umbro. The downside of very lightweight football boots is that they tend to reduce your shooting power.
Midfielders usually prefer football boots that match their more versatile style of play. The more versatile your playing style is, the more you will want good, all-round football boots. They should be designed to give you greater accuracy when passing the ball, shooting or crossing. Most brands produce a range of football boots to suit every playing position.
Some brands are better than others at producing each specialist type of football boot. Most brands produce new styles every season so the best boot for each style of play changes frequently. However no matter which brand of football boot you choose, your time on the pitch will not be any less enjoyable.
The Surface You Play on
There are three main types of football boot for grass surfaces:
Moulded Studs
Football boots with moulded studs tend to be best on firm or dry pitches. They usually have more studs than other football boots. Some people say that they provide better support for the foot which reduces the likelihood of blisters.
Blades
Football boots with blades on the sole are normally recommended for surfaces that are somewhere between soft and hard. Some versions of these football boots have blades that you can change for other surface conditions.
Screw-In Studs
These widely popular football boots have different stud lengths that can be changed to suit the condition of the playing surface; you use longer studs for soft ground (SG) and shorter studs for a firm ground (FG). Studs can be plastic, rubber of metal; they use screw thread fixings. These studs are sometimes called 'conical studs' to distinguish them from blades.
Playing surfaces in the UK tend to vary from firm to soft so boots with changeable studs are easily the most widely used. These boots should not be worn on hard surfaces as the screw ends of the studs can begin to break through the sole and make playing in them uncomfortable.
The other advantage of football boots with changeable studs is that when the studs become worn they can easily be replaced without having to buy new boots.
When you buy new football boots, check to see that the studs are screwed in according to the manufacturer's specifications. It's a good idea to check that your studs are as tightly screwed in as they should be (this varies by brand) each time you play.
Breaking in Football Boots
Breaking in your football boots can be quite a testing time for your feet. The breaking in process is the time in which it takes for your feet to adjust to the boot, moulding them into the perfect shape to play in. You cannot be certain how long the process will take; one type of boot will wear in quicker than another.
You may feel some discomfort during the breaking in period. Try to bear with the process unless it becomes unbearable or painful. In this case the boots must be removed straight away to avoid injury.
Tips to ease the breaking in process
| | |
| --- | --- |
| Blisters | Rub Vaseline around areas prone to blistering; toes, and heel. |
| Spend time in your new boots | Walking or jogging at a local park around the helps do the job. |
| Stay on the grass | Hard surfaces are not kind to studs. |
| Gently does it | Wear your new boots for short training sessions before playing a full game. |
| Pain or discomfort | Replace with broken in footwear. |
Gradually build up the time you spend in the boots in training sessions until you reach optimum comfort.
If you are struggling with the breaking in process, lightly dampen the boot with warm water. This will soften the boot allowing your foot to mould with ease. Let the boots dry naturally.
Do not use hot water as this may damage the boot by melting the adhesives. Always check with manufacture guide lines.
Buying Football Boots on eBay
Football boots of all kinds are readily available on eBay. With access to a huge range of sellers, tracking down the right size football boots for you is simple and convenient. Many vendors offer free shipping and competitive prices. Once you have a clear idea of the sort of football boots you need, just navigate to www.ebay.co.uk.
While you shop, don't forget balls, gloves, trainers, and appropriate clothing for the pitch. To start shopping, go to theSports and Leisure category. Click the Sporting Goods portal and click Football.
Categories:
The Categories list on the left side of each page will help you narrow down your listings by item type. You'll find links for Caps & Hats, Football Boots, Football Trainers, Footballs, Gloves, Shinpads, Shorts, Socks, Table Football, Training Equipment & Goals, Training Kit & Bibs, Trophies, Wristbands and Other Football. As you refine your search you'll be able to narrow down your choice by subcategory.
Product Finder
Use the Football Boots Finder to quickly narrow down item listings by type of boot, brand, model, size, condition (new or used), and product material.
Keyword search
Search eBay listing titles for specific words. For example, if you want to find new football boots for men, type the keywords "football boots men new" (without quotation marks) into the Search box. Click "Search title and description" to expand your results. Visit eBay's Search Tips page for more tips on searching with keywords.
If you can't find exactly what you want, try browsing eBay Stores or tell the eBay Community what you're looking for by creating a post on Want It Now, or save a search on My eBay and eBay will email you when a matching item becomes available.
Buy Football Boots with Confidence
Make sure that you know exactly what you're buying and understand how eBay and PayPal protect you.
Know your item
Read the details in the item listing carefully.
Remember to add delivery costs to your final price. If you're buying a high value item, check that the seller will insure it until it is delivered to you.
If you want more information, click the "Ask seller a question" button on the seller's profile or the "Ask a question" link at the bottom of the item listing page.
Always complete your transaction on eBay (with a bid, Buy it Now or Best Offer) otherwise you will not be covered by eBay Buyer Protection.
Never pay for your eBay item using an instant cash wire transfer service like Western Union or MoneyGram. These are not safe ways of paying someone you do not know.
Know your seller
Research your seller so that you feel safe and positive about every transaction.
What is the seller's Feedback rating?
How many transactions have they completed?
How many positive responses do they have?
What do buyers say in their Feedback?
Are they positive about the seller?
Most top eBay sellers operate like retail shops and have a returns policy.
Do they offer a money-back guarantee?
What are their terms and conditions?
Conclusion
Be sure that you are buying the right size football boot for you. Measure your feet accurately; that way you can be sure of a close-fitting boot.
Check that your football boots match:
The surface you play on
The position you play in
Your style of play
How much you want to spend.
If you can tick all of the above, then you're in a great position to start to track down the perfect size football boots for you.
Remember both new and used boots will need to be broken in to mould your foot for the perfect fit.