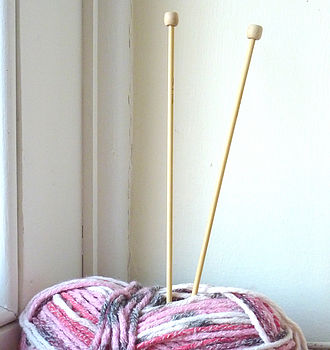 Knitting is a well-loved hobby all over the world. Not only is it a relaxing way to pass the time, knitting also serves a practical purpose. To begin with, it is a source of warm clothing for harsh winter months. Secondly, it is a way for people to express themselves creatively through fashion. For new knitters, however, the world of knitting can be a confusing and overwhelming place. One simple question for many, in fact, is how to buy knitting needles that are the proper size.
While some people are content with pretty much any knitting needle, those who are serious and committed to knitting make sure that they have the right needle size to get maximum enjoyment from their knitting projects. Aside from just the size, there is also the material and type of needle to consider. Understanding the different knitting needs and learning how to pick the right ones can make a world of difference to those who enjoy pursuing this hobby.
Overview of the Knitting Needle
Knitting needles, otherwise known as knitting pins, are tools used to produce knit garments. Normally described as elongated eyeless needles, these are long sticks that manipulate yarn by hand, turning it into fabric. While knitting needles are pointed, they are not as sharp as sewing needles that can draw blood. In the past, knitting needles were often made from ivory, tortoiseshell, and walrus tusks. Today's knitting needles, however, can be made from carbon fibre, aluminium, casein, steel, glass, plastic, and wood, among others. Choosing among these materials depends on the preference and budget of the knitter.
Knitting Needle Types
There is a wide range of knitting needle types available on the market today. However, there are two general types: single-pointed and double-pointed knitting needle. The following is a quick description of the two types of needles.
Single Point Knitting Needle
Single-pointed needles are characterised as having a thin and straight shaft. Additionally, it has a small knob, where the size is indicated, at one end to keep the stitches from sliding off. These needles come in pairs and are the ones most often shown on television. A single point knitting needle is commonly 25-40 centimetres in length.
Double Point Knitting Needle
Double-pointed needles, commonly referred to as "dp" or "dpns" in knitting directions, are widely considered to be the first kind of needles to be invented. Unlike the single-pointed needle, it tapers to a point at both ends and are normally 20 centimetres in length. These are typically sold in sets of four needles and are used to create circular garments such as hats, sleeves, or socks. The number of double-pointed needles required depends on the total circumference of the garment.
Cable Double Point Needle
Cable needles are a short U-shaped double-pointed needle that is used to create a cable pattern. Its U-shaped bend is used briefly to keep the stitches from falling while the knitter is working on it using the main needle. There are a generally two types: cable stitch holder and the cable stitch needle. Cable stitch holders have a U-shaped bend in the middle of the needle, while cable stitch needles have a curved end on one side.
Circular Double Point Needles
Circular needles are a flexible type of double-pointed needle that can be made straight or bent into a circle. While the ends of the needle are rigid, its middle portion is normally made from nylon, which makes it easy to manoeuvre. Additionally, there are special kits that allow the user to mix and match the needle diameter and nylon length. Circular point needles generally range from 30 to 152 centimetres in length.
Purchasing the Right Knitting Needle Size
For someone new to knitting, purchasing the right needle size can be confusing. The first rule of thumb is to remember that large needles create large stitches, while fine needles create fine stitches. For instance, blankets, are often knitted using large needles while smaller items like baby mittens are knitted using smaller ones.
Knitters who plan on following a pattern can simply purchase the needles and yarn indicated in the instructions. Experienced knitters who are used to creating patterns on their own may simply purchase yarn and go by the needle size indicated on its wrapper. As for the length of the needle, the longer the needle, the longer the row that a person can knit. Choosing the needle length depends on the type of garment.
Sometimes, the size of the knitting needle is hard to determine. For single point knitting needles, the diameter is often indicated on the needle's knob. Some needles, however, do not have a knob and have to be measured using a knitting needle gauge. Gauges look like rulers with small holes. The knitter inserts the knitting needle through each of the holes to determine its diameter. After doing this, many knitters often proceed to label the needle with a piece of tape so they always know its size.
Knitting Needle Size
Purchasing the right size knitting needle depends on the type of garment that the person wishes to knit. Generally, needle sizes vary based on length and diameter. In the UK, the needle numbers are based on the wire designation of the metal needles. Below is a table the common knitting needle sizes and its corresponding conversion to Japanese, U.S., and the metric system. This is helpful for those who are familiar with UK sizing but would like to purchase knitting needles from other countries.
| UK Size | U.S. Size | Japanese Size | Metric Size (mm) |
| --- | --- | --- | --- |
| | 0 | | 2.0 |
| 13 | 1 | | 2.25 |
| 12 | 2 | | 2.75 |
| 11 | | 3 | 3.0 |
| 10 | 3 | | 3.25 |
| 9 | 5 | | 3.75 |
| 8 | 6 | | 4.0 |
| 7 | 7 | 8 | 4.5 |
| 6 | 8 | | 5.0 |
| 5 | 9 | | 5.5 |
| 4 | 10 | 13 | 6.0 |
| 3 | 10 1/2 | | 6.5 |
| 2 | | | 7 |
| 1 | | | 7.5 |
| 0 | 11 | | 8 |
| 00 | 13 | | 9 |
| 000 | 15 | | 10 |
Some knitting guides refer to needle sizes from these countries when instructing how to knit a type of garment. Those who are not used to Japanese or US needle sizes need not fret because there is often a corresponding UK size for that particular needle.
Knitting Needle Brands
While there are still old-fashioned knitters who prefer purchasing knitting needles from traditional speciality shops, most now purchase them online because of a wide product selection along with great bargains. There are many brands out there today, including: Dreamz, Nova, Karbonz, Basix, Cubics, Blackthorn, Clover, Blue Sky, Colonial, Denise, and Susan Bates, among others.
Shopping for Knitting Needles on eBay
Individuals who are in search of knitting needles should begin by hunting for these on eBay. Simply look for the search bar and write "knitting needles" there. After pressing enter, you should find yourself faced with thousands of results. For many people, the sheer number of knitting needles available out there may be too much to handle. If this is the case, you can use filters to reduce the product listings so you only see relevant items. These filters should help you zero in on items based on the type of needle, colour, condition, price, seller, and location, among others. An alternative method is to simply add more words to your search. For example, you can search for "double point knitting needles" instead of something more general.
More than this, you can also search using eBay's Advanced Search tool. Here, you can define the product that you wish to purchase so eBay can search for the best one that fits your specifications. Those who want to save money on postage can choose to buy from local sellers. You may even be able to find sellers in your area that are willing to meet up with you, or arrange a local pickup. Some sellers may be selling their used assorted knitting needles in bulk. This is a great way to save money instead of buying these needles on a per-piece basis.
Conclusion
Shopping for the right size knitting needles is not as difficult as it may initially seem. For beginner knitters who are following a pattern, this is often indicated in the instructions. Experienced knitters, on the other hand, can take a look at the yarn wrapper to check for its suggest needle size. As for the length of the needle, take into consideration the length of the row that needs to be knitted. Table runners, as opposed to baby mittens, require knitting needles of longer lengths.
There are two general types of knitting needles: single point and double point. Under double point knitting needles, there is the cable and the circular needle. Choosing among these different types depends on the type of pattern to be worked on as well as on personal preference. Knitting needle sizes are generally in UK, US, or Japanese sizes. Some needles have the diameter, which is measured in millimetres, indicated on it as well. When it comes to material, knitting needles are available in wood, plastic, steel, and carbon fibre, among others. Many people choose to buy these needles online because of the wide selections and the great deals available. Shoppers can browse for items at the comfort of their own homes and get it delivered to their doorstep in just a matter of days.