Choosing eye frames that suit you.

Read this guide to help decide what frame shape, size and colour will suit your face and match with your dress style. Now you can buy glasses and sunglasses with the confidence that they will look great when you wear them.
Introduction
Different frames suit different face shapes and generally one pair of glasses is just not enough these days as many people like to have a few pairs for different occasions, one for work, one for leisure, or perhaps a different pair for driving.
Think about the image you want to project to people in your environment, if you mostly wear your glasses at work, you may want to choose a traditional classic style, however if you are unreserved and love bright clothes, make a statement and choose a pair of glasses to match.
Face Shapes

What shape is your face? Have a look in the mirror, hold back your hair if need be, and study the shape. Generally people's faces can be a combination of different shapes, so use this information only as a guide, not as a rule.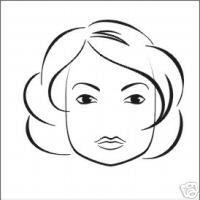 Square Face
A square face has a broad, deep forehead, wide jaw line and square chin. Choose round style frames to soften the jaw line.
Celebrities with square shaped faces - Kim Cattrall of Sex and the City, Sandra Bullock and Demi Moore.
Try: Round and oval style frames with sides set at the top of the frame.
Avoid: Thin, angular and square styles, and those with colour emphasis on the bottom rim.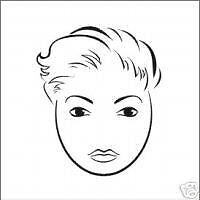 Round Face
A round face is fairly short with a wide forehead, often with full cheeks and a rounded chin.
Celebrities with a round shaped face – Vanessa Williams, Uma Thurman, Rosie O'Donnell and Cameron Diaz.
Try: Styles that are wider than they are deep, and square or upswept shapes that draw attention to your upper face. Choose styles with high set sides, and those with colour or decoration on the temples.
Avoid: Small and round shapes and very large frames which will make your face look rounder.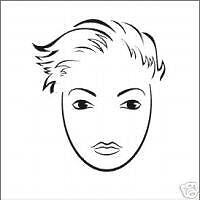 Oval Face
An oval face is well balanced and softly rounded; the forehead is slightly wider than the jaw, which curves gently, and the cheekbones are high.
An oval face looks good in most styles, so be adventurous!
Celebrities with oval face shapes – Beyonce Knowles, Charlize Theron and Julia Roberts.
Try: Modern small, geometric styles.
Avoid: Styles that are uncomfortable to wear or that you feel do not suit your face.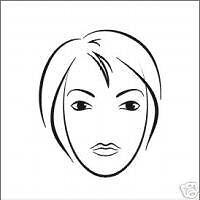 Long Face
A long face has high cheekbones and a deep forehead. You can balance the face's narrowness with the right frame style. A style with all over colour will suit you.
Try: Wide frames with a strong top line. A larger, square frame can give balance to a long, oval face.
Avoid: Small, square shapes.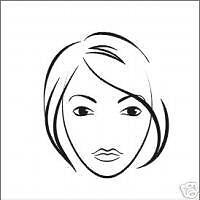 Heart-Shaped Face
A heart-Shaped face has a broad forehead, tapering to a small neat chin and mouth. Choose smaller styles without decorative detail on the temples.
Celebrities with heart shaped faces – Jennifer Aniston, Dido and Halle Berry.
Try: Slender, rounded or square styles, with lower set sides.
Avoid: Styles which are wider at the top; these will reflect the face shape rather than balance it.
Color Analysis
All people have either a cool (blue-based) or warm (yellow-based) coloring.
Everyone looks best in his or her own color base.
Eyewear color should complement personal coloring.
The main factors to determine the best color palette are the colors of the skin, eyes and hair.
Skin
Skin tone is the prime element in determining coloring. All complexions fall into one of two color bases — blue (cool) or yellow (warm). A cool complexion has blue or pink undertones, and a warm complexion has a "peaches and cream" or yellow cast. Olive skin is considered cool because it is a mixture of blue and yellow. (In the United States, cool, blue-based complexions are more common than the yellow-based warm complexions. About 60 percent of the population are "cools.")
Eyes
Eye colors are usually a secondary element in determining coloring because of the wide range of eye colors. For example, blue eyes can range from a cool almost-violet to a pale blue-gray, which is warm. Brown eyes can vary from a light cider shade (warm) through a medium-brown to a cool almost-black.
Hair
Hair colors are also considered warm or cool. Strawberry blond, platinum, blue-black, white, salt-and-pepper and "dishwater" brown are cool. Warm hair colors include golden blond, flat black, brown-gold, "carrot" and "dirty" gray.
Eyeglass Frame Colors
Once you have determined if you are "warm" or "cool," then you can find the eyeglass frame colors that will suit you the best. Some examples of frame colors best for warm coloring are: camel, khaki, gold, copper, peach, orange, coral, off-white, fire-engine red, warm blue and blond tortoise. For cool coloring, the best eyeglass frame hues are black, rose-brown, blue-gray, plum, magenta, pink, jade, blue and demi-amber (darker) tortoise.
Thank you for taking the time to read this guide. We hope that it has been helpful and provided you with a better insight into the world of buying eyewear. Please help us by voting for this guide below.
Thank You,
The Eyewear Clearance Team.