Caterpillar boots are not cheap, and people who use theirs to serve as work boots often subject them to harsh conditions that include mud, water, grime, and snow. Besides, a number of men and women who wear them as casual footwear can also increase the life of these boots by taking care of them in the right manner.
Cleaning
To clean a pair of Caterpillar boots, such as the Sheffield, Anna or Colorado boots, which primarily have full grain leather, use a soft toothbrush to dust them after every use. Note that a hard brush can lead to scratches. Additionally, do not immediately clean boots with wet mud, as you might grind it into the leather. Instead, wait for the mud to dry first. Using an air compressor tank with a suitable nozzle results in a more thorough clean. Next, use a soft cloth or a sponge dabbed in leather cleaner to remove any remaining dirt. A mix of white vinegar and gentle soapy water also works. As for commercial boot cleaners, test it on a small area, preferably the tongue, to ensure it does not harm the leather. Most require that they stay in contact with the surface for a few minutes after application, and removal of excess with a sponge or soft cloth follows.
Waterproofing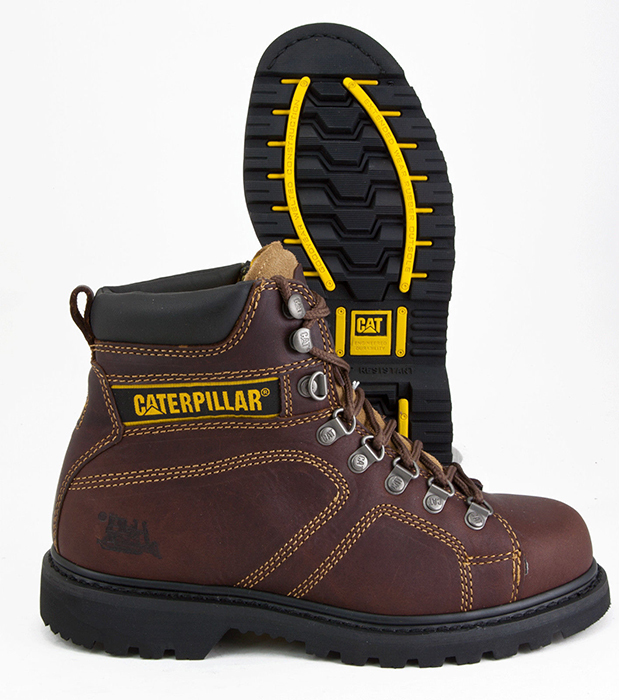 Once the boot is dry, polishing, oiling, and sealing play important roles in longevity. To condition a pair of men's or women's Caterpillar boots, use a commercial leather conditioner, mink oil, or even beaten egg white. Apply using a soft cloth and rub the product well, especially around the stitches, and let the boots dry. Use a clean soft cloth to wipe off any excess product. While using a waterproof spray is one alternative, using canned polish tends to offer better protection since users have to rub it in well. To store wet Caterpillar work boots, use boot trees or stuff them with newspaper to aid in their drying and prevent shrinking.
Suede or Nubuck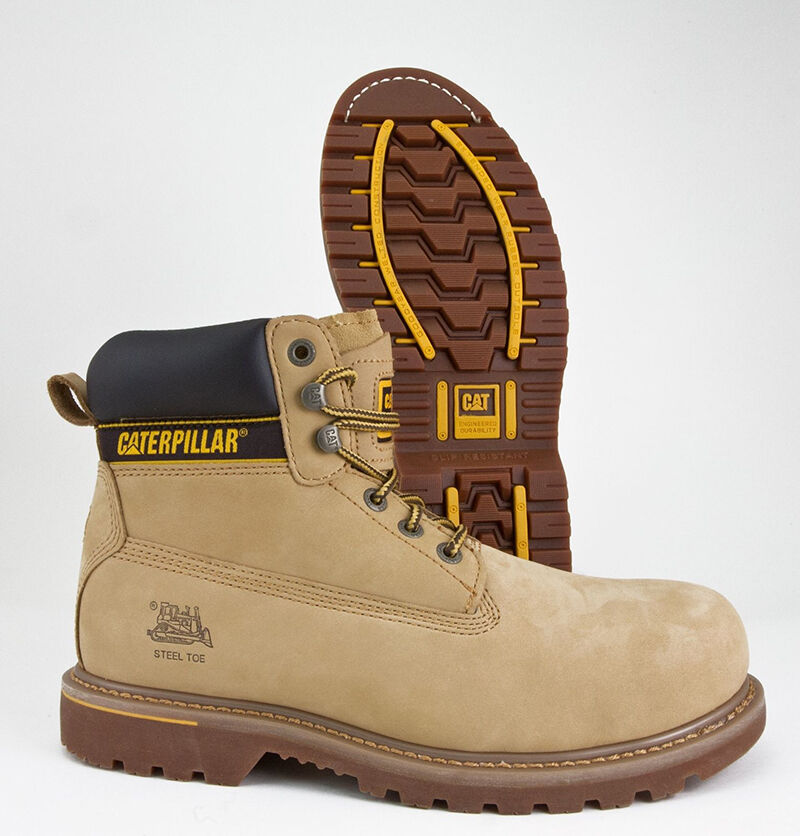 People who own suede or nubuck Caterpillar boots should keep them away from mud, given that stains on nubuck shoes are almost impossible to remove without damaging the leather in some way. To get rid of a noticeable stain, use a solvent-based cleaner without delay, or use very fine grade sandpaper in light circular motions followed by a suitable leather restorer. A soft nylon brush makes for basic periodical cleaning. Follow this with rubbing a nubuck cleaner across the entire surface area, and wipe off any excess within a few minutes. Once dry, use a nylon brush again to restore the boot's colour. After the use of a nubuck cleaner, boots might appear slightly darker than before. Waterproofing polish does not suit nubuck, so turn to a waterproof spray instead.