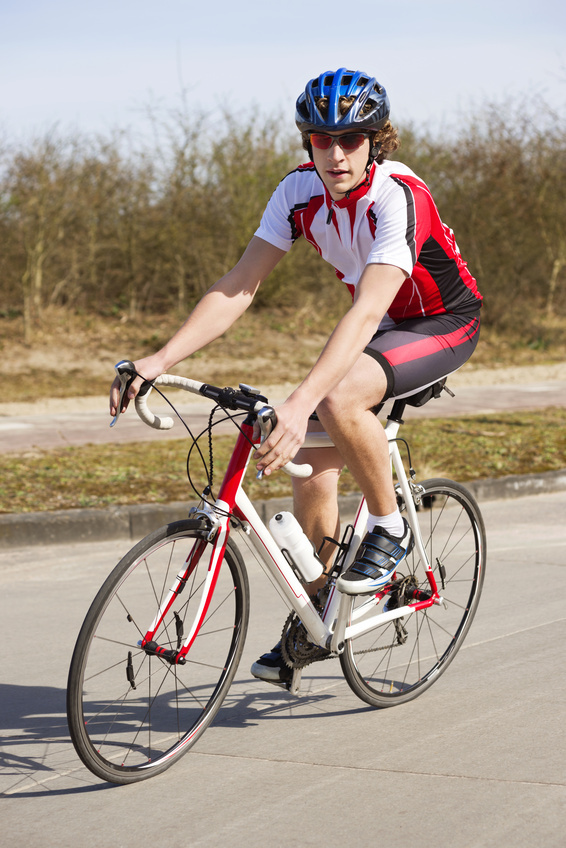 Cycling is a hugely widespread sporting activity in today's world, increasing in popularity every day. It balances a fast and efficient means of short-range, environmentally friendly transportation with an excellent form of exercise and a truly enjoyable leisure activity, which gives it numerous advantages over many other types of modern transport. Many cyclists will choose to wear clothing specifically designed for the activity. Vintage clothing is available for enthusiasts with the disposition to own it.
It is the intention of this guide to explore in detail the vintage cycling jersey, providing in-depth information on the subject so that any cyclist wishing to purchase a vintage jersey can make the right choice for them. This guide will also take a close look at the reasons why eBay, the online auctioning platform, is such a great place to shop for vintage cycling jerseys.
The Cycling Jersey
This section of the guide will closely examine the cycling jersey, including its history and major notable features. In addition, it will explore the concept of "vintage", so that the reader may understand it in the context of this guide.
What is "Vintage"?
Originally, vintage was a word used to denote a specific yield of wine-grape crops. The word became synonymous in language with an indicator of the quality and maturity; vintage soon came to mean "classic". In this context, vintage cycling jerseys are iconic designs from previous years, often valued for their looks or the reputation of the team they represented.
Features
There are several important characteristics that define a cycling jersey. These are as follows:
Cut – cycling jerseys tend to be cut longer in the back than most regular purpose clothing. This is due to the fact that cyclists spend a lot of their cycling time leaning forward over the handlebars. A longer back accommodates this, preventing the shirt from riding up and exposing the skin during activity.
Rear-pockets – any pockets included in a cycling jersey will usually be mounted on the back. This is due to the tendency of items to spill out and get lost if held on the front of the shirt, as the front of the cyclist's body is doing a lot of the work.
Long Zipper – the zipper on a cycling jersey will usually be particularly lengthy. This allows the cyclist excellent ventilation if they are getting too hot, whilst still allowing the jersey to be fully enclosed if they get too cool.
Tight Fit – cycling jerseys hug the skin tightly, this minimises air resistance against the cyclist's body; thus increasing speed and energy-efficiency.
Material – cycling jerseys are made from ultra-lightweight, breathable fabrics, designed carefully to keep the cyclist as cool and dry as possible during heavy exertion.
History
Cycling jerseys as they are known today were originally created for the world famous cycling event known as the Tour De France. This is and was the largest, most prestigious cycling competition in the world, and as such required the best in cutting edge technology to optimise cycling performance. They were coloured bright yellow or pink, designs which still persist heavily to this day, because the paper on which the advertisers printed their adverts was yellow or pink, and it created a sense of coherence.
Advertising/Sponsors
It is a definitive feature of cycling jerseys that they feature heavy advertisements. Cycling teams are funded in large part by the companies which use the jersey-space to broadcast themselves to the public cycling audience. This is a thoughtfully conceived, mutually beneficial system, allowing funding to benefit and propagate the sport, and giving advertisers a space in which to make their name known.
What to Look for in a Vintage Cycling Jersey
This section of the guide will take a look at some of the appealing and practical features of vintage cycling jerseys, with the aim of giving the reader ideas about what they might want to look for when shopping for them, and why.
Legacy
This is the historical, collectable, "vintage" factor. This is important for cycling enthusiasts. A vintage jersey may have been used by a team which is of special significance to the buyer, or may have been worn in a race in which the buyer remembers watching. It may feature an advertisement for a specific company or brand which creates strong resonance with the buyer's sense of their sport's history. The jersey may have an interesting story worth telling, or may be of interest purely for its historical value as a product of a bygone era of cycling. This is a highly personal aspect, and should be considered carefully when buying a vintage cycling jersey.
Aesthetic
This is simply how the jersey looks. Cycling jerseys have a strong, unique and deliberate aesthetic, which is only enhanced by the vintage nature of the product. It is always worth considering how the product will look on its intended wearer, and what it says about that wearer. The jersey may also have its own intrinsic aesthetic value; a buyer may simply wish to display the shirt instead of wearing it, in which case appearance is even more crucial to the decision making process. Again, this depends entirely upon personal taste, which will vary greatly from individual to individual.
Functionality
For many cyclists, buying a vintage jersey will not be merely a visual choice; the jersey will need to function properly as well. This means no wear and tear to the fabric which could ruin the aerodynamic structure of the shirt. To find a good balance between aesthetic and functionality, the cyclist should consider how much the jersey needs to be used in an active sense, and to what extent it is merely a visual aid.
Size
Size is naturally important, and should always be considered before buying clothing. Below is a table of sizes of cycling jerseys for the reader's consideration. Cycling jerseys are measured in inches or centimetres around the chest.
| Chest size (inches/centimetres) | Shirt size |
| --- | --- |
| 29/74 | 3S |
| 31/79 | XS |
| 34/85 | S |
| 36/91 | M |
| 38/98 | L |
| 40/104 | XL |
| 43/108 | 2XL |
| 46/118 | 3XL |
| 48/122 | 4XL |
| 50/126 | 5XL |
| 52/134 | 6XL |
| 54/138 | 7XL |
Price
Price is obviously a crucial aspect to consider when making any purchase. First, the buyer should set a budget, based on how much they expect to spend and/or are able to afford. This should be adhered to, though not to the point that it prevents the buyer from making the correct choice for them.
Condition
It is not advised to buy an item which is in poor condition, as it will not operate properly, look as good or last as long. Ensure that the product is in an adequate state of repair for its intended purpose before committing to the purchase.
How to Buy Vintage Cycling Jerseys on eBay
There are numerous aspects of the popular auctioning website eBay which make it an ideal means of shopping for vintage cycling jerseys online. There are a great number of sellers who advertise their products on eBay, ensuring a diverse and copious selection to choose from. Further, the site is designed to be as user-friendly and simple to operate as possible:
Navigating to the correct section of the website is a simple matter. To begin, go to the eBay homepage. There is a list of broad categories found in that page's left hand margin. From this list, choose the Sports & Leisure category. This relocates the user to another page, which also features a list of categories. From this next level down, choose the Sporting Goods heading. Repeat this process, following the link for Cycling, followed by Cycling Clothing and then Jerseys. Finally, to specify the vintage element, type "vintage" into the search bar and click the search button. Alternatively, typing vintage cycling jersey into the search bar from the homepage and clicking search should achieve similar results.
The item listings should now be displayed. The item listings consist of a list of products, represented by thumbnail images and small amounts of informative text. The listings can be customised to user specifications using the "filtering options" found towards the left of the item listings page. Item type, size, gender, brand, colour, condition, price and seller's location are all valid options with which to refine a search. In addition, the user can elect whether or not to bid on an item (as opposed to buying it on the spot) by choosing between the "auction" and "buy it now" options.
Clicking on any item's representation in the listings will take the user to the aforementioned item's individual information page. This page contains further details of the product. It also features information about the seller. This information includes contact details, previous user feedback and ratings, allowing buyers to make an informed choice about which sellers to buy from.
This blend of facilitative design and excellent range of choice contributes towards eBay's reputation as the best place to buy online, vintage cycling jerseys included.
Conclusion
Cycling is both a tremendously enjoyable sport and a practical, cost-effective means of transportation. However, to get the most out it, cycling jerseys are an excellent choice. Vintage cycling jerseys have a stylistic and personal element that newer models cannot match, and as such are the natural choice for many buyers. This guide set out to explore what to look for when buying vintage cycling jerseys. The main considerations were:
Legacy
Aesthetic
Functionality
Size
Price
Condition
This guide concludes that eBay, the consumer-oriented online bidding arena, is a fantastic place to shop for vintage cycling jerseys, owing to its combination of great selection of products and user-friendly interface.