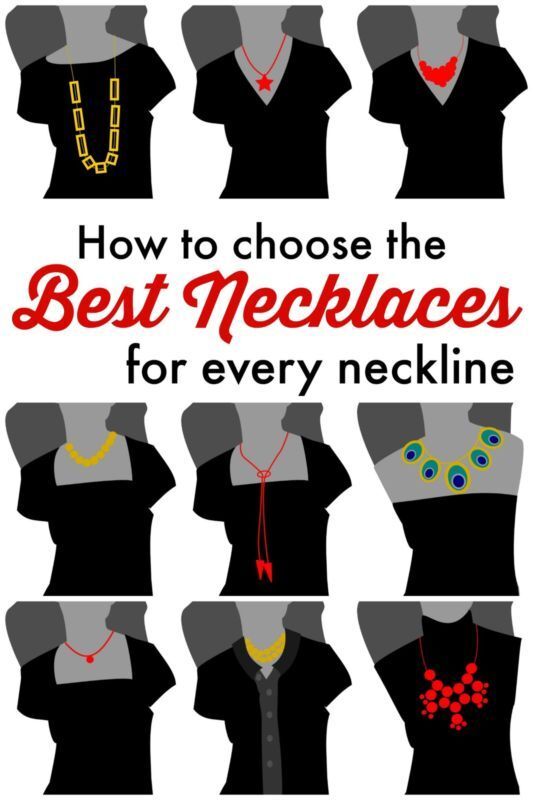 Add a caption
Learn how to choose the best necklaces for every neckline!
Easy Tips for Choosing the Right Necklace
Accessorising doesn't have to be confusing - here are a few simple tips to remember when choosing necklaces, followed by examples of the best necklaces for each neckline.
Choosing the Right Necklace:Don't compete with the collar line.
For most necklines, choose a necklace length that is either at least an inch higher or at least a few inches below the neckline.
Fill in empty skin space.
Wherever skin shows at the neckline, that's a great place for a necklace. Take note of the shape created by your neckline, and choose necklaces that mimic the shape of your exposed skin.
Experiment with over-shirt necklace styles.
For oversized or more complicated collars, it is often best to wear a necklace over the shirt, but under the collar. This adds contrast and interest to your outfit.Now that we've laid a few simple ground rules, here are some suggestions for how to accessorize each neckline: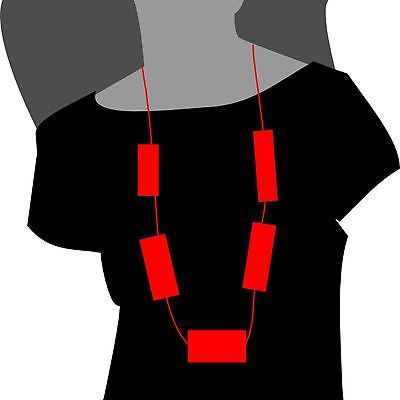 1. Boatneck Neckline
The boatneck style of shirt has a wide, open neckline.
Best Necklace: A long necklace is the best style for this neckline: it doesn't compete with the collar, and it creates a long, elegant line on your body.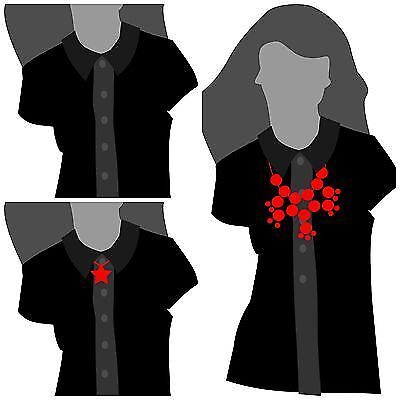 2. Closed Collar Neckline
Wear a button-down top closed to the neck, and accessorise with a necklace that goes OVER the shirt.
Best Necklace: A large statement necklace looks great with this style, or a focal pendant that sits at the throat like a brooch.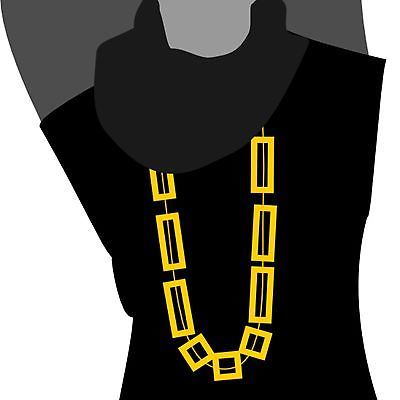 3. Cowl Neckline
This style of shirt or sweater has an oversized, draped neck. Instead of wearing a necklace under the sweater and pulled out through the collar, wear a necklace over the sweater, but with the cowl arranged over it.
Best Necklace: A long necklace looks elegant and doesn't compete with the neckline.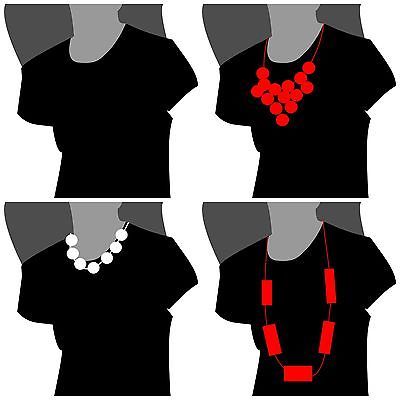 4. Crew (or T-shirt) Neckline
A crew neckline is a versatile canvas for many types of necklaces. If you are wearing a plain-colored t-shirt, don't be afraid to go bold with a large statement necklace.
Best Necklaces: Large bib or statement necklaces, chunky collar necklaces, long elegant necklaces.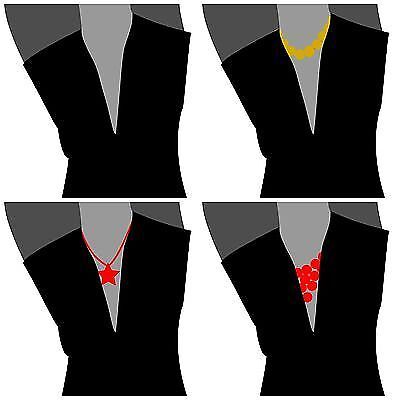 5. Deep V or Plunging Necklines

A daring neckline can be intimidating to wear, but the right necklace makes all the difference. You will feel less exposed with a necklace filling in the open area.
Best Necklaces: A bold, chunky choker works well for the confident fashionista. For everyone else, try a focal pendant or a bib necklace inside the shirt, covering the skin.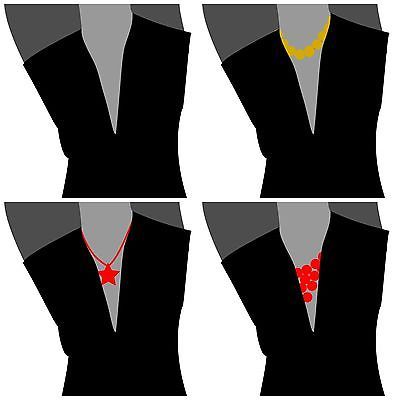 6. Open Collar Neckline
If you prefer to wear your collared shirts with a button undone, you will take a different approach than we did for #2. Fill in the open throat area with a shorter necklace.
Best Necklaces: Bib choker, double-strand of chunky beads, or a small pendant.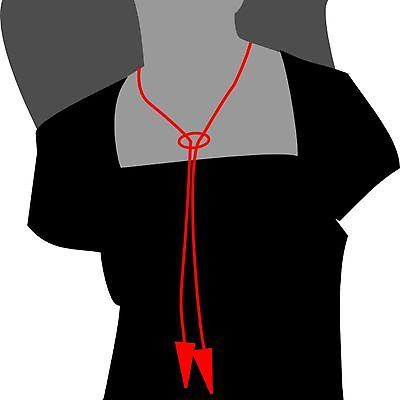 7. Square Neckline
A square neckline can be a challenge to accessorize, but it also provides a unique opportunity for style.
Best Necklaces: A long lariat necklace is one of the most stunning necklace options for a square neckline. Other good choices are a geometric collar necklace, or a small pendant.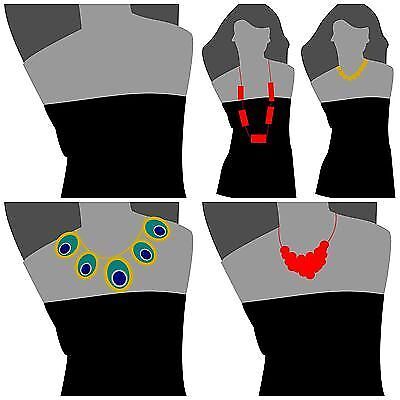 8. Strapless Neckline
A strapless neckline provides a unique opportunity to make a statement. Your skin is the canvas for any number of bold necklace choices. It's best if most necklaces hit at least 1 inch above the neckline (exception: the long, elegant necklace.)
Best Necklaces: Long and elegant, short chunky chokers, an expansive large collar-style statement necklace, or a bib necklace.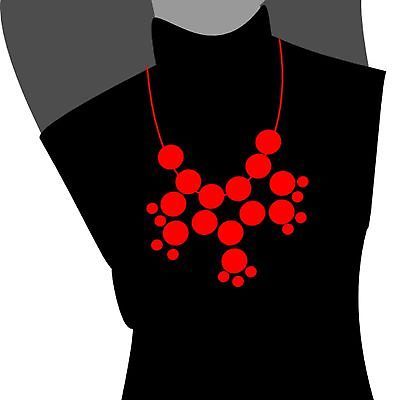 9. Turtleneck Neckline
When you wear a turtleneck, don't choose a necklace style that is too short. A longer necklace will give the appearance of a longer neck and a more elegant look.
Best Necklaces: Large statement necklaces, or long necklaces.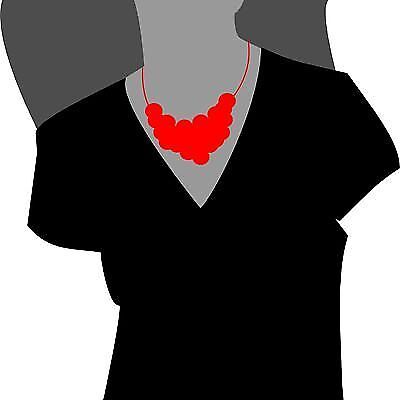 10. V-neck Neckline
Many necklace styles work for the v-neck neckline, which is one of the universally most flattering collar styles. Avoid chokers, however, as they will appear to shorten the neck's length.
Best Necklaces: A bib necklace that fills in the skin space, or a focal pendant. A small gold or silver pendant will look understated yet pretty.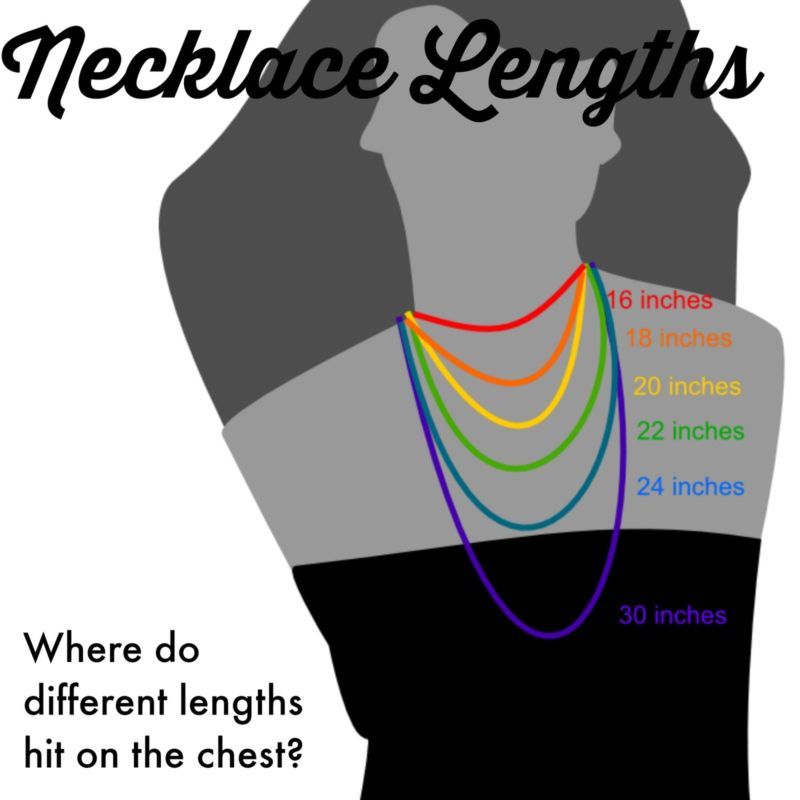 Add a caption
Where do the different necklace lengths hit on your chest? Here's a handy guide.