A Guide by Humble Bee GIE
Choosing the right beekeeping jacket can seem a little daunting for beginning beekeepers. We've written the following guide to help explain the different jacket designs and material choices so you can find the beekeeping jacket that suits you best.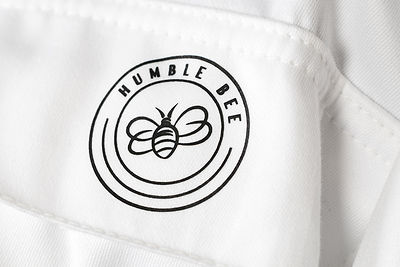 The Basics
Quality beekeeping jackets, like those from Humble Bee, have 6 or more pockets - 2 velcro pockets on the chest, 2 double-stitched pockets near the waist, and 2 hive tool pockets on the sleeves. They also feature removable, self-support veils (so you can wash the jackets!), elastic thumbholds to keep the jacket securely in place, brass zippers for durability, a nd velcro flaps to cover the zipper tabs.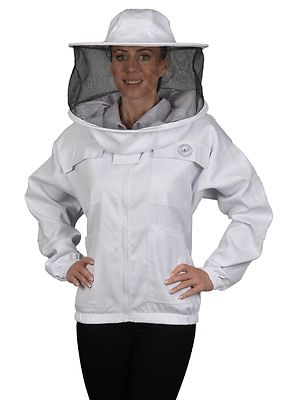 Round Veil
Round veil jackets feature a classic design with a wide field of view and plenty of space between your face and the protective mesh. The highly breathable mesh provides great ventilation and keeps you cool on those hot summer days. Our Humble Bee 310 polycotton beekeeping jacket, with a round brim, is a top choice for beginners and pros alike.
Fencing Veil
Fencing veil jackets feature a modern design that minimizes contact between the veil and your head and hair. This means you no longer have to choose between having great looking hair and keeping yourself safe from painful bee stings! Our Humble Bee 421 ventilated beekeeping jacket, with a fencing veil, is ideal for beekeepers with long or styled hair.
Square Veil
Square veil jackets feature a compact, folding design that allows for easy storage in your beekeeping tool bag. The front mesh provides a wide field of view, while the side meshes keep cool air coming in. Our Humble Bee 332 aerated beekeeping jacket, with a square veil, is a great choice for beekeepers who need to minimize storage space.
Polycotton, Ventilated, or Aerated?
Beekeeping jackets are available in several material choices. The most common options are polycotton, ventilated, and aerated. Polycotton is a 50 / 50 blend of cotton and polyester, woven in a special interlocking pattern that provides excellent protection against bee stingers. Ventilated jackets feature a 3-layer design, with 100% synthetic fabric on the outside and a foam core that creates an air gap between the 2 fabric layers (the gap is slightly bigger than the length of a bee stinger). Aerated jackets utilize standard polycotton fabric, but add foam panels and mesh along the chest and back for extra airflow. Humble Bee offers most of our beekeeping jackets in all 3 material designs.
Size Matters!
Finding a jacket that fits properly can make all the difference in how much you enjoy working with your bees. Fortunately, Humble Bee includes a handy size chart for all our beekeeping products, from gloves to jackets to suits. Simply review our sizing chart in the product images to find the beekeeping jacket that fits you best.
You Might Also Like
If you found this guide helpful (and we sincerely hope you did!), then you might want to check out our other guides: