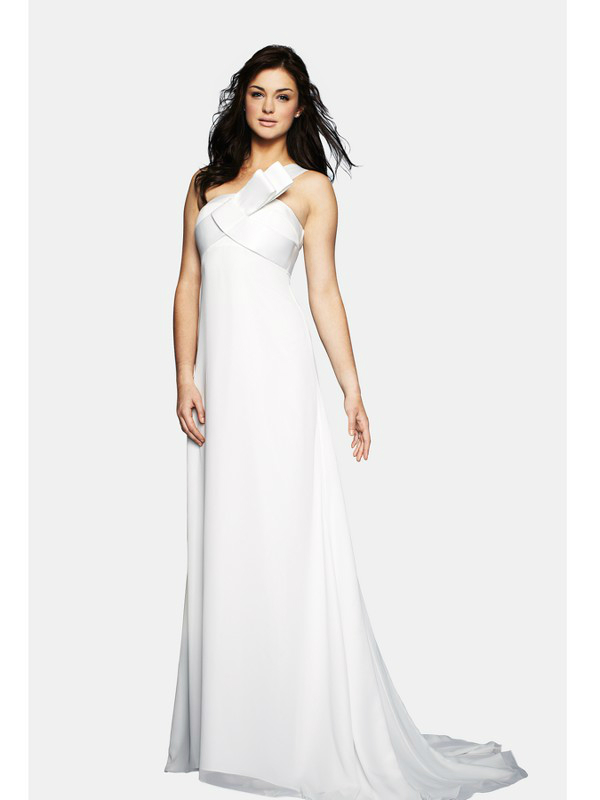 Finding the right wedding dress is one of the most important concerns for any bride in wedding preparation. It is her big day, and every woman, regardless of her size or shape, wants to look radiant. Searching for a wedding dress often involves a great deal of time and consideration. However, the perfect dress is more than just a design that appeals to the bride. Choosing a wedding dress that complements your body type helps to ensure that you will capture everyone's attention as you walk down the aisle. Common body shapes include apple, pear, and hourglass figures, and there are styles that highlight the best features and hide any perceived flaws of each of these shapes.
Before shopping for dresses, women should take their measurements and learn to identify their body shapes, as well as how to balance out their features. Understanding the fashion terms used when talking about wedding dresses, including the silhouette and the neckline, can also make the search for the perfect wedding dress much easier. While bridal gowns are typically purchased from specialty shops, some women may prefer the convenience of shopping online through a site such as eBay, which can offer a broad selection and great deals.
An Introduction to Wedding Dress Fashion
Knowing the different dress styles can make searching for the one that suits your figure much easier, because you will be able to accurately describe what you want. This includes knowing the terms for the dress silhouettes as well as necklines, and an assortment of others. The chart below explains some common styles for wedding dresses.
| Style of Dress | Description |
| --- | --- |
| | Fitted bodice and a skirt that gently flares out |
| | Fitted bodice with a large, full skirt |
| | Straight skirt and no defined waist; moulds to the body's curves |
| | Fits the body's form from chest to knee, then flares out dramatically |
| | Fits the body's form from chest to mid-hip, then flares out |
Certain silhouettes flatter some figures better than others, but the A-line style of dress is a universally wearable and appealing choice. When choosing a style, knowing your body shape is key to finding the perfect dress.
Wedding Dress Necklines
Also worth noting are the various necklines as these can significantly affect the appearance of the dress. Beyond the standard square, scoop, and V-necks that work for nearly anyone, dresses offer an assortment of other styles.
Neckline

Definition

Resembles the top half of a heart

Typically lower cut to reveal cleavage

Gives the appearance of revealing a lot, but can be quite modest.

Bateau

Follows the collarbone to the tips of the shoulders

Also called a boat neck or Sabrina neck

Two straps that meet at the back of the neck

Can be a scoop neck, V-neck, or sweetheart neck

High-necked collar at the back, but open at the front with a dip low across the chest
In addition to necklines, there are different designs that extend to the shoulder, such as one-shoulder and off-the-shoulder designs. The one-shoulder has one exposed shoulder and the other with a strap or sleeve, and the off-the-shoulder has sleeves that sit below the shoulders.
Wedding Dress Waistlines
Wedding dresses also offer a variety of waistline styles. A dress with a natural waistline means that it rests, unsurprisingly, at a woman's natural waist. This is the narrowest point of her torso, between the bottom of the ribcage and the navel. An empire waistline ranges from above the natural waistline to just below the bust. By contrast, a dropped waist falls to the mid-hip. A basque waist may have a V or a U-shape and sits low on the body.
A variation of the A-line dress is the princess-style dress. It retains the A-shaped silhouette, complete with its waistless shape, but offers vertical seams that run along the front.
Finding Your Body Measurements
While it is possible to determine your body type simply by studying your figure, a more precise way is to take your measurements. This also makes it easier to shop for wedding dresses, because you already know what size that you need. While dressmakers and other professionals can handle the task, it is also possible to take measurements at home. This simply requires a soft cloth tape measure, and pen and paper to write the numbers down. Some may prefer to use a mirror or to have a friend or member of the family to help them.
For dresses, three measurements are required: the bust, waist, and hips. When taking the measurements, never measure over clothes, just undergarments, if they would be worn under the dress. In addition, the tape should not be too tight or too loose. One way to prevent this is ensure that your thumb can slip between the tape and your body while you are doing the measurements.
Chest Measurements
For the chest, wrap the tape measure around the fullest part of the bust. The tape should go under the arms and cross the shoulder blades while remaining parallel to the floor.
Waist Measurements
Take measurements at the natural waist. This can be found by bending to one side: the crease that forms indicates the natural waistline. The tape measure should remain parallel to the floor, and women should not hold their breath or suck in their stomachs, as this will give an unrealistic measurement.
Hip Measurements
As with the bust, measure the hips at their fullest point. Be sure the tape measure remains level across the entire body and that the feet are positioned close together. For this reason, a mirror may be helpful.
Finding Your Body Type
Body types can typically be grouped into one of four categories: hourglass, pear, apple, and banana shapes. They are marked not by their overall measurements, but the relation of one measurement to the others. The following chart highlights the differences.
Body Type

Definition

Hourglass

Bust and waist are about equal, with a much narrower waist

Legs may carry some weight

Pear

Hips are smaller than the bust; narrow shoulders and a waist about 20 cm smaller than the hips

Also called a spoon and bell shape

Apple

Bust and shoulders are wider than the hips; waist is not well defined

A variation is the strawberry shape: broad shoulders and wide back

Banana

Waist is not substantially smaller than the hip and bust measurements, no more than 23 cm in difference

Also called a rectangle or ruler figure
These body figures can also go by a variety of other names, and some fashion experts have proposed alternative classifications. Also note that the body types do not address sizes, just proportions. Athletic and plus-sized women can both share an apple shape, for example. The body types also do not address height, which can influence what style of dress women should wear.
The Perfect Wedding Dress for Your Body
The perfect wedding dress for any woman will depend on her body type, her height, and even her neck and facial shape, as well as her personal style. However, every body shape can benefit from a variety of styles, so women have no reason to feel confined to a single design. Some styles, such as A-line skirts, scoop and square necklines, and empire waists, are universally flattering, so these always are safe options.
Wedding Dresses for Hourglass Figures
For women who have a slim or well-defined waist, look for a wedding dress that emphasises this feature. Try a colourful sash for a bold and playful statement. A dress with pleating in the bodice or any other features that help to highlight the waist works well for women with hourglass figures. In addition, a gown with a dropped waist and a flared skirt also shows off the curvaceous figure nicely, as does a mermaid dress.
Wedding Dresses for Apple Shaped Figures
Styles for women with apple shaped figures also work well for women who are more concerned about a large bust. Women with apple shapes can look for a dress with a V-neck, which creates a vertical, elongating effect. This makes the upper body seem narrower, rather than drawing attention to the wider upper torso. Sweetheart necks and strapless designs also complement women with these body shapes, as does an empire waistline. In this case, setting the waistline just below the bust helps to create shape.
Keep in mind that ruching, that is ruffled fabric, on the top of the dress, as well fabrics with a sheen, such as satin, will draw attention to the bust. In addition, completely covering a large bust makes it look larger. Avoid styles that cover your chest, such as a boat neck, but look for support in the dress, as this prevents anything from spilling out and may be more comfortable.
Wedding Dresses for Pear Shaped Figures
The empire waist works well for pear shaped bodies, but avoid a skirt that is overly large or one that clings to the skin. Instead, a gently draped wedding gown works best. A dress with diagonal draping adds an interesting visual element. Women with pear shapes can even pull off a one-shoulder number. Pear-shaped women with smaller busts can wear boat neck dresses, which balance out the body's proportions. A dropped waist dress with a fitted bodice also flatters this body type.
Wedding Dresses for Banana Shaped Figures
Women with banana shaped figures may not have a lot of curves, so a wedding dress with ruffles and other decorative elements such as flowers can add volume. A dress with a full, flowing skirt can give the appearance of curvy hips. The sheath dress, or another column-style dress also works well by highlighting the slim figure, and a biased cut can help to create curves.
Avoid harsh necklines. Instead, a sweetheart neck can create the illusion of a curvy bust. For women with arms that they'd like to show off, a halterneck style may be flattering.
Wedding Dresses for the Tall and Petite
Tall women may look for dress styles that take advantage of their height, while petite women may look for a dress that lengthens their body. In both cases, trumpet or mermaid gowns can be flattering. However, tall women can also wear dresses with a lower waistline because they already have longer proportions. A simple style without a lot of embellishments adds an air of sophistication. For tall women who want a gown with sleeves, make sure they are long enough that they fit the body naturally. Full sleeves should extend beyond the wrist.
For petite women, concerns about dress designs are almost the opposite. Avoid a dropped waist, because this can make the legs seem much shorter. Skirt length is also an issue. Although petite women can wear both full-length and knee-length skirts, a mid-calf, or tea-length, skirt may not be flattering. A high-waisted dress, especially an empire waist, can make the body seem longer. Women who are set on a ball gown style should look for a basque waist, which can help to lengthen the body.
Buying Wedding Dresses on eBay
When you are ready to buy your wedding dress online, visit the eBay home page. From there you can search for the dress that you are looking for, such as "lace wedding dress", by entering the keywords into the search box. This can also be done from any other page on the eBay site. You can filter the results by a variety of features, including the price range. When buying the wedding dress, allow yourself enough time for the item to arrive, as well as for any alterations to be made. If the seller is local and you are both comfortable with the idea, you may be able to arrange a personal collection.
Researching Sellers on eBay
Before making a purchase on eBay, research the seller by viewing his or her feedback profile. eBay recognises sellers who show consistently excellent customer service and meet other criteria by designating them as a Top-Rated Sellers. In general, a high rating is typically a good indicator of a reputable seller, but viewing the individual comments can also help to create a clearer picture. Before buying, make sure that you check that the seller has a returns policy in the event that the dress does not fit. When your transaction is complete and the dress has arrived safely, leave your own feedback.
Conclusion
Shopping for a wedding dress can be a pleasurable task. By knowing your measurements and understanding your body type, you can easily find a dress that looks fabulous as you walk down the aisle. Body types are typically indicated not by size, but by the relative proportions of three respective measurements: bust, waist, and hips. Pear shaped bodies have larger hips than busts, while apple shaped bodies are larger on top. A banana figure has roughly equal measurements at all three points, but hourglass figures have larger hips and busts than they do waists.
The key to choosing the perfect wedding dress is look for a style that does not overemphasise your most prominent feature. For example, a large skirt with numerous layers of tulle draws too much attention to the hips of pear shaped women, but may work for apple shaped women who have larger proportions on top. Also be aware of the effect certain features can have on height. A dropped waist may flatter a tall woman, but a petite woman should look for a higher waistline to lengthen her body. However, some styles complement a variety of body types. The A-line dress, for example, is considered universally flattering, as is an empire waist. Whatever style of wedding dress you are looking for, eBay offers a wide selection for your big day.