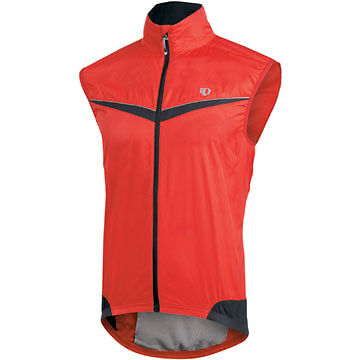 A cycling gilet is a type of cycling jacket that is worn to protect the cyclist from wind and other weather conditions. Cycling gilets are mainly worn during dry windy conditions, but can be worn at any time of the year, weather permitting. There is a large number of cycling clothing manufacturers that make gilets, and buyers may find choosing an appropriate garment to be a confusing experience. There are a number of factors to be considered when searching for one, including the material, size and weather protection the gilet offers.
All buyers are advised to search for cycling gilets on eBay, as the site has a large selection at much lower prices than those in cycling stores and on specialist websites. The following guide shall examine the key aspects involved in picking a gilet, and how to find a suitable garment on eBay.
Cycling Gilet
A gilet is a type of cycling jacket that acts as a windbreaker, and can be worn on its own or with long and short sleeved cycling jerseys. The most notable feature of the gilet is its lack of arms, and this is done for practical reasons that are advantageous to the cyclist.
Benefits of Using a Cycling Gilet
| | |
| --- | --- |
| Weather Protection | A gilet acts as a wind-stopper, and is a lot more aerodynamically efficient than a windbreaker jacket. The front panels of the gilet are windproof and will stop wind chill, keeping the cyclist warm and protected. Many gilets are also showerproof, and although it is not advised to wear these on their own in wet weather, wearing one with other cycling garments such as a long sleeve jersey will keep the cyclist dryer for longer. |
| Reduction of Wind Resistance | Removing the sleeves of the jacket reduces the air drag experienced from cycling in a strong wind, and it also frees up movement helping the cyclist to feel less restricted. This adds to the level of comfort experienced while riding, and can help prolong stamina and endurance. Wearing a gilet as opposed to a jersey in good but windy weather conditions can greatly improve speed. |
| Temperature Maintenance | Gilets are made to keep the cyclist cool in hot weather and warm in cold temperatures. A lot of this has to do with the material used in the manufacturing of the gilet, but all gilets have a specially designed back panel that allows moisture to escape. More expensive gilets often have mesh panels down either side, resulting in a more breathable garment. |
Cycling Gilet Materials
Gilets are made from synthetic materials that are light, windproof and have sweat wicking properties. Some gilets are made from a combination of more that one material, and others have a special coating for water resistance purposes.
| | |
| --- | --- |
| Polyester | The most common material used in the manufacturing of cycling gilets, and indeed in cycling clothing in general. Polyester is popular because it offers great protection from wind while remaining light and fitted. Polyester also has excellent sweat wicking properties, and will keep a cyclist cool in hot but windy weather. This material is quite soft and comfortable to wear. However, cyclists with sensitive skin may find it slightly irritating, and if this is the case then they should try searching for a polyester and wool or cotton blend gilet. Polyester is an inexpensive material to manufacture with, and buyers will find very reasonably priced options on eBay. |
| Nylon | Nylon is another synthetic material found in many types of cycling clothing and this material is popular due to its durability and toughness. Nylon gilets have better wind breaking qualities than those made from polyester, but are not able to wick sweat at the same capacity. If thinking about buying a nylon gilet then look for one with an elastic lining as this will help keep the garment fitted for longer. |
Cycling Gilet Sizes
Buyers will find that gilets sizes are advertised as small, medium, large etc. Each gilet manufacturer will have their own specific sizing so it's important to find the dimensions of a desired gilet before placing a bid. Usually the seller will include additional information such as this in the Description box located on the item page. If the listing is without this information then use the Ask A Question feature found below the description box to request these details. The following is a general sizing for men and women's cycling gilets.
Men's
| | | | | | | |
| --- | --- | --- | --- | --- | --- | --- |
| Size | XS | S | M | L | XL | XXL |
| Neck | < 12" | 12 – 14" | 14 – 16" | 16 – 18" | 18 – 20" | 20 – 22" |
| Chest | < 33" | 34 – 36" | 36 – 39" | 39 – 41" | 42 – 44" | 45" + |
| Back Length | 20 – 22" | 22 – 24" | 24 – 27" | 27 – 29" | 29 – 31" | 31" + |
Women's
| | | | | | | |
| --- | --- | --- | --- | --- | --- | --- |
| Size | XXS | XS | S | M | L | XL |
| Chest | 30" | 32" | 34" | 36" | 38" | 40" |
| Waist | 24" | 26" | 28" | 30" | 32" | 34" |
| Hips | 34" | 36" | 38" | 40" | 42" | 44" |
It's important to find a proper fitting gilet, as using one that's too tight will make the garment uncomfortable to wear and will cause the cyclist to overheat. Wearing one too loose will result in wider spaces in the arms and around the neck allowing wind to enter the gilet and will result in a chill. Look for gilets that have an elasticated hem and armholes so the garment will be tight around the openings. A number of gilets have lined collars, which can be useful if cycling in colder temperatures.
Gilet Weight and Washing
Gilets are made as an alternative to windbreaker jackets, and are very light. Most gilets can be folded and stored in the pocket of a jersey, allowing cyclists to carry them at all times. Don't buy bulky gilets or those made from thicker materials as this defeats the purpose of their design and intended use. If wearing the gilet with a cycling jersey in wet or windy weather, always wear the gilet over the jersey.
Polyester is a relatively easy material to care for and most gilets made form this material can be machine-washed. Keep the heat setting on a low temperature to ensure that the garment does not shrink and avoid ironing or placing the gilet in a tumble dryer. Nylon gilets require a bit more care and it is advised that buyers who purchase gilets made from this material hand wash them with some warm water and a mild liquid detergent. It should also be noted that nylon does absorb odours so make sure to wash the gilet after every cycling session to prevent a build up of bacteria.
Cycling Gilet Prices
Cycling gilets can vary greatly in price, but how much a gilet costs is reflective of its windbreaking and sweat wicking qualities. The amount of money a buyer spends on a gilet should be influenced by how often the garment will be worn. For instance, buyers intending to use the gilet on a daily basis for two hour cycling sessions will probably find that a twenty-pound gilet is not to the standard that they require.
Buying Tips
Look for gilets that have elasticated openings to ensure the tightest fit possible. This will prevent draughts and flapping fabric, which can increase air drag and reduce speed.
Buy gilets that have front zips with a pull tag so they can be easily opened and closed when on the move.
If cycling at night then buy a gilet that has reflective elements or bright neon colours so motorists can see the garment.
Gilets that have been treated with a layer of polyurethane will be water-repellent, but it is not wise to wear a gilet on its own in wet weather conditions. Instead, wear the gilet over a long or short sleeved cycling jersey.
Searching for Cycling Gilets on eBay
To begin a search for a suitable cycling gilet head to eBay.co.uk and take the following steps.
Click on the Shop By Category drop down menu, followed by the Cycling link found underneath the Sporting Goods heading.
On the Cycling listings page, click on the Cycling Clothing link found halfway down the Categories table. Click on the Jerseys link.
Type Gilet into the search bar and press enter.
If searching for a polyester or nylon gilet then enter this information into the search bar as well.
Use the Suitable For filter to list Men or Women's gilets only. There are also a number of Unisex gilets for sale on the site.
Use the Size filter to quickly list relevant sizes only. Remember to double-check the exact measurements of the gilet in the Description box found on the item page.
While on the item page quickly review the Seller's History. If the seller has a high percentage of negative feedback abandon the listing and search for a different gilet.
Conclusion
A cycling gilet is an excellent alternative to a windbreaker and is preferred by many cyclists around the world. The main advantage of using a gilet is it offers the same protection as a jacket but reduces the air drag, which in turn can prolong a cyclist's stamina. Gilets are made from either polyester or nylon and buyers should spend some time considering which is more suitable as one has better sweat wicking properties while the other offers more protection against wind.
Although there are plenty of specialist stores and websites that cycling gilets can be obtained from, all buyers are advised to search for these garments on eBay. The site has a large selection of new and used gilets and other sporting goods at very reasonable prices. Using eBay also gives buyers the chance to buy rare and valuable gilets.