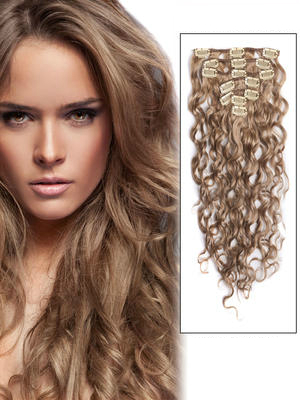 Choosing the right hair extensions can be a challenge, especially for novices. There are a large number of different hair extension types and all have their own advantages and disadvantages. There is also a huge price difference between the types of hair extension constructions. It can be puzzling when confronted with a mass of hair extension types, with no idea of quality, purpose and cost. In order to get a better understanding of how to choose the right extensions, it is helpful to know the different types of hair and construction methods available, the advantages and disadvantages of each type, and the origin of the hair. Knowing this information enables a buyer to make an informed purchase. Hair extensions can be found at hair salons and hair accessory shops. A huge range of hair extensions and hair care products are also available on eBay, ranging from single use synthetic extensions to top quality human hair extensions.
How to Choose the Right Hair Extensions
The most important factor when it comes to choosing the right hair extensions is the type of hair used. The first decision is whether to purchase synthetic or natural hair. Once this initial decision has been made, buyers need to select the type of synthetic or natural hair, as each type has its own advantages and disadvantages.
Selecting hair extensions which match the hair colour of the wearer is a good idea, unless the intention is to create a more creative look. If a natural look is desired, then bad colour matching may ruin the look.
Types of Synthetic Hair Extensions
Synthetic hair extensions are less expensive than natural hair extensions. They are also considered to be of inferior quality as they do not last as long. Synthetic hair extensions have a shiny appearance, and fail to properly mimic human hair, creating an unnatural look. Women experimenting with hair extensions who want a quick fix for a night out, or who are shopping on a tight budget, may find synthetic hair extensions are a good choice. Buyers should be aware that synthetic hair extensions become very dry if worn for long periods of time and become difficult to brush or comb. They are also difficult to style, because they can be melted by hair straighteners and curling tongs.
Kanekalon Hair Extensions
Kanekalon hair extensions are more heat resistant than Toyokalon, although they still melt when exposed to the heat of hair straighteners and curling tongs. This type of synthetic hair is much closer to the appearance and texture of human hair. Kanekalon tangles very easily, and quickly becomes matted. This makes Kanekalon difficult to brush and style.
Toyokalon Hair Extensions
Toyokalon hair extensions are cheaper, softer and considerably heavier than Kanekalon extensions, but do not tangle as easily. Toyokalon is the type of synthetic hair used to make costume wigs. Toyokalon synthetic hair is prone to melting rapidly when exposed to heat from straighteners and curling tongs. The colour of Toyokalon hair is more unnatural than Kanekalon, and has a very noticeable shine. This type of synthetic hair is mainly used for plaits and braiding.
Types of Human Hair Extensions
Human hair extensions are more costly than synthetic ones. Even so, pricing and quality vary extensively across the available types. Human hair extensions are much easier to style than synthetic, because the hair does not melt when exposed to heat from straighteners and curling tongs. It is also possible to comb human hair extensions thoroughly.
Remy Hair Extensions
Remy hair extensions are extensions made from human hair taken from multiple donors. The hair is colour matched, to achieve a natural finish with or without highlights. When the hair is gathered for extensions, each and every strand is positioned so that it faces the same direction. Hair extensions with strands laying in multiple directions quickly becomes tangled and unmanageable. Having all the hairs facing in the same direction also prevents them from losing moisture and becoming dull and lifeless. The quality of remy hair means that it can be dyed, permed, and styled with relative ease, and it has a long life span compared to other hair extension types.
Non-Remy Hair Extensions
Non-remy hair is the most commonly used type of human hair for extensions and is more affordable than remy hair. Non-remy hair extensions are made from shed or fallen hair, such as that taken from a hair brush. Instead of ensuring that every hair faces the same direction, non remy hair is chemically treated to remove the cuticle layer. A synthetic, silicon coating is then applied to the hair, which gives the extensions natural-seeming shine and lustre. Buyers should be aware that this chemical layer is lost after only a few washes. Once the silicon layer has gone, the hair once again looks dull, dry, and lifeless. It tangles and mats easily if not given thorough care. So, non remy hair extensions do not last as long as remy hair.
Virgin Hair Extensions
Virgin hair extensions are made obtained from a single human donor. All the hair is removed at the same time, with as few cuts as possible. The hair which makes up these extensions is sold in the natural state and is not treated in any way: virgin hair is never dyed, processed, or otherwise altered. It is considered to be the very highest quality, and, as such, is very expensive. Virgin hair extensions can be treated in the same manner as regular hair, and can be brushed and styled with ease. These hair extensions can also be permed or dyed, if required. As virgin hair is untreated, it is necessary to ensure that the hair is clean, free of lice or insect infestation, and of good quality before using the extensions.
Hair Origin for Extensions
The origin of human hair has a significant impact on the quality of the hair and the extensions produced. Hair from different parts of the world has different innate qualities, based partly on the ethnic background of the donor, but also on diet, pollution, and other influences.
European Hair Extensions
European hair is considered to be the highest quality human hair available. European hair is in short supply, and, coupled with the high demand, this makes it very expensive compared to other hair types. The quality and texture of European hair means that it blends well with other hair types. This makes the extensions almost invisible as they mimic the natural hair of the wearer. Costs are further increased by the fragility of European hair. This means that extra time and care has to be taken during production, which increases the cost of the finished product.
Indian Hair Extensions
Indian hair is very fine, meaning that it blends easily with other hair types. The main drawback of Indian hair is that it is only available in deepest brown or black, so is only suitable as extensions for people who want this hair colour. A great deal of Indian hair is untreated, so when it is donated it is sold as virgin hair extensions. Despite most commonly being virgin hair, there is an abundance of Indian hair, which makes the extensions more affordable.
Asian Hair Extensions
Asian hair, frequently from China, is the least expensive type of human hair extensions. Asian hair is readily available, but it is thicker than most other types of hair, which makes it difficult to blend when worn as extensions. It is often chemically treated in an attempt to make it look thinner. As it so thick, it is much stronger than other hair types, and can withstand chemical processes well. Most Asian hair extensions are non remy, and have had their cuticle layer removed. For this reason, Asian hair extensions often dry out quickly, and can become dull, lifeless and knotty.
Buying Hair Extensions on eBay
eBay has a wide range of hair extensions available. Buyers can search for hair extensions from the eBay homepage, and can narrow down their search results using the filters. These filters allow the buyer to choose results by price and whether the extensions are new or used, as well as many other options. This can save the buyer from searching through all of the different item listings. Alternatively, visit eBay's Health & Beauty page.
Buyers should look at the item description carefully before deciding to purchase the hair extensions. If the hair extensions are second hand, look at the condition of the extensions and if in any doubt ask the seller about any concerns.
Feedback
When choosing a seller on eBay, buyers should look at the seller's feedback. Feedback is left once a transaction has been completed and the goods have arrived safely. Feedback can be positive, negative or neutral, and it is based on criteria such as communication, postage costs, and speed of delivery.
Conclusion
A full, radiant head of hair can be possible for every woman with a little extra help from the right hair extensions. These can be found at hair salons and hair accessory shops, but also at great prices on eBay. Hair extensions vary in type and quality, from single use synthetic extensions, suitable for a night on the tiles, to high end human hair extensions, designed for women who want a more permanent solution. Extensions add volume, and can make hair more versatile, giving wearers the opportunity to try different styles. There is a huge difference in quality, longevity, appearance and cost among hair extensions, so understanding the different types of extensions available allows buyers to choose the best type of hair extensions for their hair correctly. Buyers should carefully consider which type of hair extensions would best blend with their natural hair and look on eBay to get the best quality for their budget.