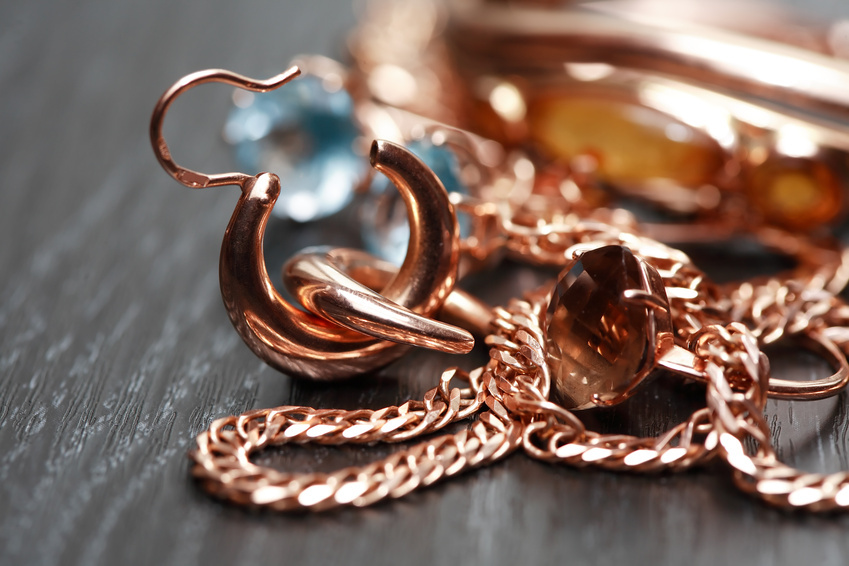 Even though gold does not tarnish over time like silver does, it still needs regular cleaning to remove dirt and grime. While taking the jewellery to the jeweller's to clean it is always an option, there are several methods for cleaning gold jewellery at home and restore its original shine with a minimum of effort. Learning more about the supply you need to clean gold jewellery and how to do it can help you achieve perfect results every time.
How to Clean Your Gold Jewellery with Dish Detergent

Cleaning gold jewellery with washing up liquid removes all the dirt from pieces with or without gemstones. Mix a few drops of dish detergent with warm water. If the jewellery has no gemstones, simply soak it in the soapy water for 15 minutes and rinse it thoroughly. Do not soak jewellery with gemstones using this method, as water may become trapped around the setting or the gemstones may become loose. Wipe down the jewellery with a soft cloth damp with the soapy solution, then rinse it with another cloth damp with plain water. Use a soft-bristle toothbrush dipped into the soapy water to clean intricate jewellery. However, make sure you do not scrub too hard, as this may scratch the gold.
How to Clean Your Gold Jewellery with Ammonia
Cleaning gold jewellery with ammonia removes stubborn dirt. Only use this method on solid gold jewellery when the pieces require thorough cleaning, as using the substance too often may damage or discolour the gold. Moreover, make sure the jewellery does not contain any pearls or platinum, as ammonia can easily damage them. To clean the gold jewellery, mix one part ammonia with six parts water until you obtain an even mixture. Soak the jewellery into the solution for just a minute, then rinse the piece thoroughly and make sure no mixture remains on the surface of the gold.
Additional Tips for Caring For Gold Jewellery

Protect your gold jewellery from being scratched by other pieces by storing it separately in airtight plastic bags. Avoid using sulphur producers such as leather, newspapers, and rubber bands as they release sulphur in time, which can damage the jewellery. To keep the gold jewellery dry, add silica in the wooden jewellery box when using one. Avoid wearing gold jewellery when swimming or when cleaning with solutions containing bleach or ammonia. Soap may also leave a dull finish on the gold, so it is a good idea to remove the jewellery before taking a shower or washing your hands.