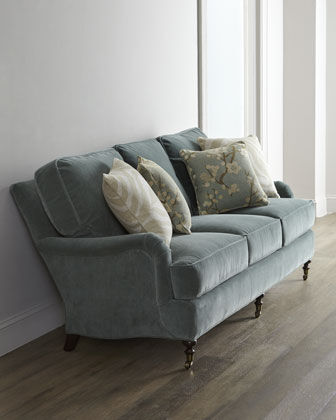 A three seater sofa in an excellent investment for a home. Depending on how it is placed and upholstered, a sofa can enhance the look of a living room and provide a focal point for its decor. Sofa covers, also known as slipcovers, provide a simple and cost effective way to quickly change the look of a sofa. Unlike reupholstery, a buyer does not have to make a long-term commitment to the type of fabric or colour. Slipcovers also protect the sofa from stains and wear, while being easy to remove and wash.
There are different types of sofa covers available, ranging from completely custom made slipcovers to one-size-fits-all stretch slipcovers. The buyer's budget is a major factor in deciding which type to purchase. Sofa covers are readily available in sofa shops, and online.
This guide discusses the different types of sofa covers available for three seater sofas and provides instructions and tips on how to put the covers on and fit them well.
Types of Sofa Covers
There are three main types of sofa covers available for three seater sofas classified on the type of fit. It's important to understand the different types of sofa covers before deciding which one to purchase. The more a consumer knows prior to making a big purchase, the more informed decision that will be made, and the happier they will be.
Tailored Fit
Completely made to order, these slipcovers offer the best fit for any kind of three seater sofa. However, these are also the most expensive type of sofa covers. They are recommended if the sofa is of an unusual shape and if the fit of the cover needs to be as perfect as possible.
Semi Custom Fit
Though not as perfect a fit as tailored fit slipcovers, with a little care when putting it on, this type of sofa cover will fit well. The buyer will need to measure the sofa before ordering a semi custom fit slipcover.
Ready made Fit
Several makers of sofa covers offer ready made slipcovers for popular makes of sofas and for standard size furniture. Ready made sofa covers are the most affordable type available. Ready made fit sofa covers are available in two different variants.
Classic Fit
These are made of non-stretch fabric. Since these are not tailored to fit perfectly, they are generally made to fit by using sewn in ties, and clips.
Stretch Fit
These slipcovers are made of fabric that is elastic in nature. They are easier to put on as compared to classic fit sofa covers since they require less work to fit correctly.
Measuring a Sofa for a Cover
Measuring a sofa is very simple and only requires a measuring tape, a paper, and a pen. It's beneficial prior to making a purchase to know the exact measurements of one's sofa. This will help to ensure that a buyer is much more satisfied with their purchase in the end.
| Dimension | How to Measure It |
| --- | --- |
| Width | Length from outside of one arm to outside of the other arm |
| Cushion Width | Length of cushion measured between arms of the sofa |
| Depth | Length of cushion measured from front of seat to the back of the cushion |
| Back height | Height of the sofa from the floor to the highest point of the back (usually the centre) |
When the correct measurements are known, it makes for a much more smooth buying experience. The other main benefit to knowing what the measurements are is that it can help to save safe on any returns due to the incorrect size.
How to put the Cover on the Sofa
Putting a slipcover on a sofa is not very difficult. Whatever the type of sofa cover, the following steps will ensure that it is put on correctly. With a little extra care, it can be made to fit as perfectly as possible. The first step to putting on a sofa cover correctly is to identify the centre front and centre back of the sofa cover. If the slipcover does not include separate covers for the cushions, drape the cover over the sofa with cushions in place. If it does include cushion covers, first remove the cushions, and then drape the cover over the sofa.
Now it's important to pull the cover down so that it is even on all sides. Align the seams along the back and arms to best match the three seater sofa. If the slipcover is a stretch cover, stretch the fabric as needed to match the shape of the sofa and move the elastic band at the bottom under the sofa. The fabric will tightly hug the shape of the sofa. If the cover includes ties at the back and sides, tie them together now. Make sure to tuck extra fabric into crevices to ensure a tight fit. Work from the arms to the back. If the cover is being placed over cushions, lift the cushions and tuck the elastic parts under the back and sides of the cushion. Ensure that the seams along the top and sides stay aligned to the shape of the sofa. After that step, take time to knot arm ties and any other fastenings that the sofa cover may have. Arm ties can be tied into bows instead of knots for a more attractive look. Lastly, if the sofa cover comes with separate cushion covers, insert the cushions into the covers and then place them on the sofa with the zip facing the back of the sofa. Tuck in and smooth any excess fabric.Ensuring that the seams line up well and tucking excess fabric away will make the sofa covers fit well.
Tips to Make the Slipcover Fit Better
These extra tips will help deal with some problems that may be faced when putting a cover on a sofa and will help make it fit even better.
No Place to Tuck Extra Fabric
Certain sofas do not have creases between the arms and the back cushions. In cases like this a simple solution is to pleat the fabric neatly and tuck the excess under the seat cushions.
Covering A Leather Sofa
Leather sofas offer a unique challenge when using slipcovers because they are slippery in nature. Using non skid strips (used beneath carpeting) cut to size on top of the seat cushions before putting on the sofa cover will take care of this issue.
How to Tuck
Tucking excess fabric away is the primary method of making a ready made sofa cover fit well. Using a wooden spoon or spatula will help complete the task neatly.
Problems With Thin Arms
Not all sofas come with thick arms, which is the standard to which ready made sofa covers are made. When covering a sofa with thinner arms, it is advisable to wrap the arms up with polyester batting before putting the cover on.
Sofa Cover Comes Untucked Quickly
Excess fabric that is tucked under seat cushions can come untucked easily. To prevent this, push some old magazines rolled up with rubber bands into the crevices.
Three Seater Sofa with Loose Back Cushions
If a sofa has loose back cushions, then putting on a slipcover becomes much more difficult since most ready made covers are not made for this design. A solution sometimes offered is to remove the back cushions completely, put on the cover, and then use new pillows to cover the back seat.
Other Factors to Consider When Deciding on a Sofa Cover
A buyer should consider a few important points before purchasing a sofa cover. There are several brands of sofa makers that offer sofa covers that can be custom designed for popular models in their lineup of sofas. It is worth checking to see if these are available before looking for generic loose fit or stretch slipcovers. If a buyer is ordering a custom slipcover, it is advisable to choose upholstery grade fabrics. These will last longer than thinner fabrics and are more resistant to rips and tears. Remember that deep dye fabrics are not recommended for use with light coloured sofas.
Buying Three Seater Sofa Covers on eBay
A buyer in search of sofa covers for three seater sofas will find that eBay offers a wide range of colourful options for popular models and for standard size sofas. Before beginning to search for slipcovers, the buyer is advised to measure the sofa.
The buyer can begin searching for sofa covers on eBay's home page or can alternatively enter search terms into the search bar on any eBay page. If the buyer has something particular in mind, more descriptive keywords can be entered into the search field. For example, a search for 'red three seater sofa cover' will list all available red three seater sofa covers on eBay. The list can be narrowed by selecting from different criteria including material, style, and brand.
eBay also offers a convenient way to shop for accessories that may be required along with the sofa cover, for example, polyester batting and non skid carpet pads.
Before making a purchase, it is advisable to find out what the seller's return or refund policy is in case the sofa cover is not the correct size.
Conclusion
Sofa covers offer a convenient and cost effective way to quickly change the look, feel, and colour of a three seater sofa. They offer the added advantages of protecting the sofa from stains and wear while being easy to remove and wash.
There are several types of sofa covers available, ranging from the more expensive tailored sofa covers, to the cheaper ready made ones. Ready made sofa covers are available in classic and stretch fits. It is possible to get a good fit with ready made covers if care is taken to put them on correctly and a little time is spent making minor adjustments.
A buyer must measure a sofa before ordering the cover online to ensure that it fits well. The buyer should also decide on what fabric and colours to order.
Sofa covers are available at sofa stores and online. Online, eBay offers a convenient means of shopping for three seater sofa covers.