H.P.D. is the chemical breakdown of a Cellulose Acetate mixture found in early 20th century plastics, often found today in hard plastic Pedigree, Rosebud, BND, Roddy, Palitoy dolls ect, produced in the late 1930s to the early 1950s. Hard plastic disease is also known as Vinegar Syndrome. Occasionally we are finding some late 1950s dolls with HPD, this gives rise to the theory that it could be possible for the disease to spread from one doll to another. Some highly collectable dolls have been found with the dreaded disease over the last few years. It is advisable NEVER to use parts from a diseased doll as spare/replacement parts for other hard plastic dolls. ......................................................................
To Detect whether a doll has the dreaded hard plastic disease can be quite difficult, especially when the disease is in it's early stages. This is where a good sense of smell is needed. The early stages of the disease will have a very slight acid/vinegary smell to the plastic. Check the palms and the backs of each hand, legs, face and nose. The disease often begins on the hands and the bridge of the nose. A simple trick is to put the doll in a secure box, after 2 month's (dont be tempted to lift the lid before the months are up), if the doll does have hard plastic disease, there's a very good chance you will smell it right away, once you lift the lid off later on. Of course, if you are buying from On Line Auctions or Toy Fair's this is not possible to do. So, if you are able to look at and handle the doll, the next step is to sniff the plastic for any acid odours ( most people do think we're mad but who cares) check for any distortion of the plastic and any slight discoloration around fingers, palms, back of hands, bridge of the nose and also cheeks. As the disease progresses, the smell will usually become stronger, but this is not always the case. I have come across the disease where the plastic has deteriorated with only a very slight acid smell. As the plastic begins to break down it will darken and weep either a greeny yellow or a browny yellow liquid usually from the hands first, as the plastic drys out, it will crack between the fingers with the cracks running through the backs and palms of each hand. The bridge of the nose will darken and become browny yellow, eye sockets will distort and become sunken and the whole head will become misshapen, cracks usually appear on the chin and the rest of the face will develope cracks as the plastic begins to dry out and disintegrate.The plastic will also begin to lose colour at this stage.. Sadly, there is no cure and I have recently come across a late 1940s, 21" black Pedigree closed mouth walker with hard plastic disease. If you buy a doll and suspect it has hard plastic disease, Isolate her from your collection, the disease may contaminate other dolls if in close contact. If there is only a slight smell, don't do anything drastic like binning her just yet. Keep her well away from other dolls and enjoy her while you can. Hard plastic disease is a very slow process which does'nt happen over night. If you do have to throw a doll away, make sure she goes to a land fill site, don't try insinerating/burning because the hard plastic will give off strong toxic fumes ..................................................
How To Slow Down The Deterioration Process (Theory) ........... Wash and Disinfect the doll inside and out using a mild antiseptic which does not contain any harsh ingredients (including any metal parts). Dry thoroughly. Another theory is to also spray the inside of the doll with clear varnish. These are not easy tasks and if the doll is still damp inside, then any metal parts will soon rust and may contribute to the hard plastic disease spreading more quickly. I have not seen a doll treated in this way and do wonder whether the varnish might cause a reaction with the plastic over time. ..........................................................................................................
There are many experienced and trustworthy Dollie Dealers on Ebay, who would never sell a diseased doll and will state in their listing, no hard plastic odours, funny smells ect. Unfortunately, there are still some inexperienced sellers of hard plastic dolls, who would'nt purposely sell a diseased doll with out highlighting the fact, but, through no fault of their own have no idea there can be a problem and when informed they are genuinely concerned, but it also has to be said, speaking from experience, that there are one or two unscrupulous dealers who really don't care, So please make sure you ask all the right questions before you bid. ........ eg. Does dollie have any strange acid or vinegary odours to the plastic, are there any cracks or splits in the plastic, any discoloration on the bridge of the nose ect. Request extra photographs, especially if the photo's listed are not clear or the seller has not been able to put a close up photograph of the dolls face on their listing. It's also a good idea to check whether the doll in question has had any replacement parts (arms, legs ect), I have noticed an increase in dolls being sold on Ebay for spare parts, often parts of these dolls are diseased. If sold then some parts are obviously going to be married up with another doll (not a good idea). ..... I have to smile, when I do inform a seller that their doll may have HPD they usually thank me for the advise, one or two are'nt too happy and leave a negative vote below, Bless them!
If you are unfortunate enough to have handled a diseased doll, it's always a good idea to wash hands thoroughly to prevent any skin irritations and also before you handle other hard plastic dolls. ................. Check the photographs below, you can see how the disease distortes the entire doll as it slowley progresses through each stage. You will find more pics on my website (address written below as ebay won't allow a direct link) . ........
Pedigree and Rosebud hard plastic dolls will always be my favourite as so with many collectors, to be honest I love all makes from the 40s 50s and early 60s and I know they will still be sort after and cherished for generations to come. ............ I would like to thank dollydaydreams55 and also Rebecca Phelps for their contribution towards this guide. ........................................ (Please vote yes below if you think this guide is helpfull).
This poor lad is a late 1940s Pedigree walker, His head is attached by a single metal rod into the head, he does not have the neck plate which gives full head movement.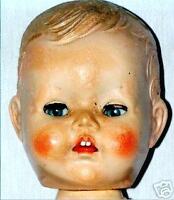 The disease has now taken hold of his head spreading from the bridge of his nose outwards across his whole face.

This pic shows that HPD can affect black dolls which were once thought to be unaffected by the disease. She is also an early doll, pre 1952 walker .

Notice how the whole head and body shape is becoming distorted as HPD progresses.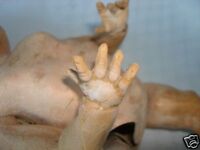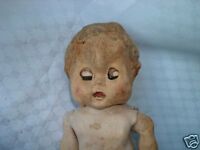 These last three pics show a hard plastic non walker baby, in what is probably the last stages of breakdown, the plastic is now drying out and is begining to desintigrate. ****************************************
*********************************************************
Food for Thought!
Could there be a problem with the hard plastic mixture of the early Pedigree dolls? During the war years, Lines Brother's were requisitioned to making machine guns, munitions and aircraft parts. After the second world war ended, Lines Bros resumed work and became known as "Pedigree Dolls" producing dolls at their Merton factory.. A new range of dolls were produced in 1946, made from hard plastic. This was a Cellulose Acetate mixture,produced in their experimental department, probably using the same/similar mixture of materials and chemicals newly developed for the war years. We don't know for certian, but perhaps the early dolls are more prone to develope HPD because they are a slightly different chemical composition. When a doll has been subjected to extreme conditions, eg. heat, cold, damp ect. over the years, this might cause a chemical reaction and break down in the plastic. This however, does not give much insight as to why some Rosebud dolls and other makes of hard plastic dolls become diseased. Could it be that the disease has simply spread from one doll to another? or perhaps being that other manufacturers produced far less dolls than Pedigree these dolls have'nt been discovered yet, or perhaps they have already been distroyed. One thing we do know for certian is that, even the modern plastics of today, will eventually break down in the right conditions, like land fill sights for example. However, this break down normally occurs over many hundreds of years.
**********************************************************
Please come back and view, I update this guide as I aquire new information, unfortunately I'm unable to show any extra photographs on this page sorry!
Please Vote YES if you think this guide is helpful. .......
Thank you for viewing.