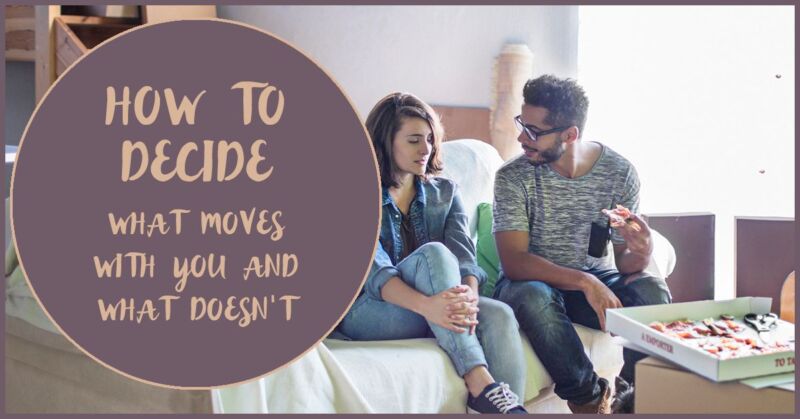 Don't use it, don't need it, but should it come with? Stick to these packing rules and you won't end up taking your junk with you.
Is it Still Wearable?
If you still wear it, your children still wear it or your younger children could wear it in the future, take them with you! But don't discount items you haven't worn for years. That tux that still fits, which hasn't seen the light of day since your brother's wedding, could still come in handy for future formal occasions. The onesie, however, that granny bought you, is one for the charity, recycling or eBay pile. If you're moving to a different climate, consider putting clothes you won't have a need for into storage.
Is There a Place Waiting for Your Furniture?
Measure all your
furniture
, if it will serve a purpose in your new home and fit into it, take it with you. If it doesn't suit the new place think about whether it could be painted or reupholstered to make it work.
If upcycling isn't an option, don't waste money on taking it over there.
Sell it or assign it to the charity shop. As William Morris once said; 'Have nothing in your house that you do not know to be useful, or believe to be beautiful.'
Should You Leave Those Appliances Be?
If your
white goods
are several years old and showing some malfunctions, it's best to invest in new. If they are still in good nick they should survive the move. Just make sure that they are disconnected and reinstalled as per the instructions. If the previous owner is leaving the fridge freezer, you could still take your own one and place it in the garage where it will be useful for over spill or to stock up on party favourites for upcoming gatherings.
Still Watch, Listen or Read?
When it comes to
records
,
tapes
,
CDs
,
DVDs
,
photo albums
and
books
, the music, movies, programmes, stories and information that these all hold can be relatively easy to transfer onto a hard-drive or the Cloud; or they may be available for download on an eBook or on a streaming service. If space in your new place is tight, it's definitely worth moving at least some of your library into a virtual system. And, if some items no longer interest you and have no sentimental or aesthetic value, it's time to sell or donate them. Don't get rid of everything though as they will help to fill your new bookshelves and make your new place feel much more like home.
Reduce the Paper Pile
Birth and marriage certificates, medical details, policies, loan documents, warranties and financial records need to move with you. For UK tax purposes, however, you can now keep records digitally, so to cut down on clutter it's worth saving bank statements and receipts in this way where possible. This is also a good time to send those piles of old birthday cards and invitations to the
recycling bin
, only keep select pieces with sentimental value.
Lotions and Potions
Starting with the
bathroom cabinet
, only take those toiletries that you use and that are within the use-by date. Apply the same rules to the cleaning cupboard, the shed and the garage. You will have no use for congealed paints, the dredges of furniture polish and ancient insect repellent. Dispose of these items and expired medicines safely according to the government guidelines.